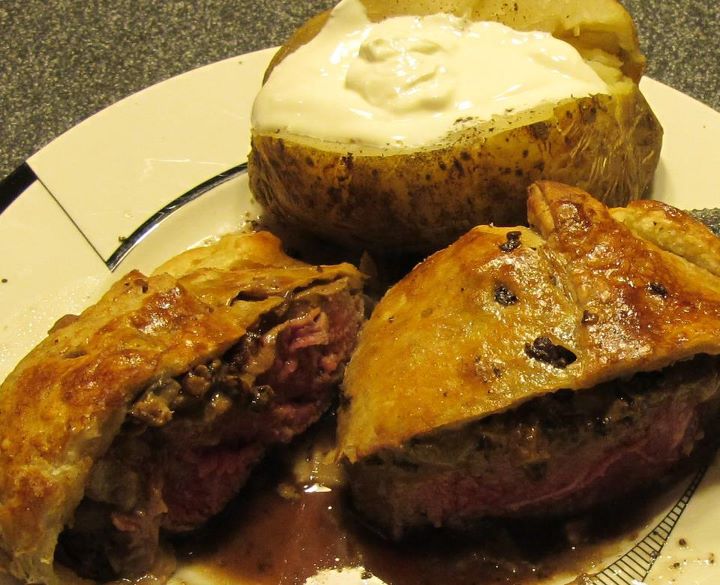 Thank you to Mary Giella, our friend, fan, fellow blogger on LakeGeorge.com and owner of Lumberjack Pass Miniature Golf Course for this great recipe! I am going to try this one myself.
Ingredients:
4 lb beef ribeye cut in 5 equal pieces
Pie crust: 5 6X10 pieces
1 lb. of mushrooms
1 medium onion
1/4 cup of butter
3 cups of bread crumbs
1/4 tsp. of thyme
Salt & pepper to taste
2 eggs
4 tsp of water
The Mushroom Mixture:
Remove the stems of 5 mushrooms and save the tops for later. Mince the remaining mushrooms and the 5 stems. Mince the onion and cook with the butter until the liquid is evaported. Stir in the bread crumbs, thyme, salt & pepper and set aside to cool.
Prepare The Egg Mixture:
Separate 2 eggs. Mix the whites with 2 tsp. of water and set aside. Do the same with the yolks. Preheat the oven to 400 degrees.
Building Dinner:
Place about 1/3 cup of the mushroom mixture in the center of each of the pie crusts. Place a filet on top of each. (optional: place a spoonful of chicken liver on each filet). Place a mushroom cap on each filet. Brush the pastry edges with the egg white and water mixture and fold the pastry over the meat, overlapping the edges. Seal and place on a cookie sheet. Use any pastry scraps to decorate the tops by using the egg white mixture to keep them in place. Brush each package with the yolk mixture. Place the cookie sheet in your preheated oven. Bake 25 minutes for rare or 27 minutes for medium rare, etc.
Serve with your favorite side dishes! Feel free to email us for side dish ideas! Enjoy!