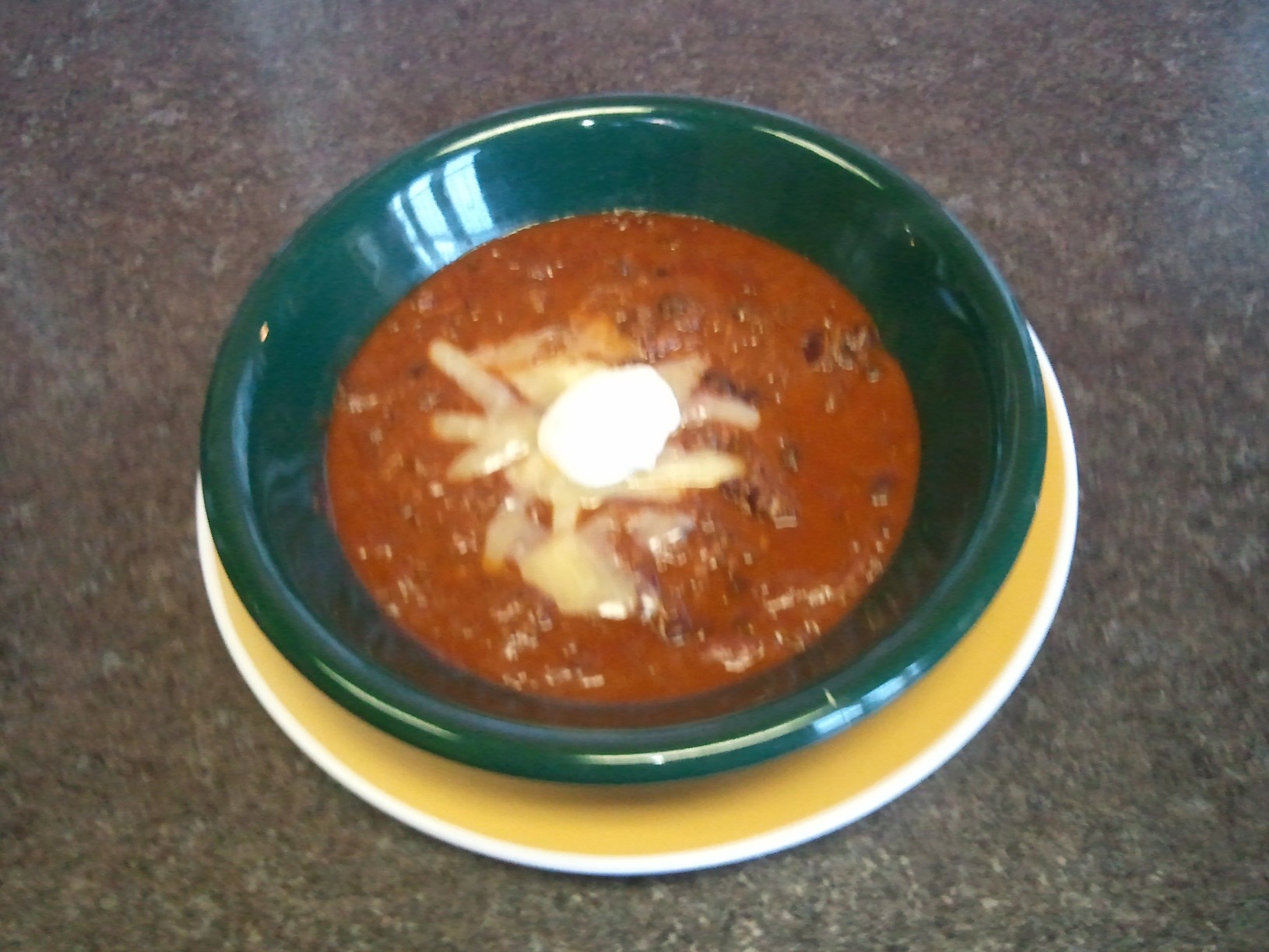 You would think a request for a new chili recipe would be an easy one. Our good friend Mary from Lumberjack Pass requested a new chili recipe a while back. I thought no problem, I'll get right on that! Well, as it turns out, I don't really use a recipe. I grab the basic ingredients and the rest is just building that great chili flavor. In my opinion (which I'm quite sure is a fact), the key to a great chili is cooking it low and slow… In my house, making chili, stew & soups is a marathon, not a sprint! We have a great time spending the day in the kitchen with some sporting event or cooking show on TV and a good bottle of wine or a cold beer. Good times!
Ingredients:
3 lb beef shoulder roast
2 large cans of crushed tomatoes
2 cans of beans (I use 1 black & 1 kidney)
1 medium onion diced
Minced garlic (I use about 4 cloves)
Vegetable/corn oil
Bottle of red wine (doesn't have to cost a lot, but has to be one you would drink!)
Seasonings: Raid your spice cabinet. This is what I always have and use.
Blackening seasoning (I always have Paul Prudhomme's blackened steak magic)
Crushed red pepper
Chili powder
Cumin
Fresh pepper
Nutmeg
Adobo
Dark chocolate
Paprika
Sweet & smokey rub
Dried oregano
Fresh thyme
Fresh parsley
I know it looks like a lot, but it's mostly what you should always have in your spice cabinet, so don't bail on me! This is fun and not hard at all.
Get cooking:
Cover the bottom of your stew pot with veggie/corn oil & place over medium high heat.
Generously coat the roast with blackening seasoning
Place the roast fat side down in the hot oil & brown to a caramel color on all sides
Add the onion & garlic. Stir quickly to sweat them a bit.
Deglaze with the red wine, scraping the bottom of the pot clean.
The roast should be almost covered in liquid. I use about 3/4 of the bottle of wine and the rest water.
Bring to a boil and immediately turn down to low to simmer.
Add some fresh pepper, oregano & thyme.
Cover with the lid cracked to let the steam escape. Allow at least 1/2 hour for the liquid to reduce (thicken up)
Add both cans of crushed tomatoes
Stir well and add the next layer of seasoning. Be liberal with the cumin, chili powder & paprika. Add about 1/2 teaspoon of the nutmeg to start and about the same of crushed red pepper.
Cover (lid cracked) and let simmer for about an hour or until the meat is ready to be easily broken apart like pulled pork. I take the meat out to pull it apart and then return it to the pot.
Add the beans (rinsed)
Add the dark chocolate (I use 3 squares of a quality bar). You can start with less, cook it down and just keep tasting.
Let simmer until thickened. Taste often and just keep layering in the seasoning.
Tip: Layer your flavors. With each step you should be adjusting the seasoning. You don't want the chili to taste like chocolate or nutmeg. They should be flavors in the background that make people say hmmm (in a good way).
Serve: Top with a little shredded cheddar, sour cream, green onion, hot sauce and perhaps a few tortilla chips or crackers. I love it with "scoops" of the tortilla or corn chip variety :o)
Please feel free to email me or comment with your questions on here! We enjoy hearing from you!