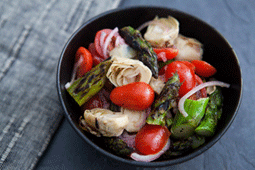 This is a great & refreshing salad that I found online and just had to try it! I was just speaking to someone today about posting more gluten-free recipes and this one popped into mind. I added a little fresh mozzerella to mine and it was delicious! It's an impressive looking and easy to make dish that can be served as an appetizer, salad or even as the vegetable course for your main dish! Enjoy!
Ingredients:
Asparagus (snap off the ends)
Grape tomatoes
1 Jar of marinated artichoke hearts (cut to preferred size)
Fresh mozerella (I used the mini balls) – to taste
Scallions or shallot thinly sliced (to taste)
Fresh garlic (2 small cloves)
Fresh herbs (I use what's in my garden. Oregano, thyme, basil, etc.)
Olive oil
Fresh lemon
Salt & pepper to taste
Steps:
Marinade fresh minced garlic in about 3 tablespoons of olive oil
Preheat oven to 400 or fire up the grill.
Lay the asparagus spears in a single layer in a baking dish. Brush with some of the garlic & olive oil mixture. Salt & pepper to taste. Roast in the oven until fork tender. This only takes a few minutes depending on the size. If you're grilling move onto the grill with tongs and pay attention not to overcook.
Remove asparagus and cut into pieces.
Toss the remaining bite sized ingredients in a bowl with the rest of the garlic & olive oil. Squeeze ½ of a fresh lemon over the top. Seaon to taste with herbs, salt and pepper.
Tip: For an extra "bite" you can use some of the marinade from the artichokes.