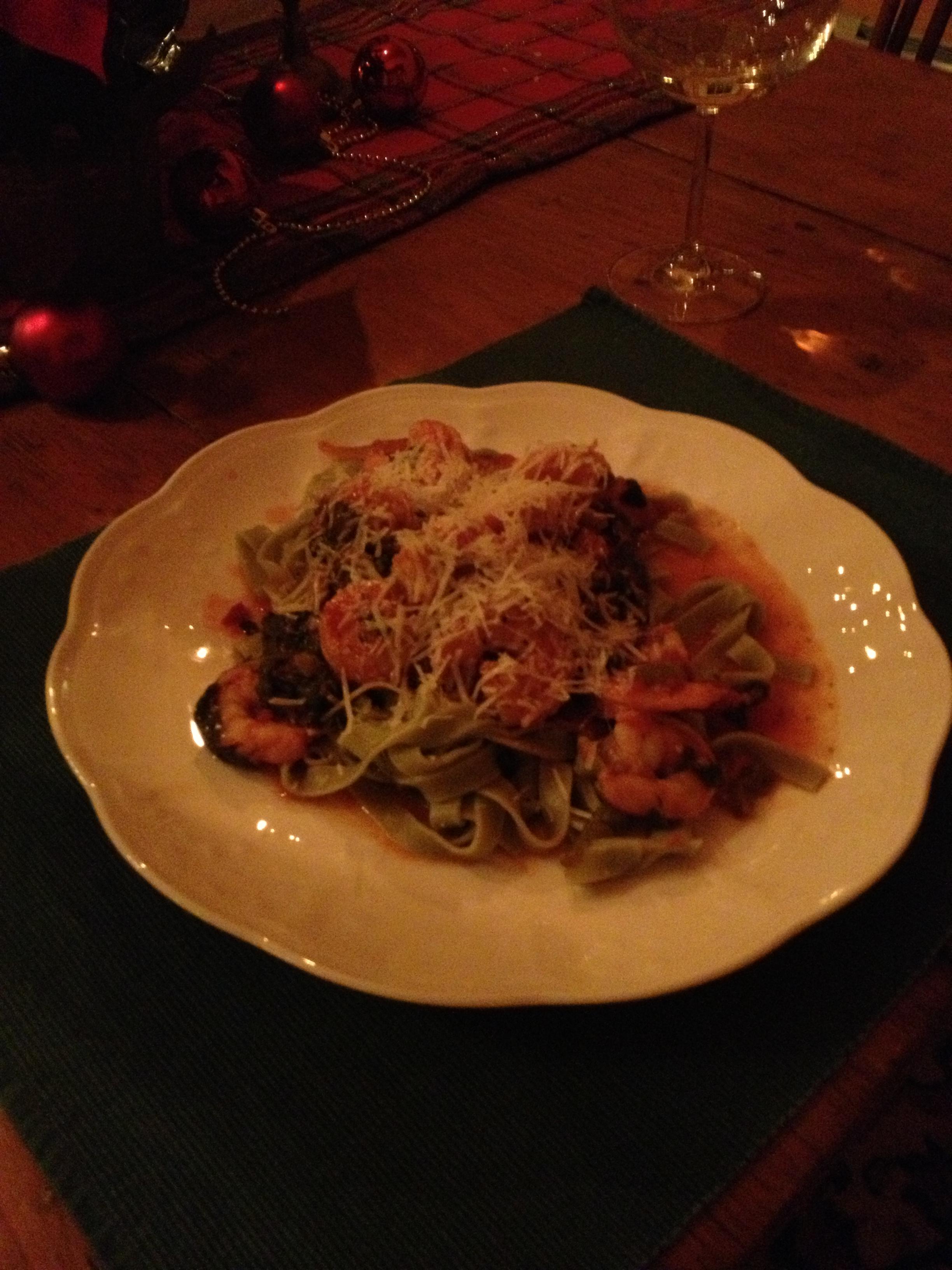 Thank you fellow Glens Falls Gourmet Gal Mary Longley! This pasta recipe looks great & we love our shrimp pasta recipes!
Keeping some key foods on hand can make whipping up a great meal like this quick and easy.
Look for items that are on sale when you grocery shop. Keep foods like canned, diced tomatoes, pasta, frozen shrimp, poultry or meats that thaw quickly on hand. A dash of olive oil, garlic, herbs & seasonings and you can whip up a great meal.
Stock your pantry always, but especially during the holiday season. The holiday is not just the one day. Don't add to the stress by having to dash to the store when you have a surprise guest come for dinner. Don't overstock, but definitely keep some non-perishable & frozen items on hand. You don't have to spend a ton to be prepared.
I like to have milk, eggs, frozen veggies, bacon, cheeses, pasta, fresh lemon, onion, olive oil, pasta, herbs, Bisquick and some proteins on hand. You can make everything from our easy quiche recipe to some of our great pasta dishes without having to worry about running out to the store.
Get Cooking With Mary's Recipe: Quick Spinach Fettucine with Shrimp
For an easy shrimp pasta meal that is good enough for company, I always have shrimp in the freezer and chopped tomatoes on hand. My Parsley is still growing in the garden, so I still have fresh herbs at the ready.
1 can 28 oz chopped tomatoes
1/4 c chopped onion, green and red bell pepper each
1 tsp Italian seasoning
1/4 c. chopped parsley
1/2 tsp chopped garlic
4 shakes of red pepper flakes (Optional)
1/4 c red wine
salt and pepper to taste
1 lb frozen shrimp thawed and peeled and rinsed
Spinach fettucine

Bring water to a boil and add 1/4 tea. salt. Add fettucini and cook until al dente, drain and hold.

Saute garlic for 1 min. add tomatoes, Italian seasoning, onions,green and red pepper pepper flakes and parsley, saute for 1 min. add wine and simmer for 5 min on low heat.

Add shrimp and cook for or 3 or 4 minutes. Serve shrimp on top of fettucine and add some freshly grated Parmesan cheese. Serve a fresh garden salad with light vinaigette on the side and you have a complete meal!