Hey foodie friends! The final weekend of the Lake George Winter Carnival is behind us. It's time to start thinking spring! One annual event that really gets me feeling spring fever is Bands 'N Beans at Roaring Brook Ranch in Lake George!
Bands 'N Beans is a great local event that combines 2 of my favorite things; great live music from numerous local bands and a chili cook off!
This year, on Sunday March 2nd from 2:00 – 7:00, for the $20 cost of admission, you will hear live music from numerous local bands and sample chili from over 40 local restaurants and individuals. You'll be able to vote for your favorites from both categories.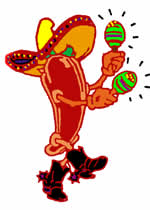 Samantha's Cafe will be among the local restaurants competing in the chili competition! The competition is solid this year with The Log Jam, Olde Post Grille, Ranchero's Steakhouse And Cantina and many more Glens Falls Area restaurants on the roster!
The 2014 music lineup includes Stony Creek Band, Rich Ortiz & Friends and more!
Never been to Bands 'N Beans? Check out this video to see what you can expect. Bands 'N Beans is a benefit for the Lake George Arts Project, so it is really a win win!