Former Glens Falls Post Office
70 Warren Street, Glens Falls, NY
The eye catching building on the south side of Warren Street was erected for use as Glens Falls' post office between 1912 and 1915. Designed by Philadelphia's Oscar Wenderoth, supervising architect for the U.S. Treasury Department, it served its intended purpose until 1977. Some of the building's most unique features include its ornate foyer, stone facade, and marble staircase.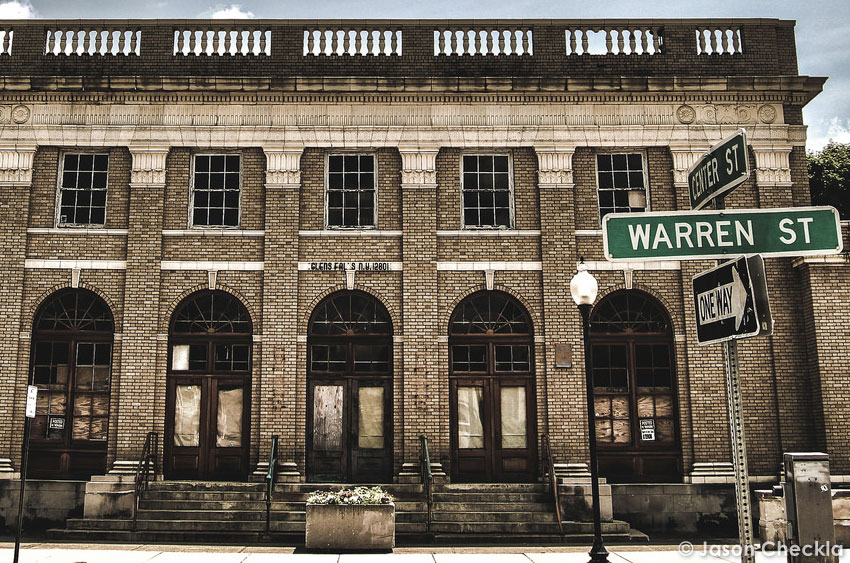 After the post office's operations were re-located elsewhere, the building served as an Army Reserve Center until 1994, and its windowless basement functioned as a fallout shelter during the Cold War. In fact, the fallout shelter sign is still visible on the building today.
When the Army Reserve Center left, the building was boarded up. Neighboring St. Mary's Roman Catholic Church purchased the vacant structure from the federal government in 2001, and considered tearing it down and constructing a parish center in its place.
In 2011, local developer Peter Hoffman of Glen Street Associates purchased the building. Renovations are currently underway to return the building to its former glory, and Hoffman plans to find a commercial tenant or two to occupy the space. Hoffman is well-known in Glens Falls for the half-dozen other buildings he has purchased and renovated, and has played a key role in revitalizing the facade of an aging city.
In October 2017, Hoffman's architectural plan was approved by the city Planning Board of Glens Falls. The plan included outlines for installing wheelchair-accessible components, enhancing the building's facade, and replacing windows.
In March 2018, Hoffman secured $1.73 million to finance construction, and in March 2019 he secured a tenant for the 11,000-square-foot space on the first floor.
Learn about other buildings in Glens Falls »
Sources:
http://poststar.com/news/local/years-after-it-was-built-old-post-office-is-a/article_0ebc8c7c-be05-11e4-b5b8-479a61cf74ef.html
https://www.glensfalls.com/glensfallsbusinessjournal/2015/02/100-year-old-former-city-post-office-to-be-renovated-likely-for-high-end-offices.html
http://poststar.com/news/local/old-post-office-to-be-part-of-warren-street-commercial/article_cf751164-fc08-11df-8eaf-001cc4c03286.html
http://poststar.com/news/local/city-oks-rehab-plan-for-former-post-office-building/article_c731ad47-f681-533f-ab06-85b2d86ce1c2.html
https://poststar.com/news/local/renovation-of-old-post-office-nearly-complete-tenant-secured/article_1e6a74f4-74e3-5f3e-a2ef-606f975620b8.html