Explore These Top Walking Trails In & Around Glens Falls, NY
Walking Galore, Right Outside Your Door
What's better than a sunny day's walk in the park? Get active, take in the scenery, and enjoy a relaxing stroll around the Glens Falls area. There are numerous walking trails throughout the city and its outskirts. Whether you're looking to take your dog for a walk or get some exercise on a sunny day, Glens Falls and the surrounding towns have plenty of parks, trails, and multi-use paths to choose from.
Easy Trails & Paths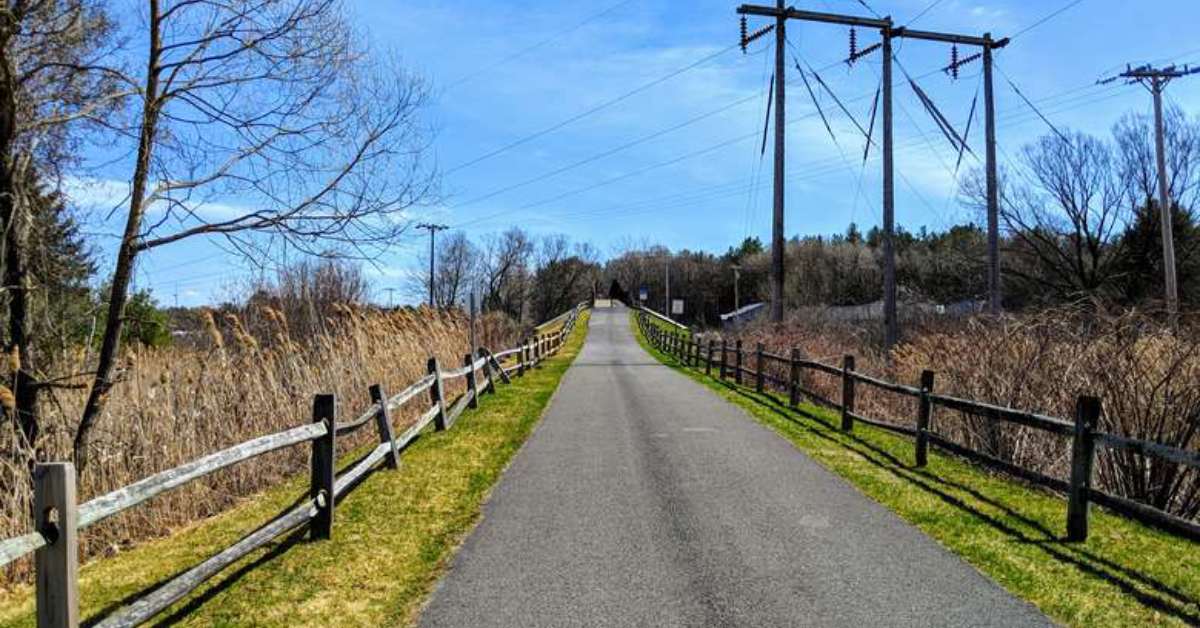 This 9-mile trail starts in the heart of Glens Falls and stretches north to Lake George Village. With ice cream shops, parks, and restaurants along the way, the bikeway makes the perfect trail for summer strolls or leisurely bike rides. Walkers and bikers can take in the views along the route as they pass over bridges, up and down hills, and move through wooded areas.
Cole's Woods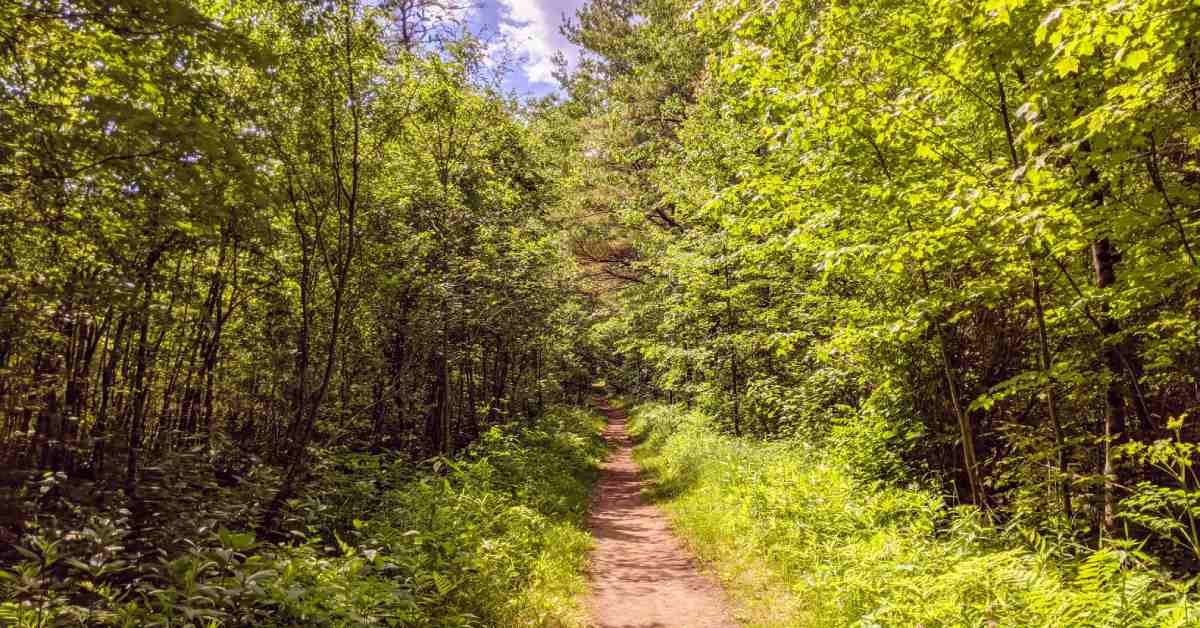 For those looking to get fresh air, Cole's Woods offers the best summer and winter activities. This spot is great for outdoor enthusiasts, with scenic trails for a leisurely stroll or a more intense jog and several cross-country ski loops and lighted trails during the colder months. This location also hosts exciting races and other fun community events every year!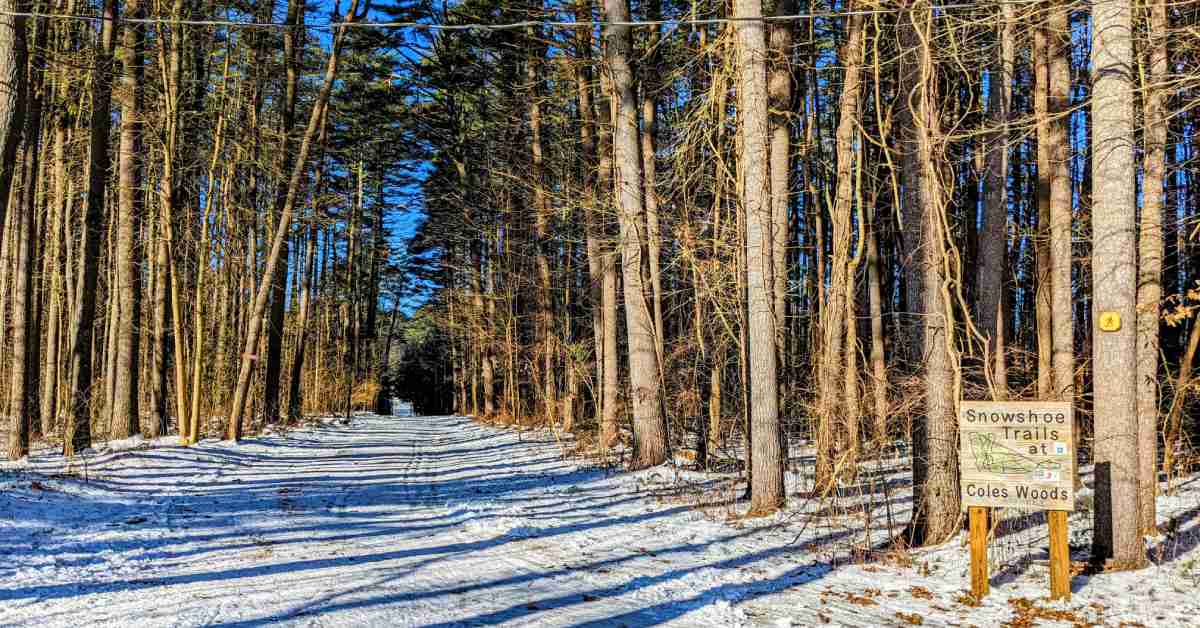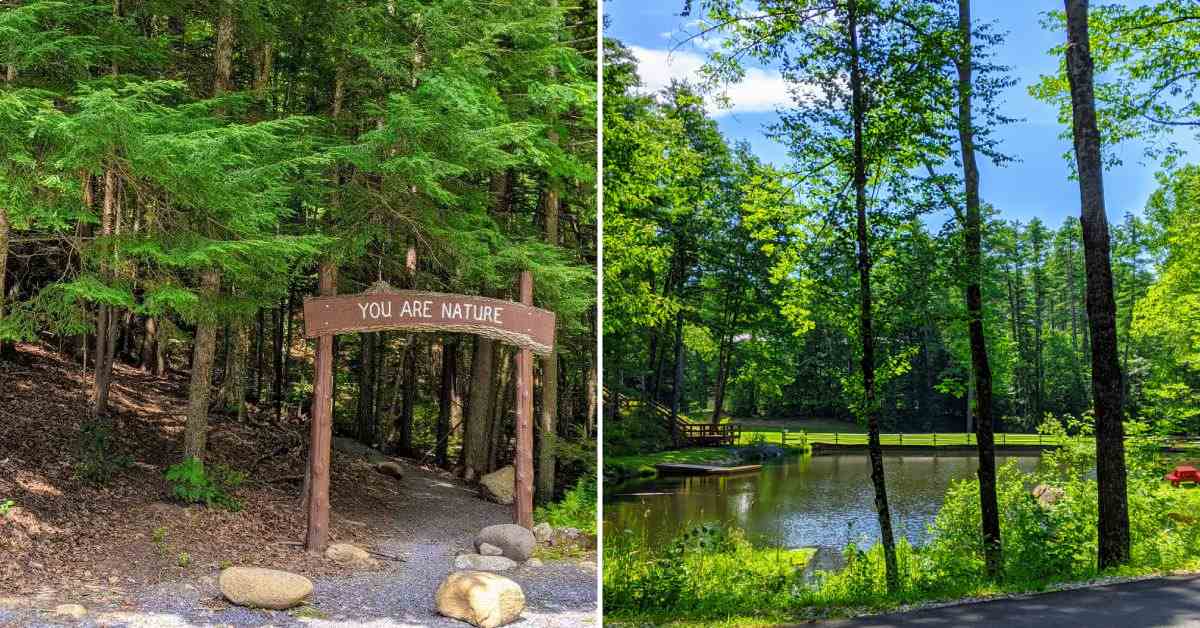 Gurney Lane is a haven for active exploration in the warmer months, offering five hiking trails color-coded by difficulty. The trails are marked with educational signs containing plant and animal life information throughout the park, making it a cool spot for an educational stroll with little ones. This location also has a mountain biking park, recommended for adrenaline-seekers, and a community pool!
Although Gurney Lane is a popular summer destination, its numerous trails operate year-round. When winter comes around, visitors can switch up their activities with snowshoeing, sledding, ice skating, cross-country skiing, and even fat biking over snowy terrain.
Halfway Brook Trail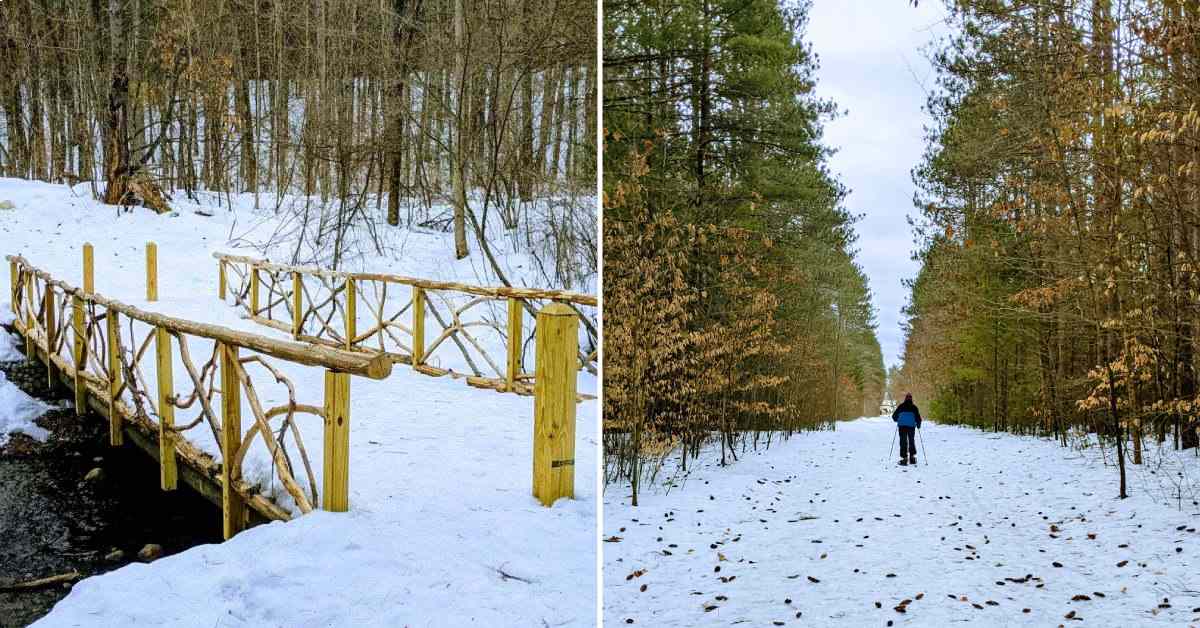 This 1.2-mile pathway travels through the Glens Falls City Watershed Property, known as Potters Woods. This trail connects Aviation Road to the neighborhoods along Peggy Ann Road in Queensbury. Especially great for biking, this secluded, wooded area is the perfect fall-time trail, as there are many trees to see the leaves changing colors! Explore wetlands adjacent to the trail system, and go through an active tree farm. While on the path, cross over its own handcrafted, quaint bridge across the Halfway Book below.
Rush Pond Trail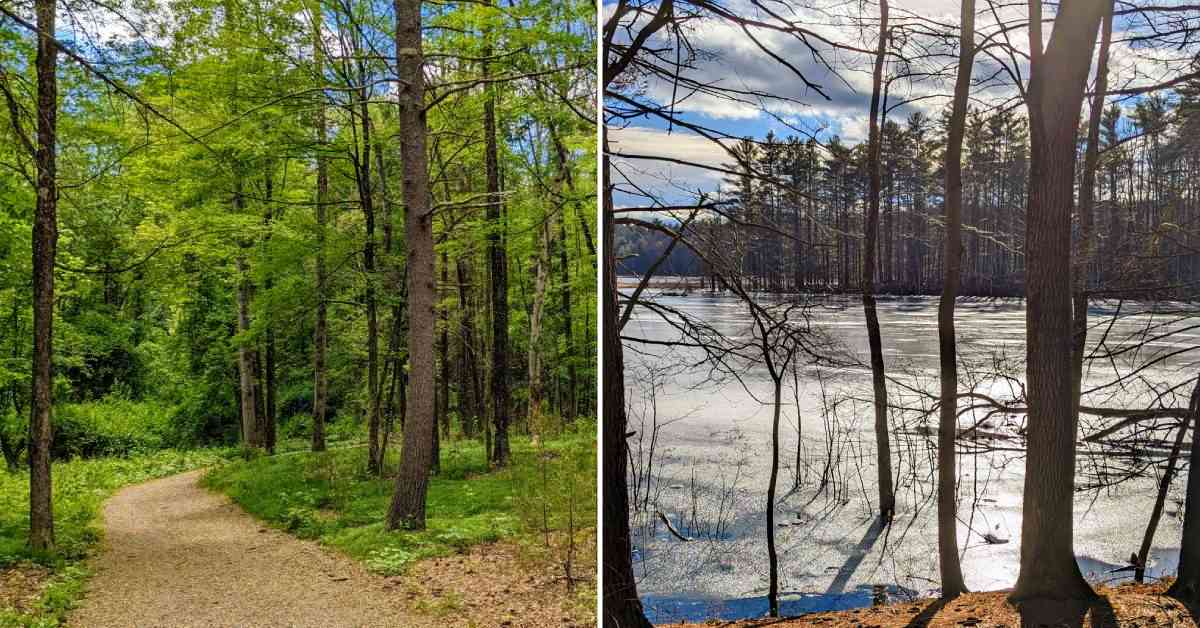 The picturesque Rush Pond Trail passes through the pond's wetlands over a 2.6-mile-long pathway, connecting West Mountain Road and Fox Farm Road. This easy and well-marked trail is popular for birding, cross-country skiing, and hiking. There are three handmade bridges and scenic views along the route. Feel free to bring your dog for a shaded, scenic walk through the wetlands.
Parks
Crandall Park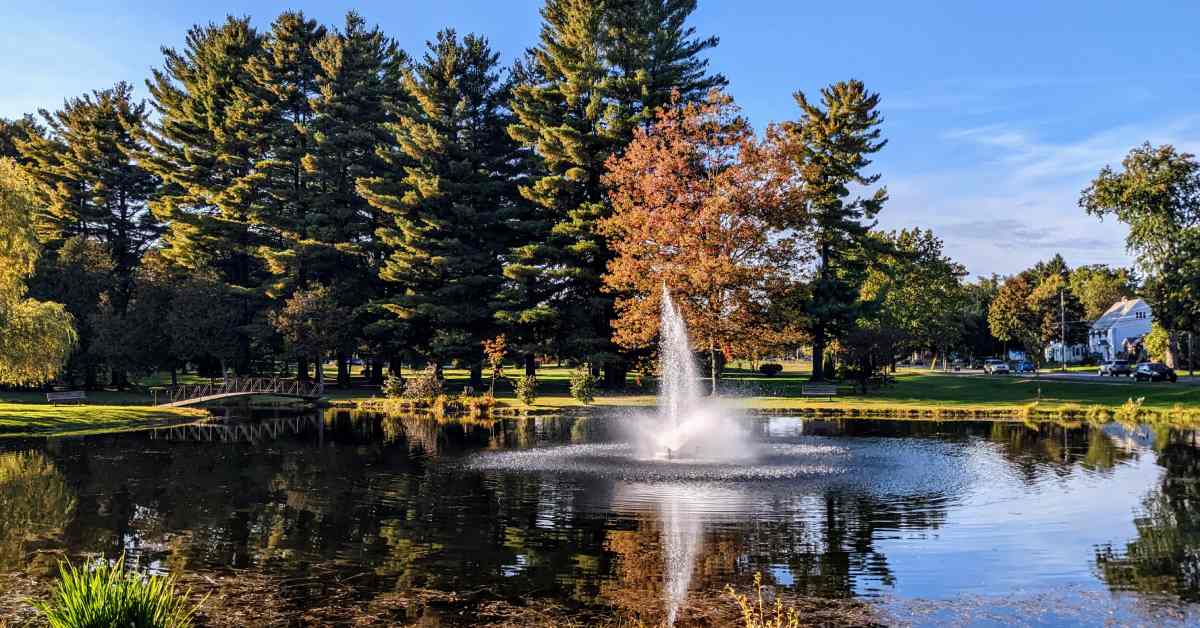 Located in northern Glens Falls, this charming park is a community-favorite spot for walking, playing on the playground, and meeting up with friends for pickup basketball, tennis, or pickleball games. The park has benches, a stone fountain, bridges that connect wetlands and islands, and open space for families to play games.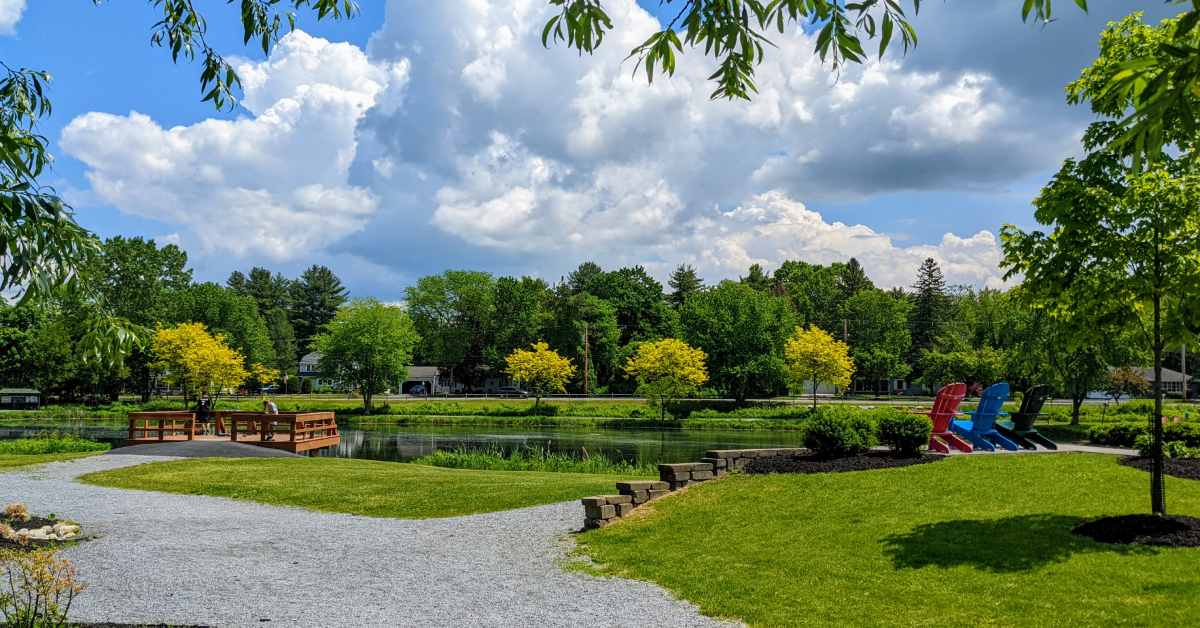 Hovey Pond is the perfect place to bring your dogs and the whole family for a walk or lunchtime picnic. The loop around the pond is about a third of a mile long, and other pathways branch into gardens and the woods. From playing in the park and fishing in the pond to relaxing by the shaded picnic tables, Hovey Pond is an excellent destination for the whole family.
Ridge/Jenkinsville Park
This large, open-spaced park is perfect for walking around and finding a space to set up a picnic. The park has numerous athletic fields, including softball, basketball, and pickleball. There's also a walking track around the softball field! Walk the perimeter of the scenic park and check out the picnic shelter while watching a game at sunset.
Haviland Cove Park
This small park has paved paths for easy walking and biking down to a sandy beach area. It's a peaceful, quiet place for the kids and pets to play. You'll find some of the best views of the Hudson River and can even check out the Feeder Canal as you take a swim or have a pleasant picnic in the park.
Hudson River Park
This homey park offers all sorts of activities. With six miles of land along the Hudson River, it's perfect for an afternoon walk along the shoreline. In addition, this park has basketball and pickleball courts, a playground, a softball field, a picnic shelter, restrooms, and access to a boat launch. Bring your fishing pole if you like to fish—you might catch a perch or a bass!
West End Park
This little park is a great spot for a short walk while watching the kids on the playground. A baseball field, basketball courts, and a playground are enough to keep the whole family busy with outdoor activities. Enjoy a picnic lunch and a stroll with the dogs at this charming park.
Leisurely Walking and Scenic Preserves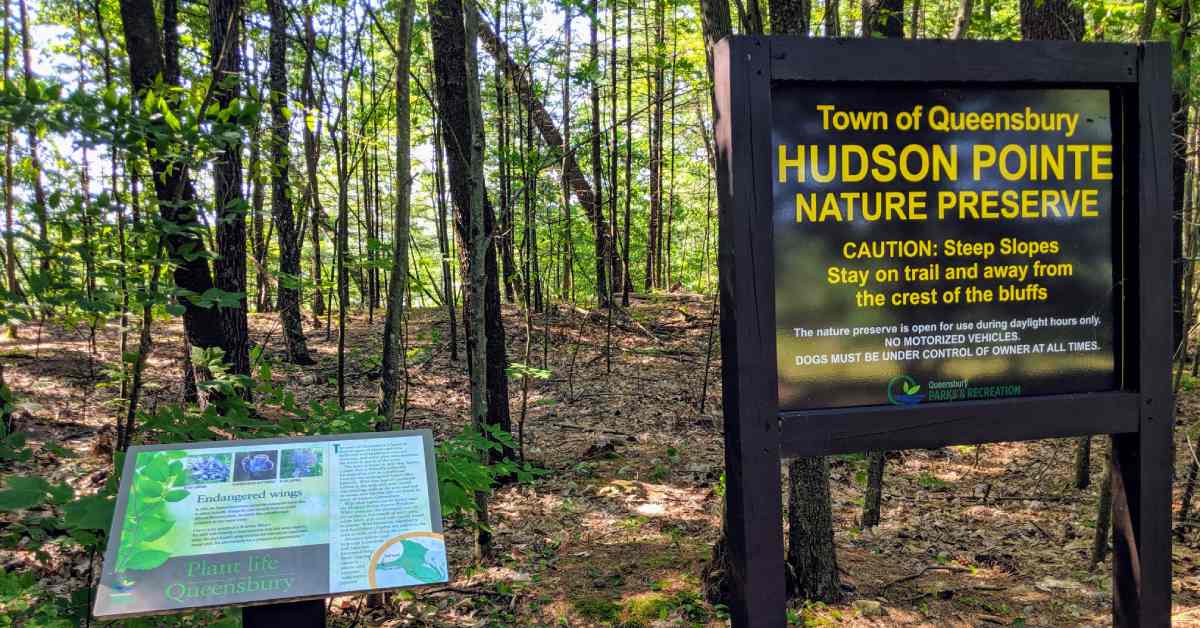 The views of the Hudson River are unbeatable from this point. This semi-loop trail stretches almost two miles. There are several paths to choose from, depending on the distance you want to cover. This easy, shaded walk is scenic and perfect for visitors of any age.
This historic trail meets the Hudson River and the Feeder Canal on both sides and is a great space for walkers and bikers. Beginning at the Feeder Dam and stretching southeast to Fort Edward, this 9-mile-long trail follows the original 19th-century canal system. There is a pavilion and benches for those who want to rest or have a picnic. The path has easy access to the river, so if you're going to get out on the water, bring a kayak or canoe!
Cooper's Cave Overlook
This overlook is on the other side of the Hudson River in South Glens Falls. Near the gushing waterfalls, there is a viewing platform to take in the industrial views of Glens Falls and the river, where visitors can learn about the history of James Fenimore Cooper and the Mohicans of the Adirondacks.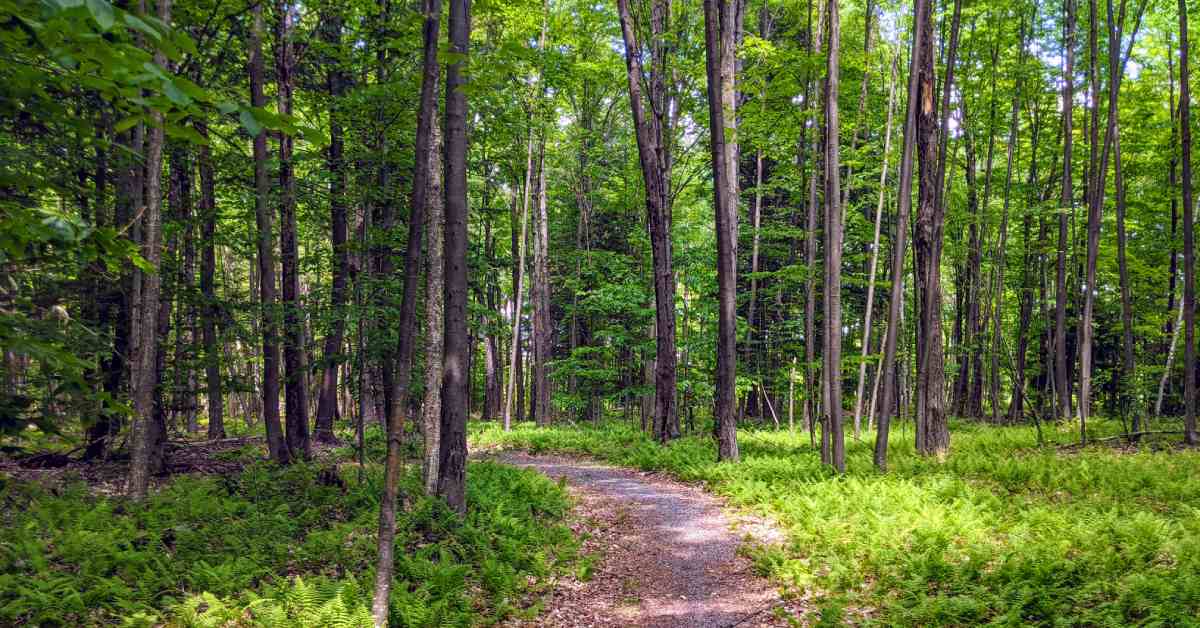 This gorgeous preserve has a 1.75-mile trail system open year-round for leisurely walking, hiking, snowshoeing, and cross-country skiing. These dog-friendly trails are considered easy due to their little to no incline along the paths. Halfway Brook runs through the 44-acre preserve, and the educational signs along the trails note the local plant and animal species.
Travel Even Further into the Outdoors
These beautiful locations are just a short drive away from the Glens Falls area and offer stunning views of the natural surroundings.
Bog Meadow Brook Nature Trail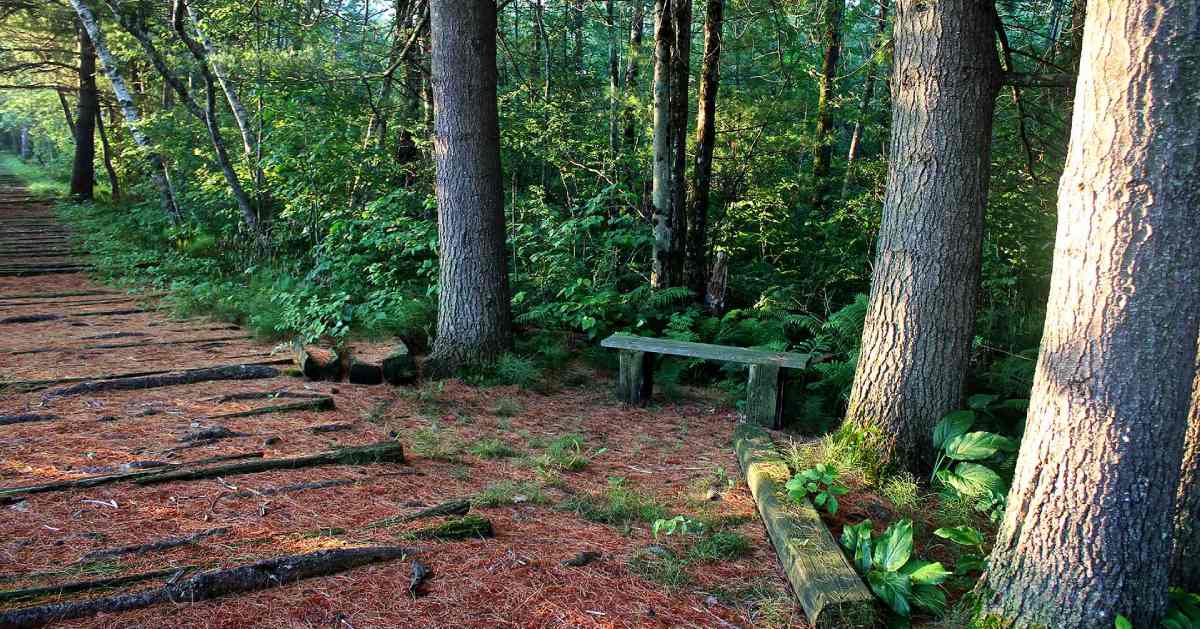 The Bog Meadow Brook Nature Trail is off Exit 14 on the Northway. It was developed in 1993 and currently follows an abandoned railroad that used to connect the region at large. The trail goes through some wetlands, so make sure to wear the right shoes in case it's wet! This two-mile-long path is excellent for walking the dog during summer and trying out the skis in the snow season.
Railroad Run
This half-mile trail is located right in the heart of Saratoga Springs. It runs between West Circular Street and Congress Avenue. It's open for walkers, bikers, rollerbladers, and skateboarders. The trail extends south on Route 50 to link to the Saratoga Spa State Park. The city plans to eventually connect the path to the Zim Smith Trail in Malta.
Champlain Canalway Trail
This trail segment extends from Waterford, north of Troy, to Whitehall, New York. Starting at the junction of the Hudson River, Champlain Canal, Erie Canal, and Mohawk River, the trail then follows along the Hudson River to eventually reach Hudson Falls and Glens Falls. From there, the trail continues north along the Champlain Canal. The 60-mile route allows walking and biking through the rich cultural landscape.
Delaware and Hudson Rail-Trail
Beginning in the town of Granville in Washington County, this trail leads to the Vermont border. This section along the border is known as Slate Valley, which has been an active quarrying site since the 1830s. The trail follows an old railroad track that used to run between Rutland, Vermont, and Albany, New York. The northern section of the trail, on the other side of the Vermont border, begins at the Castleton trailhead. Every part of this trail shows off the beautiful farmlands and forests in this northern region.
Spring Run Trail
Step back in time with a stroll along a historic railway bed! Just off Exit 15 and beginning in Congress Park in downtown Saratoga, this handicap-accessible loop is ideal for a quick, half-mile walk. Original railroad mileage markers can be spotted along the trail—perfect for any history lover or outdoor enthusiast!
Zim Smith Trail
This 11.5-mile paved trail connects Ballston Spa to Mechanicville. Start this adventure at Malta's Shenantaha Creek Park, with playground equipment, tennis courts, and picnic tables for a relaxing walk downhill along a scenic route.
Escape the Rain or Heat - Move Indoors!
There are a few spaces for a quick walk indoors around the Glens Falls Region if you can't get to the nearby parks or want to escape inclement weather.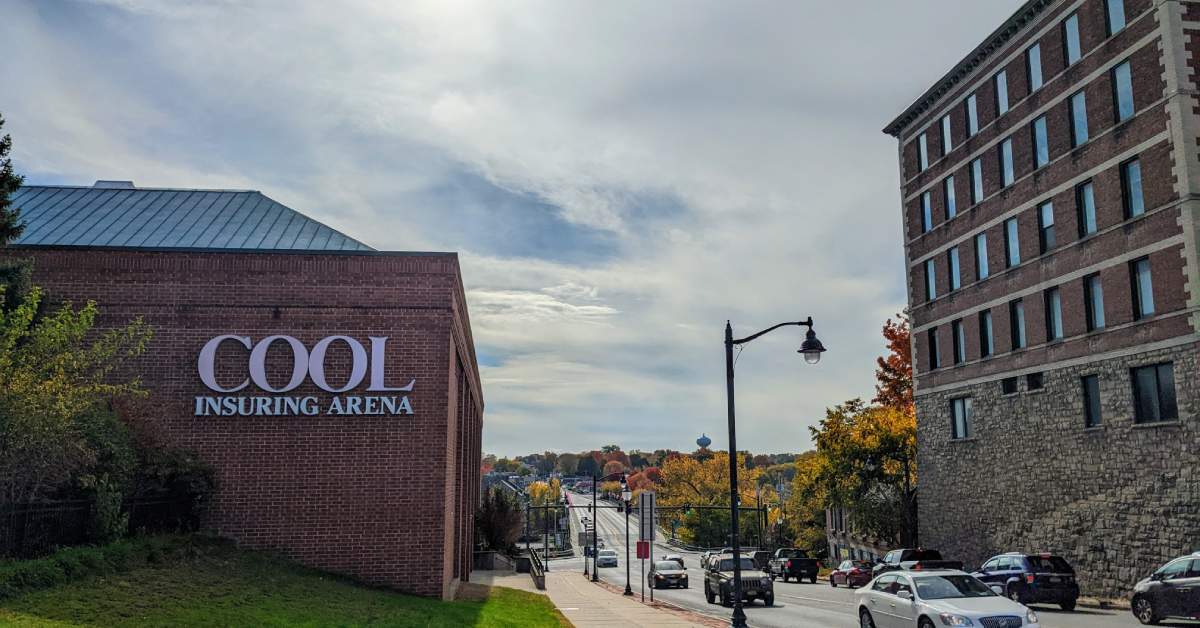 Cool Insuring Arena, located in downtown Glens Falls, offers walking memberships for just $10 a year or $9 for those over 65. Members can walk or run around the top loop of the arena. Walking hours are from 7 am to 5 pm during the summer months. However, check the arena's walking schedule since special events such as games can adjust the regular hours.
Located in Queensbury, Aviation Mall is a safe and convenient place to stroll. Enjoy window shopping or a brisk walk through the one-story mall during open hours. The mall opens at 10 am every day except Sunday, when opening time is 11 am, and closes between 7 and 9 pm, depending on the day of the week. While shops may close at these times, certain areas, such as Target, may be open longer. The Aviation Mall website will provide details on when the stores will open.
Let's Go!
Enjoy a casual stroll on a sunny day or discover a new spot to exercise and take in the scenery of the Glens Falls area. There's no better way to experience the outdoors than to get on foot along one of these top trails.