Local Businesses Honored with ARCC Awards
Each year, the Adirondack Regional Chamber of Commerce recognizes local businesses for both their success in their industry and their dedication to the community. The 2010 recipients were Oscar's Smokehouse in Warrensburg, Orpthopedic & Spine Physical Therapy in Queensbury, and The Chocolate Mill in Glens Falls.

Oscar's Smokehouse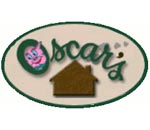 Oscar's Smokehouse received the 2010 Steven M. Sutton Small Business Award. The smokehouse has been in operation since 1946. The establishment was passed from father to son, and currently a third generation dedicatedly works at Oscar's.
When the building was destroyed in a fire in 2009, the owners decided to rebuild, and finished the refurbishing in five months. In the interim, all employees were promised full salary until the business reopened. This was only one example among many of the kindness and community consciousness of Oscar's Smokehouse. The building was designed to be environmentally sensitive and "green", and the business annually commits $20,000 to local charities in addition to donating bacon and ham to Community Action.
Orthopedic & Spine Physical Therapy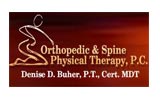 The award for the 2010 Professional Business of the Year went to Orthopedic & Spine Physical Therapy, which began as the sole proprietorship of Denise Buher in 1996. In just a few years, Buher opened two new offices and employed fifteen people, whom she credits for her success with their support, positive attitude and drive to meet the needs of their patients. Buher is a member of the Glens Falls YMCA Board of Directors. She is concurrently an avid supporter of the Juvenile Diabetes Research Foundation, the Hudson Headwaters Health Network, and the Queensbury School Sports Department.
The Chocolate Mill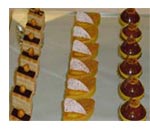 After just nine months of business, The Chocolate Mill has exceeded its own expectations, earning the 2010 Rookie of the Year award. The mill is run by Frank and Jessica Vollkommer, both of whom are incredibly accomplished chefs. In fact, Frank Vollkommer is one of only 13 chefs worldwide with the classification of Certified Master Pastry Chef, and was recently voted one of the Top 10 Chefs in the Country. Jessica is by any standards another masterful chef.
The mill's quality specialty chocolates and pastries are often made from ingredients bought from local community farms. The Vollkommers often include the names of local farms on their menus, gaining recognition for local producers and continuing to do their part in boosting the success of the community.
The recipients were recognized and awarded their honors on June 8th, 2010, at a breakfast hosted by the ARCC and sponsored by the Adirondack Trust Company, at the Fort William Henry Hotel. Pay your own tribute and say 'thanks' to these compassionate companies by visiting and seeing all they have to offer!