Adirondack Sports Complex Back In Business
After A Roof Collapse Earlier This Year, The Dome Is Officially Re-Open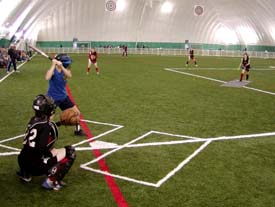 After a long winter, the heavy snow and ice had taken its toll on the Adirondack Sports Complex, but just in time for the new season the dome is back open for business as regular.
In February 2011 the weight of heavy ice and snow was too much for the air-inflated Dome and caused the roof to collapse.
The ADK Sports Complex has since been handling this situation quickly and efficiently, taking all necessary steps to ensure the safety of participants and to get the Dome back open for use, as soon as possible.
Although damages were minor, the Dome was deflated by the manufacturer to clear the ice and snow from the roof. Ripped seams were then repaired and the structure was re-inflated.
Inside the damages proved to be more time consuming. Broken light towers and all playing turf needed to be replaced.
Installation of turf is both a complex and lengthy process, which can take weeks to complete. Experts from Georgia were brought in to ensure a high quality result!
It was worth the wait! The Dome is now open with brand new turf fields and a full schedule of sporting events this season including camps, clinics, tournaments and more!