Glens Falls Native Jimmer Fredette Is Top Basketball Scorer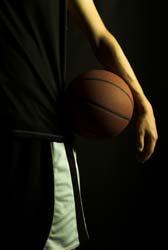 Brigham Young University (BYU) is lucky to know where Glens Falls is. Because, currently, the nation's leading scorer -- in the NCAA, that is -- is Glens Falls native Jimmer Fredette. Basketball must be in his blood.
He has an average of 26.7 points per game...so we'll round that up to 27.For an idea of how good that is, Michael Jordan's career average of points-per-game was 30.1. He's also some sort of machine...in a good way! He shoots 54% on two-pointers, 40% on three-pointers, and 90% from the foul line.
During a recent game with Utah he scored 47 points. One of the best shots had to be a three-pointer on a 40-foot shot just at the buzzer before halftime.
Now even if you know next to nothing about basketball, you can't help but find that impressive. The most telling moment was afterwards...when Jimmer was so casual about the ridiculous shot he just made.
Is our Glens Falls native, Jimmer Fredette, leading NCAA scorer, NBA bound? Well, he has been drawing NBA scouts from every corner, though whether or not he will be drafted is still up in the air.
He has also been a trending topic on twitter. Maybe if we follow him on twitter, we'll get some of his skill? We can only dream.
Whatever the case, best of luck to Jimmer Fredette. May he continue on in the role of leading NCAA scorer, go on to do bigger and better things in the NBA and never forget his hometown roots. Go Jimmer!