Interview With Locust Grove Smokehouse in Argyle, NY
If you like to eat good quality, locally grown and savory foods, you need to check out Locust Grove Smokehouse in Argyle, NY. With a wide array of smoked meats, homemade sausages, and dairy products from local farms, your mouth will be watering as soon as you walk in the door. Read my interview with Dean Tripp, head smoker, and learn what they do and how they do it.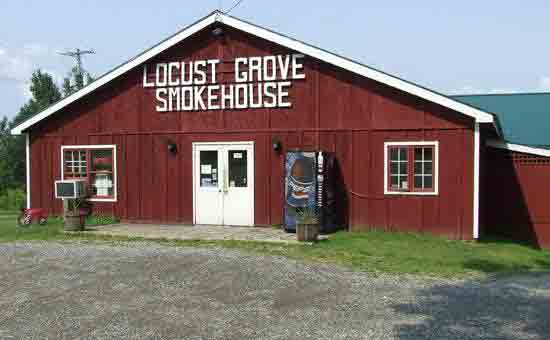 Dean Tripp's father started in the meat industry right out of high school at the local IGA in 1956. He left IGA in 1972 to open his own meat processing plant. Dean, along with his brother Bill both worked part-time at the smokehouse while in high school, and both have been working full-time since they graduated in the late 70s. The building has been improved with additions since the 70s to make room for more processes and larger quantities. I recently asked Dean a few questions:
1. What made you decide to open a smokehouse?
My father didn't like the heavy smoke, salty flavor that other smokehouses were producing, he wanted to offer a lower salt and milder smoke flavor. After lots of experimenting we came up with our recipes and smoking process.
2. Have you had the same team working there for a while? Keeping the recipes/process consistent?
We have had the same people for quite a while, and I am the one who makes the smoked meats and sausages, so it remains very consistent. We try new things and recipes pretty often to keep up with the changing trends in the meat industry.
3. What kind of meat do you carry?
We have a full line of fresh beef and pork as well as smoked meats including (but not limited to): Smoked Bacon, Black Pepper Bacon, Hot Spicy Bacon, Shoulder Butt Bacon, Canadian Bacon, Double Smoked Bacon, Hams (boneless and bone-in), Petite Boneless Hams, Smoked Pork Chops (boneless and bone in), Ham Steaks, Smoked Polish Sausage / Kielbasa, our own Natural Casing Hot Dogs, Pickled Sausage. We also have a full line of fresh Pork and Chicken Sausages. We carry poultry items in the store as well.
4. Do you raise animals on site? How fresh are the meats you use?
We do not raise animals, but we do have a slaughterhouse and have many private label customers that sell from their farms as well as farmers markets around the area. They raise beef and pork that we slaughter, process, package and label for sale. We are a USDA inspected plant with an inspector 8 hours a day, every day of operation.
5. What are your hours of operation?
We work under inspection 8 hours a day 5 days per week. The retail store is open 7 days a week.
6. If a customer brings you a piece of meat, will you smoke it for them?
Yes, we do smoking for customers who slaughter and process their own meats.
7. What else do you sell besides smoked meats?
We have a retail store full of products like cheeses, jams and jellies, local dairy products and much more.
8. What is the most popular item on the menu?
Bacon and Smoked Pork Chops are the two most popular items. Our smoked beef jerky is a close third.
9. Do you process wild game that has been taken by hunters & fishers?
We have done venison in the past, but we are too busy with the slaughter and processing to continue. We do still smoke some fish from time to time when things slow down and I have a smokehouse free.
10. Do you have gift baskets or special packages for the holidays?
We do make some up for the Holidays but most people come in and get a variety of products and create their own.
I headed over to Locust Grove Smokehouse and picked up some of the smoked beef jerky, and some apple cinnamon jelly the other day. The jerky is out of this world, just be sure you choose a piece with lots of pepper, or a little bit of pepper, depending on what you prefer! The apple cinnamon jelly was fantastic on toast for breakfast! I will definitely be stopping in again.