10 Questions with O'Brien Insurance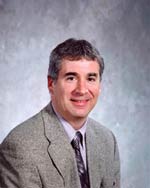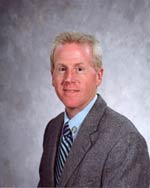 The O'Brien Insurance Agency is located in Glens Falls NY and run by brothers John and Kevin O'Brien. They have a passion for the insurance industry and are committed to getting the best coverage, at the best rate for their clients. Find out a little more about them in this 10 question interview.
1. How long have you been in business in Glens Falls?
John: 53 years. My dad worked for the Travelers for a few years. My Grandfather had worked for Travelers for 40 years and told him he should start his own Agency. He did on Sept. 1, 1957 and my Grandfather was his first client. He worked out of our house on Harrison Ave in Glens Falls.
2. So your father founded this business. What is the best advice he has given you in order to be successful in this industry?
John: Don't worry about the bottom line. If you take care of people and put their needs first, the bottom line will take care of itself. He was right!
Kevin: "Only do this if you want to help people."
3. You are a Trusted Choice Insurance Agency. What does the mean for your current and future customers?
John: It means that the piece of paper that the policy is written on isn't worth much if there aren't people backing it up. It means that you can trust us to get you the right insurance, at a good rate and then be there when you need us, whether its 10 AM Tuesday or 10 PM Saturday! I can be reached by phone or 24/7. You're paying for people, not paper.
Kevin: Trusted Choice is a brand. In order to sell the Trusted Choice brand, the agent needs to be available 24/7, return phone calls and emails promptly, explain coverages and options that are available, guide you through the claim process, and conduct business in an ethical manner; to name a few.
4. We hear you have a nice set of wheels! Tell us a little about it.
John: Someone stole my Toyota Prius during the night and the next thing I know; it has this BIG green Asterisk on it! I've offered a reward to find out who would do that! I think it was a banker I know! They are called the "Risk mobiles"! And the big green thing is an"Ask-or-risk." Get it?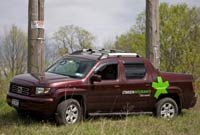 Kevin: Maybe not a "nice set" of wheels, but pretty visible. With the green asterisk, we get a lot of questions and inquiries about that symbol, which is a great "door opener." We are very happy with the graphics.
5. When people think insurance a phrase may pop into their head "15 minutes or less could save you…" What are your thoughts on that?
John: My first reaction is"wow that is cheap." You're only giving a person 15 minutes to make sure their car or home is insured properly? I've been doing this for 31 years and I need time to help you get it right the first time. Giving you ONLY 15 minutes sounds like they care about your money than they do you!
Kevin: If you want to do insurance yourself- then you can spend 15 minutes thinking about your rates, not necessary your exposures. In our current society, there are always people looking to blame someone else for their own "woes." So if you are concerned about protecting your assets like a home, car, or savings - then you need to spend more than 15 minutes on your insurance rates.
6. How many agents are employed at O'Brien Insurance?
Kevin: We have 3 licensed agents and a Customer Service Representative.
7. Your Title is CCO, Chief Concerned Officer, and Kevin's is LIS, Lead Insurance Sherpa. You don't hear that everyday! Who came up with these titles and is there a lot of pressure to live up to the title?
John: We've googled the titles and it says there is only one CCO and one LIS! The great people at Trampoline Design have known us for years professionally and personally and they came up with the titles. They have a nice ring to them don't you think? I'm still writing the job description for the CCO!
Kevin: A Sherpa is "one who carries the load," for climbers who are tackling Mt. Everest. So, I carry the insurance load for our clients.
8. What do you like to do when you are not working? Are you involved in the community?
John: I love walking in Cole's Woods and the trails in the surrounding area. I have 3 adult children and 2 granddaughters who keep me busy. I've also been known to "hang out" at Church! Yes. I am involved with the Glens Falls Foundation and various Church groups. In the past, I have volunteered with St. Joseph's House of Grace, Glens Falls YMCA, Prospect School, Center for Early Learning, and the Adirondack Regional Chamber of Commerce.
Kevin: Spend time on Lake George with my family, go hiking and skiing with my family. Yes. I donate time with the local non-profits.
9. What is your favorite spot in Glens Falls?
John: How can you go wrong sitting at the Chocolate Mill and checking out the Roundabout? It doesn't get any better than that! I still think they should get a webcam. Great entertainment! Equally favorite is the "Patty Show" at the Cave at CCAC. And I'll have another favorite spot soon at 11 South Street. It's going to be great!
Kevin: Glens Falls now has so many dining options so it's tough to decide between Coopers Cave, Chocolate Mill, Davidson's, and the Pasta shop on Glen Street.
10. What do you want people to know about O'Brien Insurance and/or insurance in general that they might not know already?
John: We're insurance guys. We live and work here, we have a PASSION for what we do, we have fun, we can save you money and we can get you more insurance than you have now. We make it simple and easy by doing all the work. Everyone is too busy and stressed out with life. We take some of the worry away to make your life easier!
Kevin: We are a local, family run, insurance agency that has many options for each client's unique insurance needs. As an independent agent, we do all of the work for the client whether it is assessing their needs or talking to the 5 or 6 insurance companies that we represent.