Waiting for Godot: a Tragicomedy
The play Waiting for Godot by Samuel Beckett is much like Catcher in the Rye and Shakespeare: one of those required reading materials in high school that you really hated reading and were convinced would never be applicable to your life after you graduated.
I am reluctant to admit it, but perhaps there is some kind of higher reasoning behind the seemingly random and tedious selections made for us in our teenage years. You may, as I did, find yourself going to see the same play you read in your English class years ago - and even enjoying it.
Of course, plays are meant to be performed, not simply droned aloud in a classroom. G. J. Ruggerio Productions' presentation of Waiting for Godot, at the Charles R. Wood Theatre, was by far a different animal than what I remembered reading.
Perhaps because so much of the humor was in gestures, expressions, and the antics of the actors who weren't speaking. The play is often called a "tragicomedy" precisely because of the contradictions between the sobering subject matter and the amusing hilarity of the actors in motion.
Waiting for Godot is the story of two men, Vladimir and Estragon ("Didi" and "Gogo" to each other) who are waiting to meet a man named Godot. The trouble is, neither seem to have a clear recollection of when they should meet him, or where, or for what.
These two characters, who are onstage for nearly the entire show, were portrayed by Bryn Wolf Ruggiero and Dylan Anthony Ruggiero, respectively. The interactions between these two men were so easy and equal - always sharing the spotlight - you could easily believe they had been together for "50 years or so".
Both Ruggieros are clueless about the physical appearance of Godot, and so they mistake Pozzo, played by Gorman John Ruggiero, to be him. Pozzo readily corrects their mistake and then proceeds to supply a large dose of humor through his own self-centeredness and memory loss.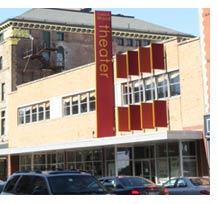 Tied to Pozzo (nearly literally) is Lucky, played up by Andreas Quiroga to steal the show. Though Lucky has few lines - one long rambling monologue, and not a word for the remainder of the show - the audience's eyes were often drawn to his character's entertaining ticks.
Especially for G. Ruggiero and Quiroga, who had long moments onstage with no dialogue, the greatest challenge and source of laughter from the audience was what happened while they weren't speaking.
In one scene, while Didi and Gogo are contemplating if they should help, a blind Pozzo and Lucky must roll around helplessly on the ground for a few long minutes. With their humorous groans and slapstick-style collapses, the audience could not control our giggles and our laughter.
In another scene, while Lucky is rambling his solitary monologue, and making an amusing spectacle of himself alone, the remaining three characters must decide - without saying a word - to stop Lucky, deliberate on how to do it, make several unsuccessful attempts, and then in a classic panorama, jump on top of him and chase him across the stage.
To hearken back to our English class days, Beckett's play is full of social commentary and symbolism. After Lucky is given the liberty to speak, he is quickly shut down by those around him who are frightened by his thoughts. He is once again given his burdens to carry, and driven onward by the force at the other end of the rope.
Didi and Gogo seem to be endlessly waiting for Godot - twice a boy appears (Andrew Simon Frazier, who emits the aura of a 12-year-old, with incredible ease and the fewest lines in the show) saying that Godot will not come today, but surely tomorrow, and no he hasn't seen these two men before.
Despite the seemingly infinite wait, Didi keeps insisting that the pair stays (Gogo pushes to leave, but always comes back), saying that when Godot finally comes, "We'll be saved!" - Perhaps with religious meaning, a note on mankind, or both.
Waiting for Godot was extremely well received during its September 2010 run at the Charles R. Wood Theatre. Did you miss the performance? Do not fear. The upcoming season has more great performances yet to come. The fall 2010 season is filled with theater, dance, lectures, music, and much more.
For information on the upcoming performance schedule visit the Wood Theater online at www.woodtheatre.org
Read about more news in the Glens Falls Region! »