Third Thursday Art Walk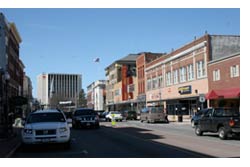 Every third Thursday of the month in Glens Falls is given over to the arts. The Third Thursday Art Walk, an Art in the Public Eye (APE) event happens each month from May to October between the hours of 5-8pm.
Enjoy an evening out with the art and opinion of local artists from every scope and range. The only price you have to pay is the toll on your feet from all the walking!
The Third Thursdays allow for talented local artists to display and share their work in various locations downtown, firmly entrenching this event in the local scene.
Each has their own media and modes of expression - lectures, demonstrations, and theatrical performances.
Take a stroll down to the Third Thursday Art Walk in Glens Falls, NY!
If you're interested in volunteering, donating, signing up for the Chalk Fest, or want more information, visit their website.