100 Of The Most Popular Stocking Stuffer Ideas
Although stocking stuffers are usually an afterthought, you don't have to just fill them with different holiday candy. This year, consider stuffing those stockings with unique and fun novelty gifts, items you know will get used, or something that you know they'll enjoy (e.g. coloring pencils for the artist in the family).
We've got a long list of stocking stuffer ideas for all ages to help you brainstorm ahead of your next shopping trip.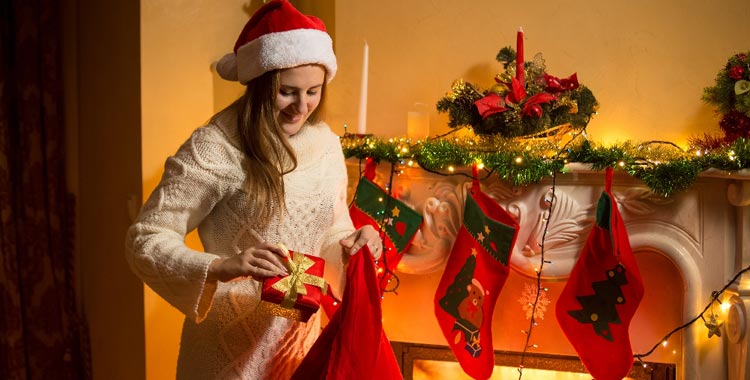 100 Simple Ideas For Stocking Stuffers
Stocking Stuffers For Men
Scratch-off lottery tickets
Tickets to a sporting event
Bottle opener
Car air fresheners
Golf supplies (balls, tees, etc)
Magazine subscriptions
Clip-on lights
Emergency kit
Hide-a-key box
Compass
Shoe horn
Lump of coal
Craft / hobby supplies
Hand warmers
Car care kit
Video games
iTunes gift cards
Batteries
DVDs
Fishing lures
Flashlight
Hot sauce
Grilling utensils
Cozy mittens or gloves
A sweet treat
Headphones
Tire gauge
Cologne
Vitamins
Small pocket knife
Cuff links
Tie
Razor
Stocking Stuffers For Women
Lip balm / chapstick
Nail polish
Polish remover
Hair accessories
Cosmetics
Makeup brushes
Cozy mittens or gloves
Chocolate
Gift card to favorite cafe
Framed picture
Earrings
Loofah
Perfume
Lotion or moisturizer
Hair conditioner treatment
Pretty compact mirror
Magazine subscription
Sleep mask
Cute cupcake liners
Special ornament
Scratch-off lottery tickets
Tea
Face mask
Sunglasses
Gum / mints
iTunes gift cards
DVDs
Underwear
Change purse
Pantyhose or tights
iPhone case
Earbuds
Socks
Stocking Stuffers For Kids
iTunes gift cards
Batteries
Cards, UNO, etc
Video games
DVDs
Blu-rays
Model airplane kit
Coloring book
Cozy mittens or gloves
Candy canes
Trading cards
Bubbles
Jump rope
Coloring supplies
Chalk
Small stuffed animals
Paper dolls
Toy car
Fun band-aids
Kite
Glow sticks
Fun toothbrush
Pipe cleaners
Sunglasses
Matchbox cars
Action figures
Bouncy balls
Bath toys
Character body wash
Fashion jewelry
Hair bows
Jingle bell
Selfie stick
Fidget spinner