A Drop Dead Winner in "Murder for Two: A Killer Musical"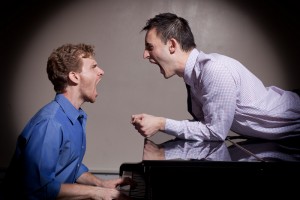 The Adirondack Theatre Festival presentation of "Murder for Two: A Killer Musical" is currently running at the Charles Wood Theatre in Glens Falls. A mystery that opens with a traditional, dramatic plot - the guest of honor for a surprise birthday party is murdered upon arrival at his own home - renders a houseful of party guests as murder suspects. A dozen or so distinctly comical characters are all fodder for a young police officer with career ambitions. The catch? "Murder for Two: A Killer Musical" has exactly two - yes, two.
Kinosian and Kellen Blair co-authored the book Murder For Two. Kinosian and Adam Overett costar in this hilarious whodunit, with Overett playing the young police officer, and Kinosian filling the shoes of a dozen characters, from a disillusioned widow, to a prima ballerina, the weird and hostile next-door couple, a couple of choir boys and - natch - the corpse! Each of the characters develops distinct personalities and physical, recognizable traits as the play unfolds.
Kinosian and Overett both play piano and perform songs written by Kinosian throughout. The songs and lyrics are fun - often hilarious - the timing fast paced and perfect, and the relationship of these two actors to the audience is tight. This performance is memorable not for an intricate plot or bombastic cast of dozens, but is a comedic force unto itself as these two actors straight-up bring it. With such a palpable on-stage energy, there is not a single moment during this show when you might have a thought that it just isn't working.
(One more thing…be sure to take a good look at the stage setting…fantastic!)
The realization of what an amazing feat this musical performance is finally settles in on the audience somewhere mid-way through the show. Don't miss this one!
Final week of performances:
July 28 - 31 at 8:00 pm
July 28 at 2:00 pm
For tickets and information, visit the Adirondack Theatre Festival's new website!