Queensbury Business Park
Warren County is a Great Place to Build Your Business
Warren County is not only a great place to live, but an ideal location to build your business. The EDC has been involved in community improvement throughout the county and is encouraging other businesses to take notice and purchase industrial sites in Queensbury.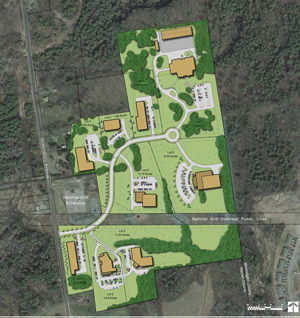 Queensbury Business Park is located on the northern edge of Tech Valley's leading research, educational, and business hub. The 56-acre Park is centrally located in the Tech-Valley Corridor and is just 200 miles from New York City, Boston, and Montreal!
The Park has 41 acres available for sale. Lots range in size from 2 to 9 acres and can be combined to make larger plots. They are ideal for manufacturing production, technology research and development.
The strategic business advantages of basing you business in Queensbury are numerous! The location along I-87 and just minutes from Floyd Bennett Memorial Airport grants easy access by all forms of transportation. Queensbury is also home to the rapidly growing Glens Falls-area biomedical device cluster.
The areas close proximity to GE Global Research and research facilities at RPI, Albany Medical College, and University of Albany East Campus, offers access to experienced, trained and a motivated workforce.
The EDC is Involved in Area Improvement:
The EDC strives to attract and retain business, drive economic dialogue, and serve as a liaison between business and government agencies. The above mentioned Queensbury Business Park is just one of their many projects. They have impacted the area with efforts on the following projects:
Exit 18 Construction: Created a projects and opportunities map, which outlined recent investments and future developments, for use in marketing.

Floyd Bennett Memorial / Warren County Airport in Queensbury: Involved in improvements such as runway expansion, navigation and emergency equipment, wetlands mitigation, safety enhancements, and new hangars.

Redevelopment of North Creek: Performed critical steps in transforming the North Creek area into a true four-season destination.

Revitalization of Downtown Glens Falls: Working with National Grid's economic development department, EDC has obtained matching grants to support the revitalization of numerous buildings in downtown Glens Falls.
If you are interested in joining or want more information please contact the Warren County Economic Development Corporation (518) 761-6007.