Six Flags Great Escape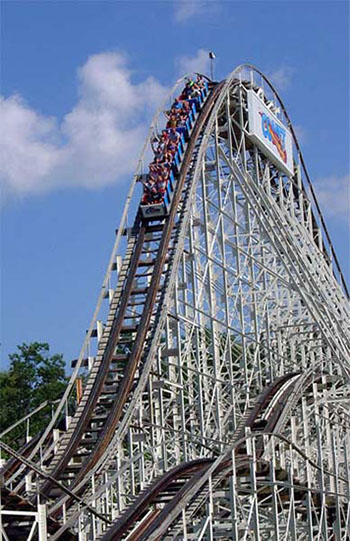 Here's a little-known fact: Six Flags Great Escape and Splashwater Kingdom is not located in Lake George, as many assume, but is actually a part of Queensbury, NY!
The Great Escape, as locals call it, is a dynamic park with rides for all ages and temperaments, along with entertainment, food and other fun.
Summer Thrills
As the weather warms, you might want to check out the water park-admission is included in your theme park ticket, so you can swim until you're pruney and then hop on a coaster to dry off.
While in the park, thrill-seekers will want to check out the intense Mega Wedgie and Tornado. A Sasquatch can be found in the front of the park, too. No, not the hairy mythical monster, but a ride with a near-200 ft. drop!
And don't forget the brand-new virtual reality attraction Acrophobia! Float above a city and do battle with giant spiders-that is, if you dare.
Family Fun
Believe it or not, The Great Escape wasn't always a big thriller. When it opened in 1954, it was "Storytown USA," Charles R. Wood's Mother Goose-themed park for young children.
As the park grew, so did its appeal. Today there are shows, rides, and a whole section of the park dedicated to kids and families! Throughout the park, you'll still find remnants of Storytown. Explore fairytale cottages and meet with Cinderella herself!
The park hosts a number of special events each year, including Pediatric Cancer Awareness Days, "Bring a Friend Free" days and the popular Halloween-time "Fright Fest."
Whenever you decide to go, and whoever you bring with you, there is something fun for everyone inside the Six Flags Great Escape Theme Park and Splashwater Kingdom-in Queensbury, NY!