Crafty Beverages: The Breweries, Wineries & Distilleries of Washington County
What makes craft beverages different? They're not mass produced. Craft beverages are created slowly, deliberately, and with care, resulting in a higher quality, better tasting product. If you're looking to sample never-tried-before craft beverages and support local businesses at the same time, head to Washington County!
Washington County is known for its rolling fields of farmland, scenic country views, and robust agricultural businesses, which includes breweries, wineries, and distilleries. Just as farmers are meticulous about the produce they grow, craft beverage producers put the same thought and tenderness into creating well-crafted, flavorful drinks.
Skip the Bud Light! Find Delicious, Local Craft Beers at These Breweries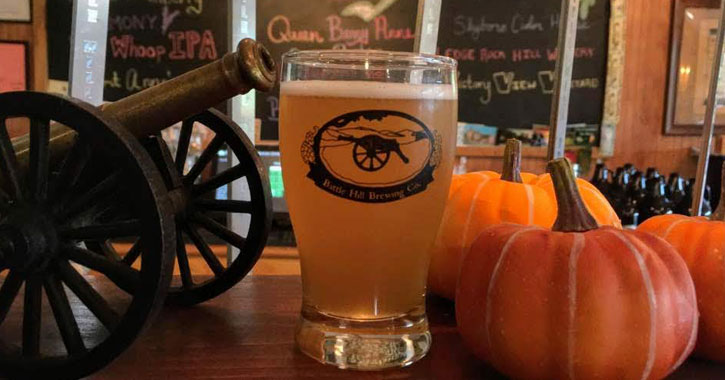 Photo provided
Battle Hill Brewing Company
Battle Hill Brewing Company creates their delicious beer just seven barrels at a time in their 19th-century building in Fort Ann. They use local ingredients and refined recipes. Beers include the War Whoop IPA, which has piney and citrus hops with a malt taste, and Cocoa Porter for chocolate lovers - they add cocoa nibs during the brewing process.
Guests can also take advantage of their extensive food menu that includes a Farmers Platter with cheese curds from Argyle Cheese Farmer and several other appetizers, salads, and more. Their hours are 12pm to 8pm, Wednesday through Sunday.
Slate Town Brewing
If you've ever enjoyed the offerings at Slyboro Ciderhouse at Hicks Orchard in Granville, you'll want to check out Slate Town Brewing. This brewery is owned and operated by Glenn Wetherell and Susan Knapp, who have branched out from the Slyboro Ciderhouse. Slate Town Brewing just opened Labor Day Weekend of 2018 in a 1930s building in Granville.
They currently have eight beers on tap, including Cherry Wise, infused with local tart cherries, and Slate Trail Pale Ale, which has New York State malts combined with simcoe and centennial hops. Slate Valley Brewing is working on getting a kitchen up and running, but in the meantime, they have a snack bar and food trucks on most weekends; you can also bring in food from local restaurants to enjoy in their taproom.
Their hours are 4pm to 9pm Wednesday through Friday, 12pm to 9pm Saturday, and 12pm to 6pm Sunday.
Argyle Brewing Company
Argyle Brewing Company is all about increasing opportunities for area farmers, artisans, and entrepreneurs by using locally sourced hops and barleys, and by carrying locally made goods. They also pride themselves on using top notch brewing equipment.
A couple of their unique beers include the Woodland Ale, which uses fresh hops from early in the hop harvest season and has a touch of citrus flavor, and Oatmeal Stout, which is created from a blend of dark malts and has hints of dark chocolate and roasted coffee.
This brewery has been so successful they opened a second location in 2017. Their two taprooms are located in Greenwich and Cambridge, and both have the same hours: 4pm to 8pm Wednesday, 5pm to 8pm Thursday, 4pm to 8pm Friday, 11am to 8pm Saturday, and 12pm to 5pm Sunday. (Argyle, for which the brewing company is named, is a dry town).
R.S. Taylor & Sons Brewery
R.S. Taylor & Sons Brewery strongly believes that beer is an agricultural product, and that's why they're located in farm country in Salem. They use a combination of hops from their own Misty Bleu Farm, from Cold Spring Hops Farm located close by in North Hebron, and British-grown hops; the brewery is known for their English-style ales. Grains are also sourced both locally and from Britain.
Their beers include Willie's Nut Brown Ale, English Ale, Black Creek Oatmeal Stout, and several others, including seasonal offerings. Their hours are 4pm to 9pm Monday through Friday, 12pm to 9pm Saturday, and 12pm to 6pm Sunday. They also have a tap room in Saratoga Springs that is open 4pm to 9pm Monday through Thursday, 12pm to 11pm Saturday, and 12pm to 6pm Sunday.
Stuck in a Wine Rut? Cold Climate Grapes Produce Flavorful Wines at These Area Wineries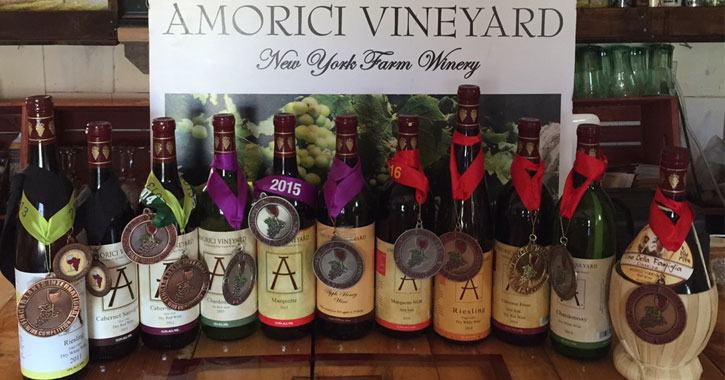 Amorici Vineyard
Amorici Vineyard in Valley Falls uses sustainable farming techniques to produce their award-winning wine from cold-hardy grapes. They're all about drawing out the best of the grapes, using the entire grape and not just the juice. As their website says, "When the grape is respected and traditional winemaking practices followed, beautiful wine is the result."
Owner Joe Messina comes from a family of vintners and wine merchants that hails from the small Italian island of Ischia and the wines reflect this ancestry. You'll find crisp whites, aged reds, and decadent dessert wines here.
Their tasting room is open Saturday and Sunday 12pm to 6pm, or by appointment. Amorici Vineyard encourages guests to relax in the rustic tasting room or sit outside by their fire and soak in the scenic country views.
Editor's note 01/02/19: As of January 2, 2019, Amorici Vineyard's winery/restaurant is closed. For the time being they are still selling wines by appointment, and to stores and restaurants. Please contact the business directly with any questions.
Northern Cross Vineyard
Wine making is made simple at Northern Cross Vineyard, where they craft incredible wines from high quality grapes. In fact, they name their wines for the primary grape used in making them: their red wine grapes are Marquette, Frontenac, and St. Croix, and the whites are Lacrosse, La Crescent, and Prairie Star.
Although they certainly know their wines - and grapes - Northern Cross Vineyard believes that guests should be welcome to choose their wine and their experience at the vineyard. They love to share their knowledge of the wines, but they won't ramble on with complicated descriptions. The public is welcome to taste wines, take a tour, or simply "hit the pause button."
Northern Cross Vineyard is one of the oldest properties in Easton. You'll find them on Beadle Road, named for the Beadle family that once owned their land. Tasting hours are 12pm to 6pm on Saturday and Sunday.
Victory View Vineyard
You know it's going to be a great product when the producers truly love their craft, and this is the case at Victory View Vineyard. Husband and wife Gerry and Mary Barnhart started this vineyard after retirement so they could truly hone their passion for winemaking; Gerry was the former director of New York State's Department of Fish, Wildlife, and Marine Resources, so he already had a solid connection to agriculture and the great outdoors.
Victory View Vineyard has gone from a few hybrid test vines to a full vineyard and winery that grows a range of red and white cold climate grapes. They craft and bottle all of their award-winning wines.
Stop by for a tasting and a tour between 12pm and 6pm on Saturday and Sunday; they will also be open on Monday, November 12th, 2018 on observed Veterans Day from 12pm to 6pm.
Expand Your Palate With Handcrafted Spirits From a Progressive Distillery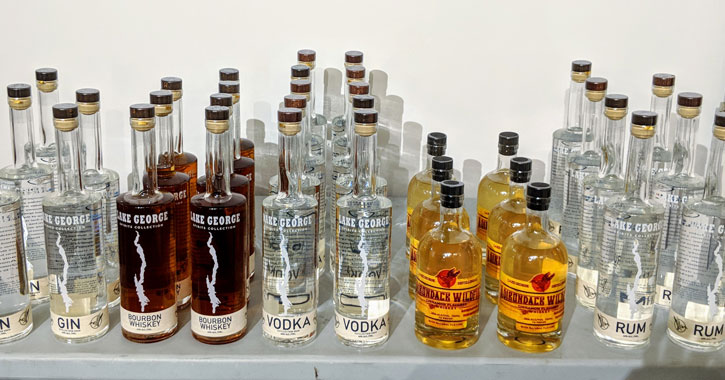 Lake George Distilling
Local grains, artisan spirits, and Lake George come together in the delicious and expertly named products from Lake George Distilling. Their spirits have names like 32 Mile Moonshine, named for the length of Lake George, and Red Rock Rye, which references Red Rock Bay of Lake George's northern basin. There's also Adirondack Wildfire Whiskey, which has a pleasant, cinnamony finish similar to Fireball Whiskey.
As with the other Washington County craft beverage businesses, Lake George Distilling has a high focus on great tasting products that are handcrafted with care from local ingredients. They create all their spirits in small batches.
Lake George Distilling is located in Fort Ann, although they also opened a Lake George storefront in 2016. The Fort Ann tasting room is open 11am to 7pm Monday through Saturday and 12pm to 6pm on Sunday; the Lake George location is open during the summer months from 11am to 10pm Monday through Wednesday, and 11am to 11pm Thursday through Sunday. The Lake George location moves to Fridays, Saturdays, and Sundays only starting in mid-November.
Keep an Eye Out for These Craft Beverage Businesses Coming Soon
There is always something brewing in Washington County! Keep an eye out for Slick Finn in Fort Edward and Hudson River Tasting & Brewing in Hudson Falls, coming soon.
Think Washington County When it Comes to Craft Beverages
The next time you're itching to try something new and different, or you're looking for craft beverages to complement your next social gathering or party, remember Washington County. Take a scenic drive to one of the tasting rooms and bring home something special to share. Or, complete a full tour of area breweries, wineries, and more.