Map Your March Maple Madness Destinations in Washington County
Experience the Sweet Life of Maple Close to Glens Falls
Please note: NYS Maple Weekends have officially been cancelled for 2021, however, many farms will be open and offering drive-through, online ordering for takeout, and/or physical facilities with limited customers on site. Scroll down for more info!
What's sweet and delicious, contains healthful minerals, and goes well with pancakes, waffles, ice cream, and more? Maple syrup, of course! And that's only one of the many magnificent maple products. If you haven't yet heard of New York State's Maple Weekends you'll definitely want to get in on this sweet action.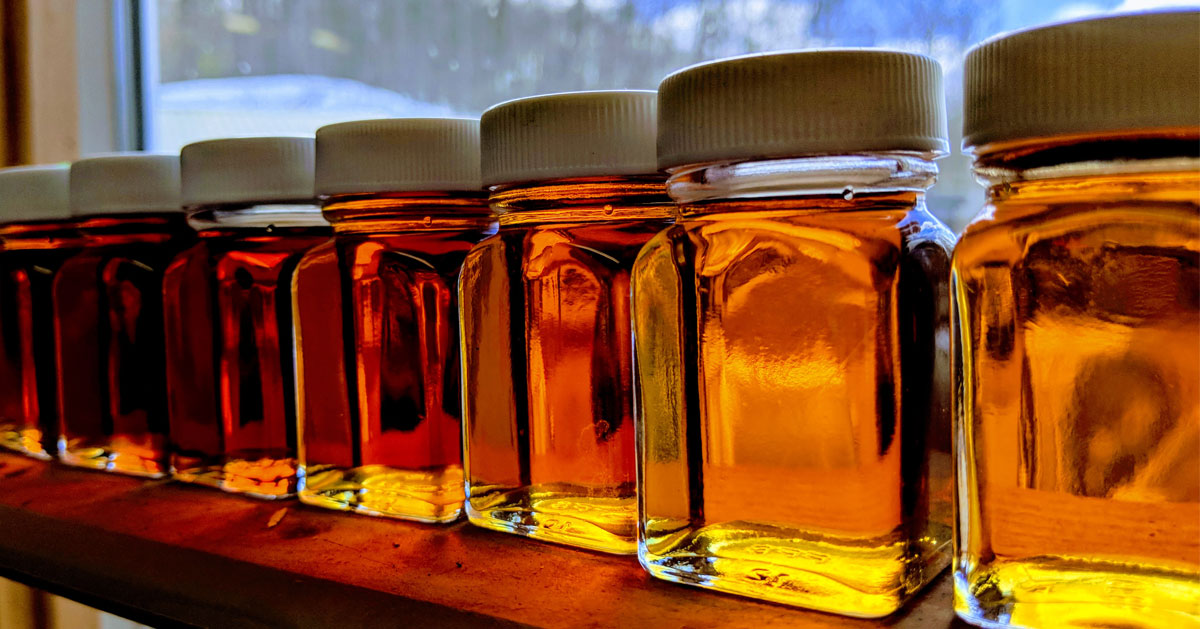 Photo credit: Alan Nudi
2021 Maple Farm Info (In & Near Washington County)
Mapleland Farms
647 Bunker Hill Road
Salem, NY 12865
518.854.7669
Mapleland Farms is offering tours by appointment only from 10am to 3pm on March 20, 21, 27, and 28.
Wild Hill Maple
366 Carney Cassidy Road
Salem, NY 12865
518.854.7272
Wild Hill Maple's sugarhouse is open to purchase products year-round. You might get lucky and see steam coming out of the top and catch owner Brian Ducharme boiling!
Mud Street Maple
269 Mud Street
Thurman, NY 12810
518.623.2736
Mud Street maple will be open every weekend in March for outdoor maple fun.
Toad Hill Maple Farm
137 Charles Olds Road
Athol, NY 12810
518.623.4744
Toad Hill Maple Farm is offering curbside pickup at the sugar house. Place orders online or by phone to schedule a pickup time. While on the property, find fun photo opportunities like their big Adirondack chair and a covered bridge! Please call ahead before visiting the farm.
Rathbun's Maple Sugar House
1208 Hatch Hill Road
Whitehall, NY 12887
518.642.1799
Rathbun's Maple Sugar House will be open Saturdays and Sundays, 7am to 1pm for breakfast. Visit the Maple Sugar House gift shop behind the restaurant (masks required). Their gift shop offers a wide variety of maple products as well as pottery, books, and Rathbun's swag. View maple syrup production from the gift shop area!
McComb's Oak Hill Farm
227 Elm Lake Road
Speculator, NY 12164
518.548.6105
Call a few days in advance to schedule a private tour of the farm and sugarhouse. Snowshoes will be available for visitors. You'll have the opportunity to purchase their homespun maple cotton candy, syrup of various grades, maple sugar candy, and gift boxes of their syrup paired with New Hope Mills pancake mix. Reservations are required.
Black Rooster Maple
10819 NY-73 Scenic
Keene, NY 12942
518.576.9792
There is no need to call ahead, because this self-serve maple cabin in Keene is open 24/7! Black Rooster Maple offers various sizes of pure maple syrup, whiskey barrel aged maple syrup, maple cream, freshly ground maple flavored coffee, and gifts from other New York State producers like Precise Gluten Free Foods pancake mix. This is a quick and convenient stop on your way home from a day of skiing at Whiteface Mountain, Lake Placid Olympic Center, or snowshoeing at Ausable Chasm. Cash or credit cards are accepted.
Check with individual farms near you to find more in and around Washington and Warren Counties!
Background of NYS Maple Days
Every spring, members of the New York State Maple Producers Association invite the public to visit their sugar houses and farms to learn about the unique tradition of maple production - this is unlike any other agricultural domain. The majority of events, activities, and tastings are free minus the pancake breakfasts and any maple treats you decide to purchase to take home.
Guests enjoy samples of authentic maple syrup, maple candy, and other sweets along with pancake breakfasts, maple sugar house tours, horse wagon rides, and more. The official time is 10am to 4pm for each day of Maple Weekends, although some participants start earlier in the day. Below, we've highlighted nearby participating maple farms and activities going on in Washington County, which is known for its robust agricultural businesses. These maple farms and sugar houses are just a short drive away from the Glens Falls region.
Nearby Sugar Houses & Farms Participating in Maple Weekends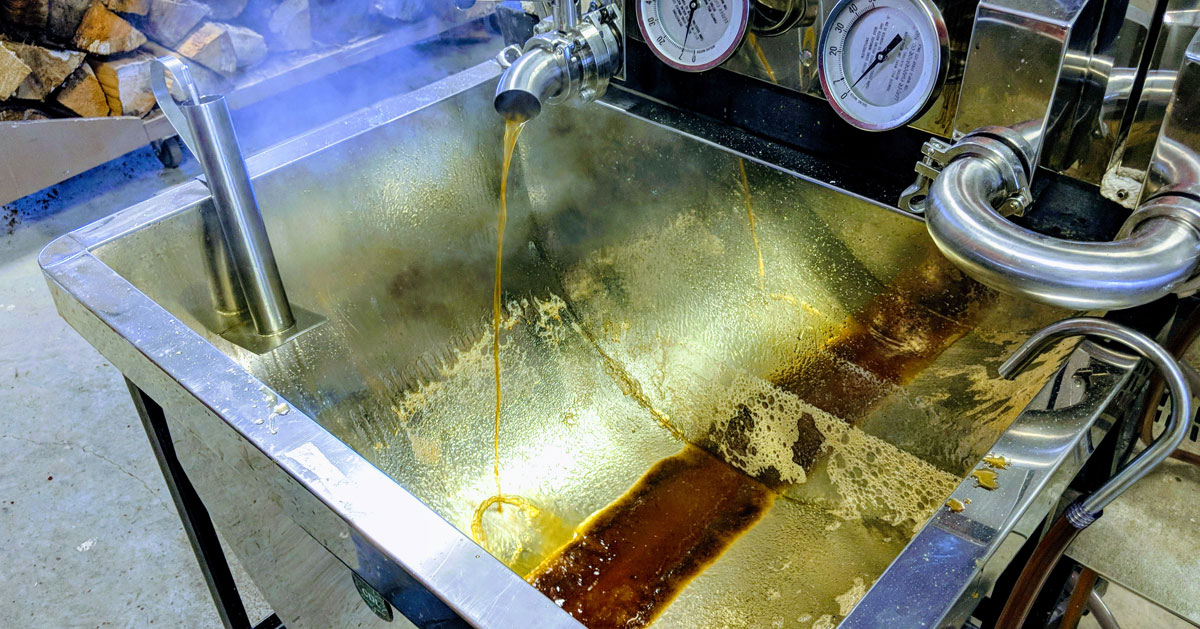 Photo credit: Alan Nudi
Over the two Maple Weekends, visitors embark on a self-guided tour to participating farms (you can head to one, two, or more) to enjoy tastings, treats, and tours. The majority of maple farms are family-run businesses who have been engaging in the tradition of maple production for many years. They're passionate about what they do, and they can't wait to share this time honored tradition with visiting families.
Check Out the Washington County Maple Sugarmakers Map
Please Note: This map represents 2019 Maple Weekend participants. Please check with individual farms to see what they're up to this year.
Here's who is participating (click map for larger image):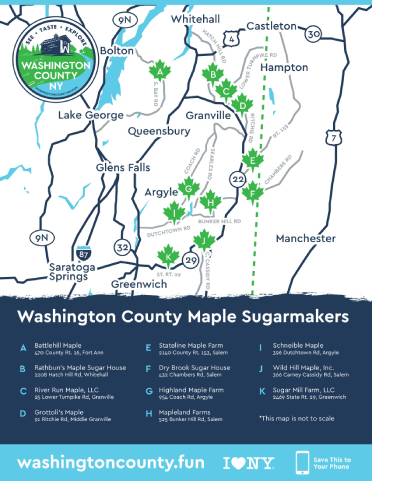 Pro Tips for Traveling to Maple Farms
Click on the above map for a larger version and either print it, or take a screenshot on your phone. These sugar houses are out in farm country, and you'll want to have the map should you lose service on your phone (and GPS).
Some of the activities take place outdoors on working farms, so keep this in mind in terms of your clothing and footwear. March is still chilly in New York State, and there's likely to be a combination of mud and snow on the ground.
Maple Weekends in Washington County: Specific Activities & Events
Please note: Again, NYS Maple Weekends for 2021 have been cancelled. Please see below for what farms have offered in the past for an idea of what to expect, and contact individual establishments for what they're up to this year.
Maple Goodies & Kids Fun at Wild Hill Maple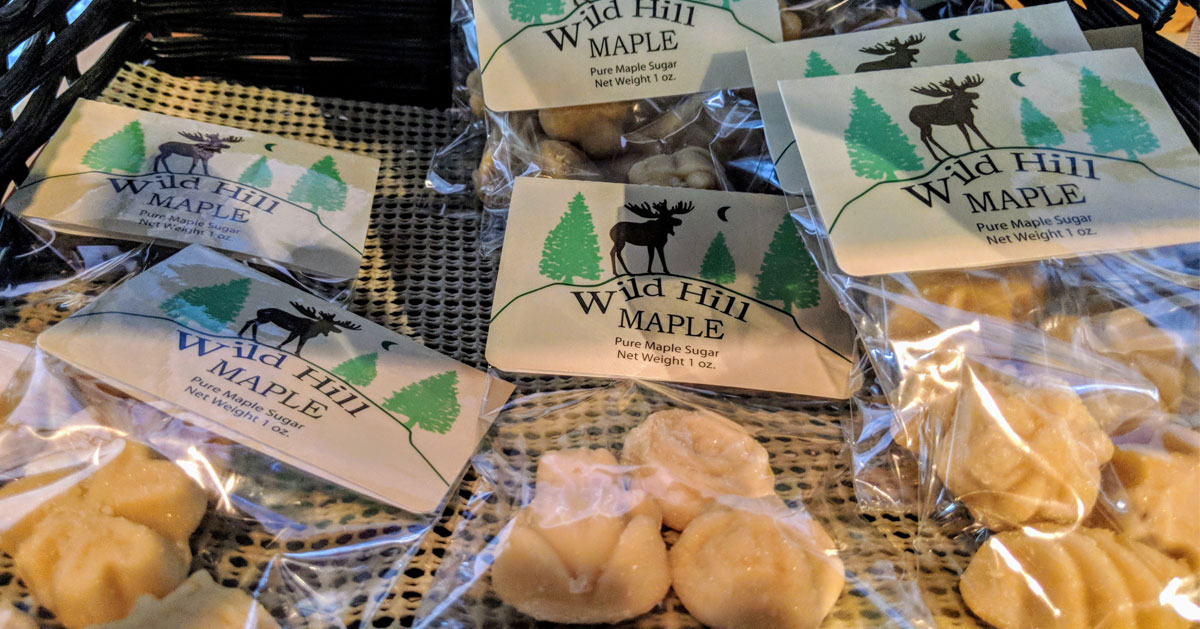 Note: Wild Hill Maple's store will be open for 2021.
Wild Hill Maple in Salem is once again offering fun activities for kids, including making their own maple candy and snagging a delicious maple cookie treat. They'll have all of their maple products for sale along with tea, coffee, and cocoa. Guests can check out goodies from Give Me Some Sugar, and they're hoping to have Greek maple yogurt and drinkable maple yogurt.
Check out event details: March 21 & 22 | March 28 & 29
Horse Drawn Wagon Rides at Dry Brook Sugar House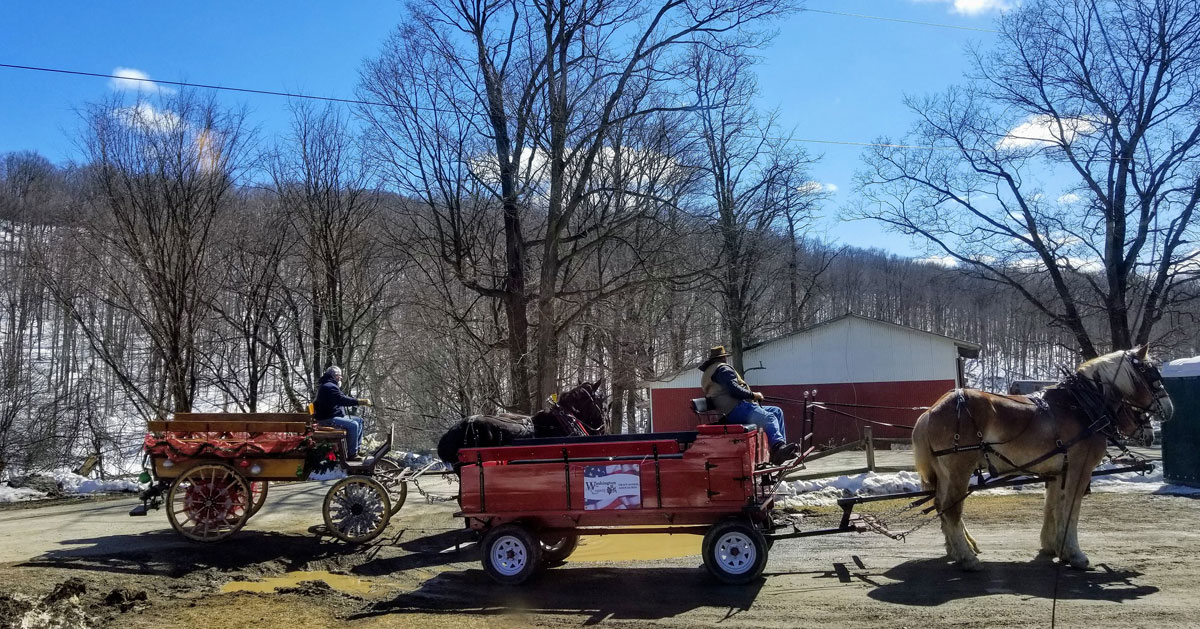 Dry Brook Sugar House in Salem will be serving a pancake breakfast from 8am to 2pm (note: this starts earlier than most Maple Weekend activities). They'll have horse-drawn wagon rides, weather permitting, and delicious pancake breakfasts.
Get the event details: March 21 & 22 | March 28 & 29
More Maple Fun at Mapleland Farms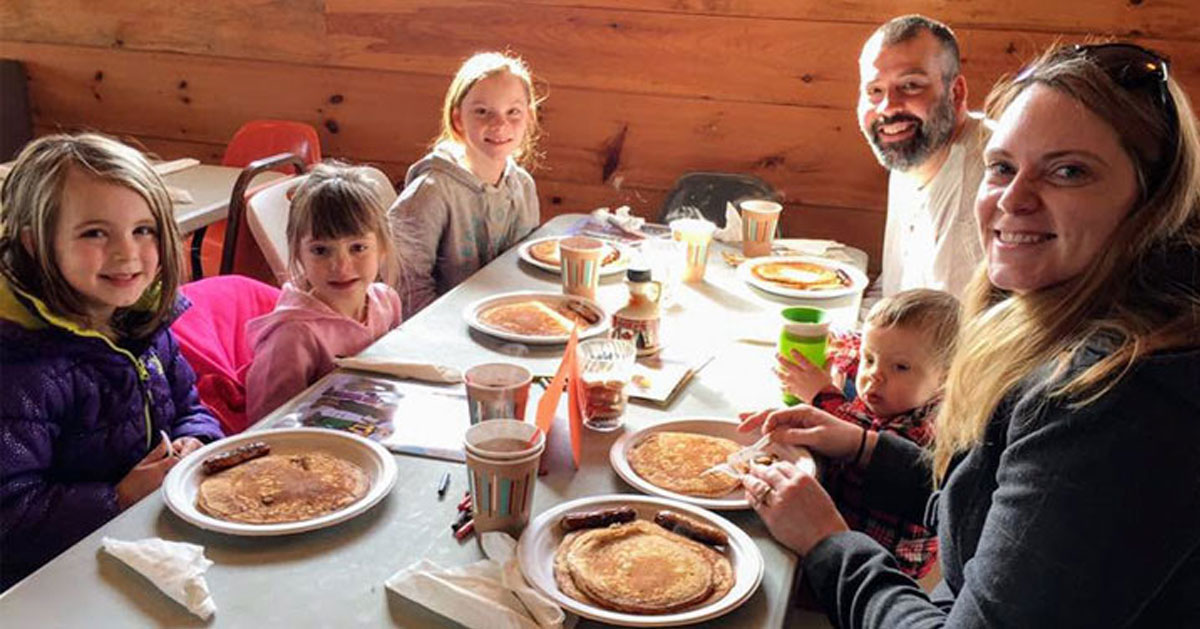 Mapleland Farms will be offering guided walks on their sugarbrush nature trail, demonstrations of sap collection and sap boiling, and tastings of bourbon barrel-aged syrup and maple cotton candy.
Get the event details: March 14 & 15 | March 21 & 22 | March 28 & 29
Year-Round Sweets & Treats at Rathbun's Maple Sugar House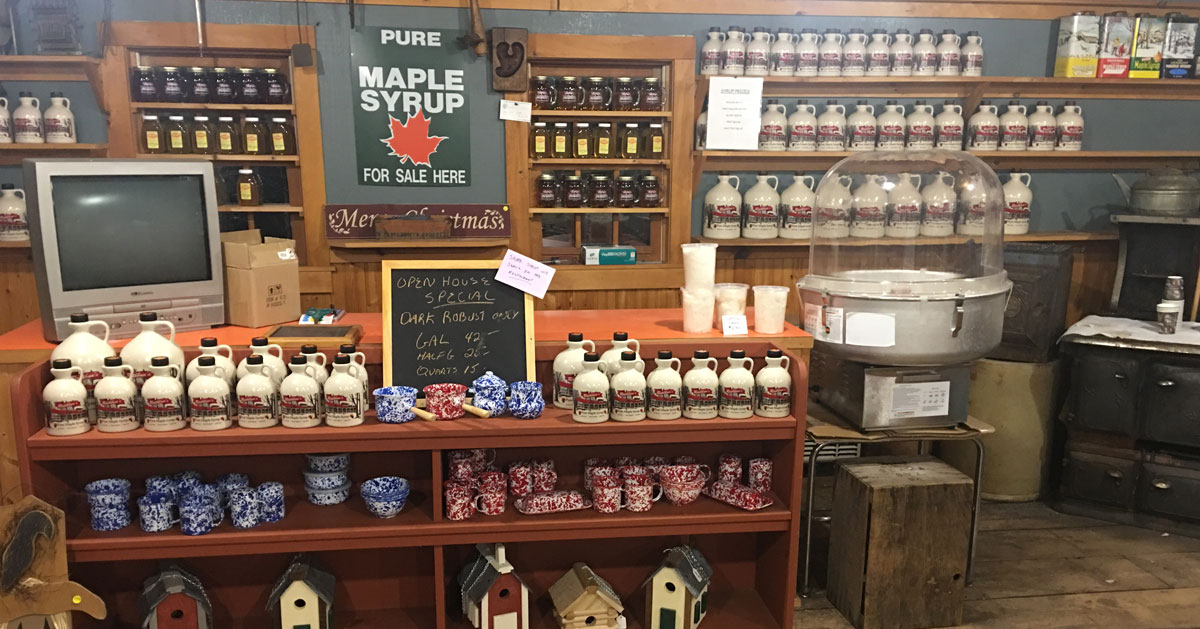 Rathbun's Maple Sugar House has its own restaurant that is open year-round, although it certainly gets busy on Maple Weekends! (Our suggestion: come early, they open at 7am.) They serve up whole wheat pancakes, chocolate chip pancakes, old fashioned oatmeal, sausage, biscuits and gravy, French toast, waffles, and eggs. Horse drawn wagon rides will be available, weather permitting.
Get the event details: March 21 & 22 | March 28 & 29
Keep the Mapley Goodness Going in Washington County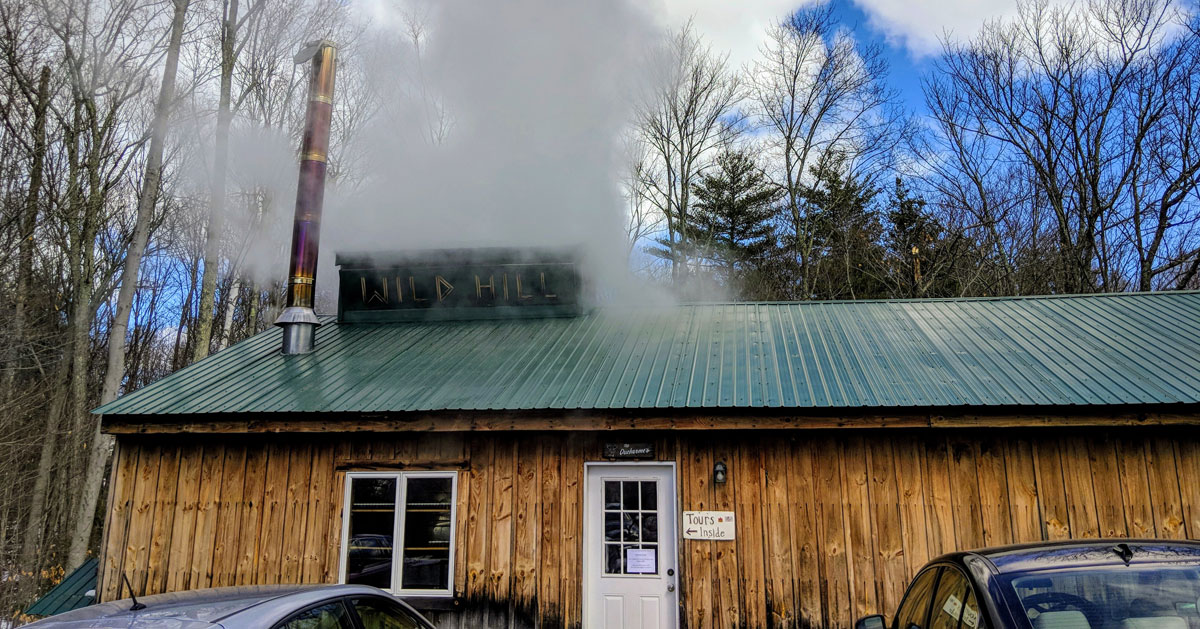 Can't make it out for Maple Weekends, March 22nd and 23rd, and March 28th and 29? Some of the farms advertise they're open year-round, such as Grottoli's Maple and Schneible Maple, although you'll likely want to call ahead before visiting. However, in the Northeast, March means maple, and this is the prime time to explore area maple farms and sugar houses, so get out there if you can!