Have a Blast and Make a Splash at Local Spray & Splash Pads in Saratoga Springs and the Glens Falls Area
Beat the heat this summer at these local spray and splash pads! Splash pads are a fun and inexpensive way to cool off on hot summer days. Many of these spots are located in community parks and recreation facilities making them a safe and affordable place for your family to splish, splash, and have a blast in Saratoga Springs and the Glens Falls area. We can hear the splashing and laughing already!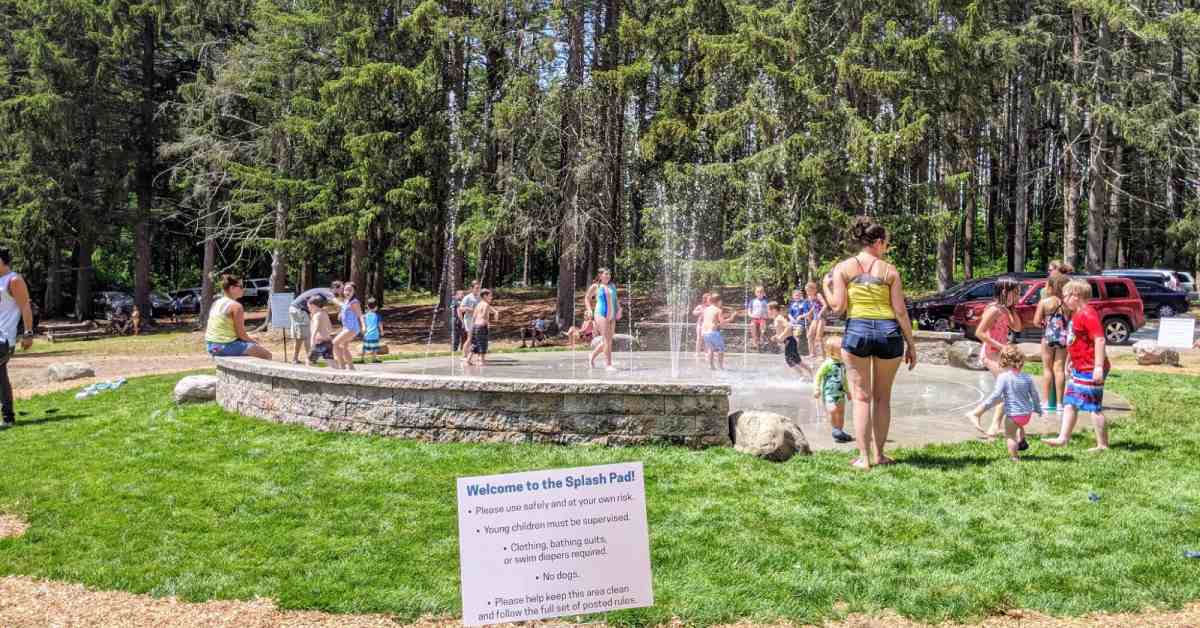 Saratoga Springs Area
Saratoga Springs Recreation Splash Pad
15 Vanderbilt Ave, Saratoga Springs, NY 12866
In rain or shine, the Scott T. Johnson Saratoga Recreation Center is known as a great place for local Saratoga families to stay active! When you enter the center's grounds on 15 Vanderbilt Ave, you'll hear balls bouncing on the indoor basketball courts, children giggling as they swing on the outdoor playground, and the sound of safe splashing at the free interactive spray fountain! Some say parking can be limited so you may want to consider going on a weekday or during a time when the center is less busy.
East Side Recreation Splash Pad
226 Lake Ave, Saratoga Springs, NY 12866
Located in Saratoga Springs on Lake Ave, this recreation park is a great place for families to get outdoors together and make memories for free! Stop by for a quick game of pickleball or tennis on one of their courts, or make a day out of your visit by using the athletic facilities and playground, too! We suggest you finish your time at the park by cooling off under the spray of the splash pad!
Veterans Memorial Park Splash Pad
10 Adams Rd, Saratoga Springs, NY 12866
Anytime from dawn to dusk, take a family adventure over to Veterans Memorial Park located between Adams Road and Geyser Road, about 10 minutes outside of downtown Saratoga Springs. Pack a picnic to enjoy under the pavilion, walk through well-groomed trails, and fight off the hot summer temperatures in the splash pad! All amenities here are free and open to the public.
West Side Recreation Splash Pad
Corner of Division St and Beekman St, Saratoga Springs, NY 12866
It's all fun and games at West Side Recreation Park! They have a local favorite playground with swings, a red and blue seesaw, and playset equipment for kids of all ages. When the weather gets hotter, this park on Division Street gets better than ever. Their splash pad is simple, clean, free, and open to the public! A parking lot isn't located near the playground but accessible street parking is available during specified hours. Spend the day or stop by for a quick splash!
Gavin Splash Park
10 Lewis Rd, Saratoga Springs, NY 12866
Gavin Splash Park in Wilton Town Gavin Park is a summer hotspot for kids! Once your child experiences the spray of the sprinklers and the colorful play equipment, they'll never want to leave. Luckily, the laughter, smiling faces, and memories made will make it well worth your time! This splash park practices safety guidelines, is only open during good weather, and will consider being a venue for birthday parties during certain hours. Gavin Splash Park is located less than 10 minutes northeast of downtown Saratoga, and for a price of $2 for Wilton, NY residents (identification required), or $5 for non Wilton residents, it's an ideal spot for affordable summer fun.
Greenwich Splash Pad
14 Woodlawn Ave, Greenwich, NY 12834
Spend time splishing and splashing at the Greenwich Splash Pad! Located in Gannon Park about 30 minutes outside of Saratoga Springs, this kidzone is a great place for the whole family to enjoy. There's a lush grassy area, a swingset, and a splash zone perfect for toddlers and young children!
Halfmoon Spray Park
162 NY-236, Clifton Park, NY 12065
At Halfmoon Town Park there isn't just a spray pad, there's a spray park! The fenced in attraction makes for a safe and fun spot for your kids to cool off under colorful sprinklers and interactive water spouts! Open from 10:00 am to 7:00 pm (with the exception of 12:00 pm- 2:00 pm for recreation programs), the spray park is clean, free to the public, and conveniently located near a shaded park pavilion and a restroom. The park resides in Clifton Park, a town about 30 minutes south of Saratoga, and there is a dry playground just a short walk away.
Glens Falls Area
Crandall Park Splash Pad
Fire Rd, Glens Falls, NY 12801
Pools are great but sometimes when you're looking for a quick way for the kids to cool off, splash pads are even better! Crandall Park in Glens Falls is the perfect spot for your family to explore on a hot summer day. They have several new amenities that were a part of a recent improvement project. Grab your rackets for a game of tennis on the new court complex, take your try at a game of family disc golf, or splash around on their safe yet fun splash pad! The splash pad is newly constructed, filled with sprinklers galore, and our favorite new part of this local park!
Harry Betar Park Splash Pad
Lenox Blvd, Fort Edward, NY 12828
Harry Betar Park traded in its winter ice rink and sledding spot for a summer pavilion and splash pad! Load up your picnic basket with all your lunch necessities, grab a swimsuit and towel, and check out this family friendly spot. Open from 8:00 am to 8:00 pm daily, the splash pad is accessible, free to the public, and an ideal stop for summer fun!
Find more kid-friendly activities in the Glens Falls area >>