About South Glens Falls
A Close-Knit Community in Upstate NY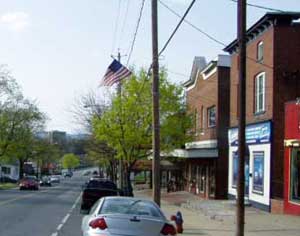 Located at the edge of Saratoga County, just across the Hudson from Glens Falls, South Glens Falls is perhaps most well-known for Cooper's Cave. While this historic location was famously featured in James Fenimore Cooper's 1826 novel, The Last of the Mohicans, the land itself has a much longer history, once serving as a winter hunting ground for the regional Mohawk and Algonquian tribes.
On both sides of the bridge over the Hudson River between Glens Falls and South Glens Falls you'll find large manufacturing plants. On the South Glens Falls side is SCA Tissue North America. On the Glens Falls side is Finch Paper LLC, founded over 150 years ago by Jeremiah and Daniel Finch and Samuel Pruyn. By 1880, Finch, Pruyn & Co. had become the largest lumber business on the Hudson.
What's Here?
Today, South Glens Falls is a hub for families looking for a tight knit community. Its convenient location near Glens Falls, Lake George and Saratoga Springs means there's always something fun and new to do!
South Glens Falls prides itself on family values, top-notch schooling and community involvement. Events such as the annual Marathon Dance at South Glens Falls High School have raised over a million dollars to benefit local charities. There are also a handful of family owned-and-operated restaurants like The Peppermill Family Restaurant.
There are plenty of parks, playgrounds, and recreation opportunities you can find in the village. Take advantage of the ever-popular Moreau State Park to swim, bike, or go camping. You can even immerse yourself in the town's rich history at the Parks-Bentley Place, home of the Historical Society of Moreau and South Glens Falls! Whatever you choose, the whole family is sure to enjoy all that this vibrant community has to offer.
Village Contact:
Village of South Glens Falls
46 Saratoga Avenue
South Glens Falls, NY 12803
(518) 793-1455