New Glens Falls NY Restaurant Pairs Up With Local Farm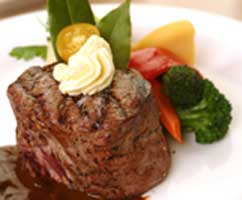 With "local" being the main focus, Chef Jason Baker has opened a new upscale steak house in downtown Glens Falls. The Black Watch located at 21 Ridge St. taking the place of Fiddleheads Gourmet Dining which closed in February of 2009.
The restaurant's name - The Black Watch - is named after a Scottish regiment that fought at the Battle of Ticonderoga. The association with this will be thread throughout the restaurant within its colors, logo, and theme which will also feature at least 30 kinds of Scotch whisky.
Baker, and wife Suzanne, have contracted with a new Black Angus steer farm located in Greenwich (Washington County) to be their one customer and exclusive supplier of beef for the restaurant. Not only is it good for supporting local businesses, but it is also good so the owners know exactly where the meat is coming from. The cattle is monitored by the restaurant owners to control for the best quality possible.
The menu features dishes such as local lamb, rabbit, pork, game birds, and locally-grown produce. Baker's experimental style brings more creative dishes to the menu, so customers shouldn't expect a typically prepared steak.
The restaurant also carries locally-brewed ales and most, if not all, of the food is made in-house. Suzanne Baker is a pastry chef who is notorious for her homemade pasta, bread and desserts.
The Black Watch is able to seat around 60 people in the restaurant, plus another 20 in a bar area. Pricing is moderate, depending on the dish. Entrée prices range from $19-$70, appetizers from $6-$15, and desserts around $7.
The Black Watch opened Tuesday, May 4th, 2010.
Related Articles:
Find out more about local restaurants: