A Battle of Pizza Shops in the Glens Falls/Lake George Region
We've investigated the best pizza places in Washington County - now we're shining the spotlight on pizza in Warren County. After scouring reviews on Google, Facebook, Yelp, and TripAdvisor, we're ready to break down the best pizza places in and around Glens Falls!
Talk of the Town: For the Crispy, Charred Crust & Sweet-But-Not-Too-Sweet Sauce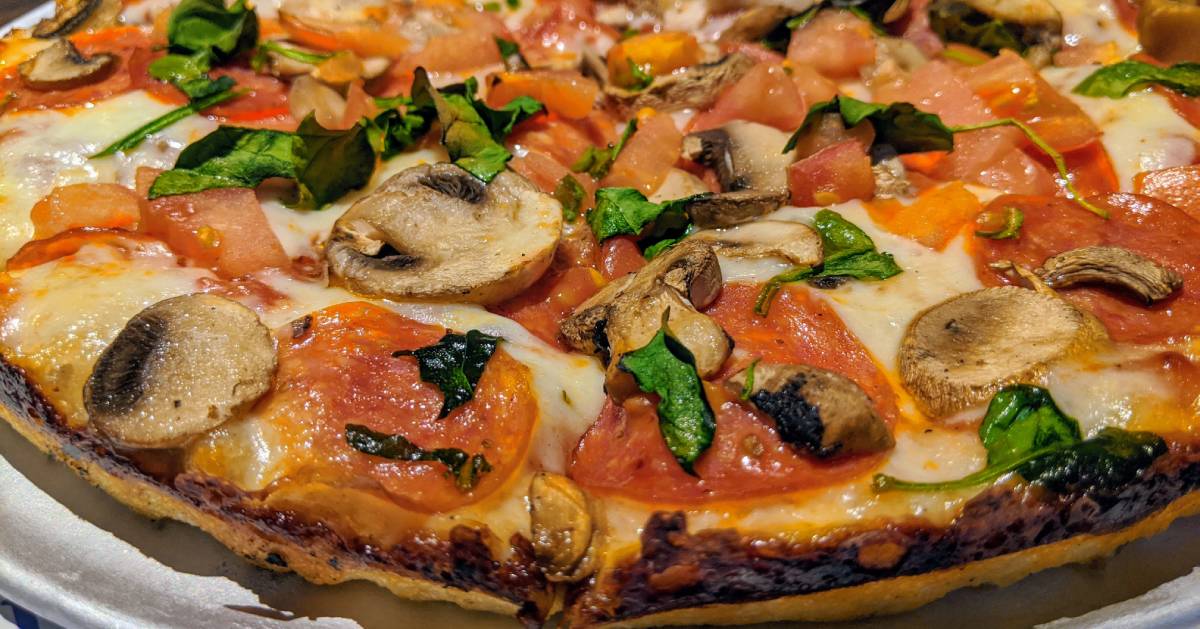 Talk of the Town, and our featured restaurant below, Harvest Restaurant, have a longstanding friendly rivalry in the Glens Falls region on who has the best pizza. Both North Country staples were at one time owned by the same family, and both are known for their crispy, delicious crust. Talk of the Town fans seem to love the crust, the sauce, and the cheese, regardless of the toppings.
"You can't get pizza like theirs anywhere else," said one Google reviewer of the Glens Falls restaurant. "Cheese all the way to the edges and a great list of topping options." "The sauce was sweet but not over the top, the crust was thick and tasty. Very cheesy, but the cheese was melted nicely," another reviewer said.
One Yelp reviewer provided an impressively detailed explanation of what makes Talk of the Town pizza worth talking about: "And what's this I see? Is that a crispy, charred end crust? Why yes, it is indeed a glorious, crispy, crunchy, deliciously charred crust! It's a pan pizza and the toppings and cheese are distributed right up to the edge of the pan, where the cheese crisps up and blackens. And that makes for a magically delicious, crunchy crust. The red sauce is tasty, it's light and fresh, it's surprisingly good."
The Harvest Restaurant: For Loads of Toppings & A Crust That Can Handle It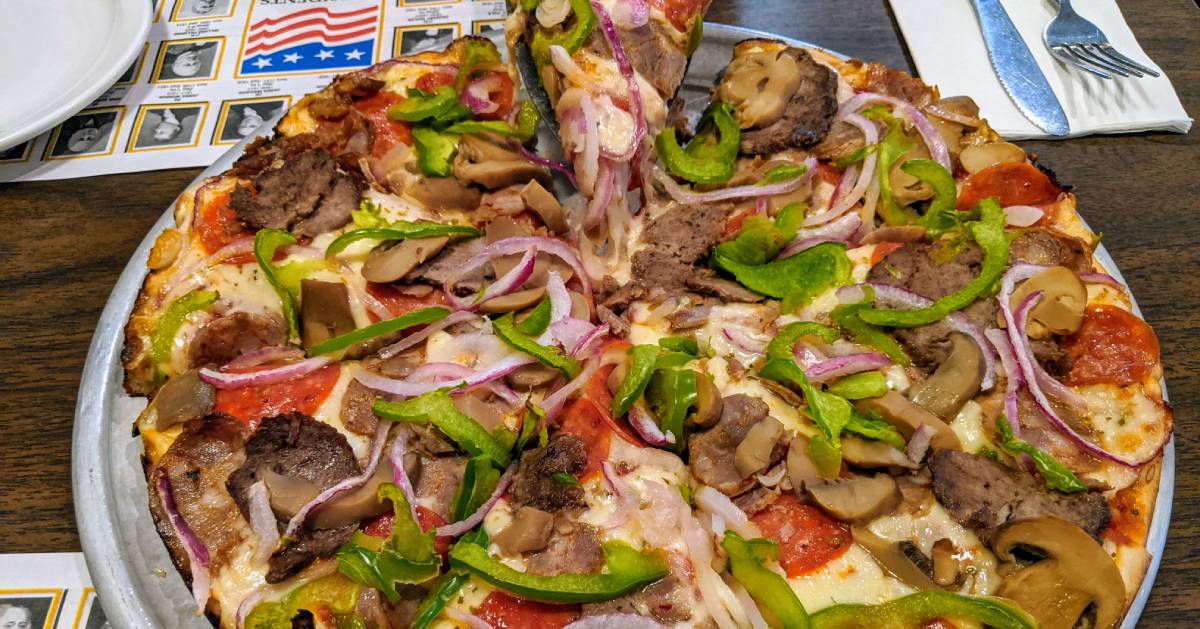 Like Talk of the Town, Harvest Restaurant in Queensbury knows that in order to make a great pizza you have to start with a solid base - the crust. "The pizza crust is not made from your typical pizza dough," said a Yelp reviewer. "It almost has a buttery, slightly sweet, biscuit texture at the edge where it crisps against the edge of the pan it is cooked in."
"The crust is the star of the show," commented another Yelp user. "The thickness of the crust is just right, it's thick enough to stand up to the mounds of cheese, sauce, and toppings Harvest puts on it, but not so thick that each bite is a mouthful of bread." "If you're interested in a thicker crust pizza with loads of toppings then Harvest is worth a try," as a TripAdvisor reviewer put it.
A Yelp reviewer commented in their Talk of the Town review that the two restaurants' pizzas are nearly identical, with each having a buttery crust that's somewhere in between New York style and Chicago style, but that he has to admit Harvest is better: "I think it has to do with the Harvest having better sauce but I am not sure."
Giuseppe's Pizzeria & Restaurant: For Sensational Service & Pizza That Satisfies the Connoisseurs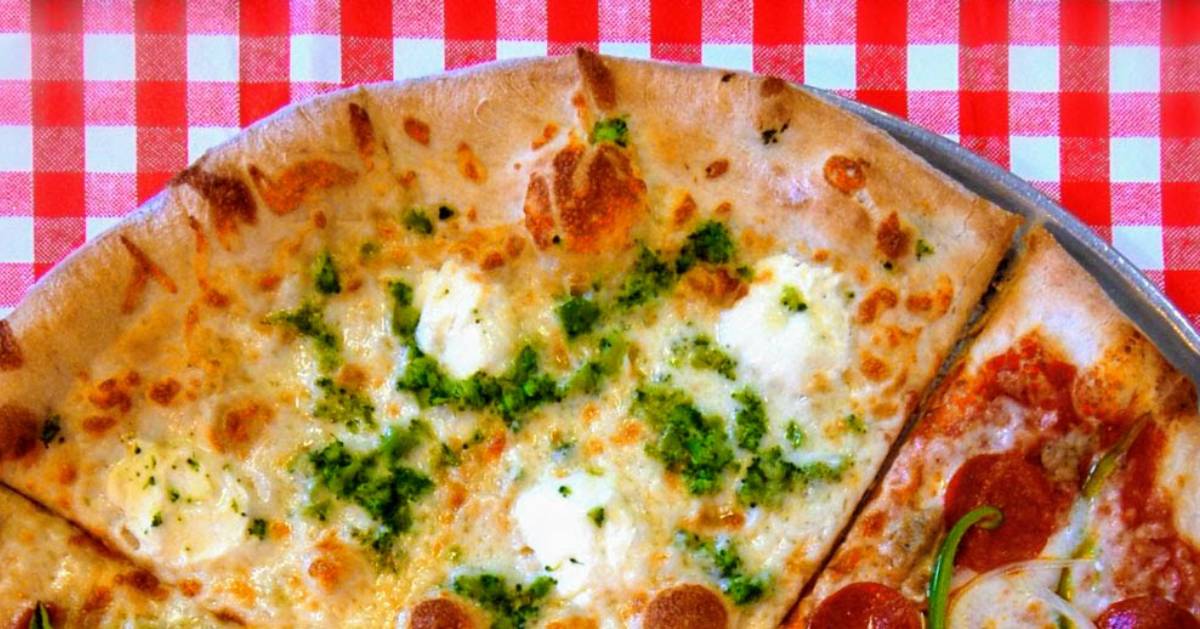 Lake George is a prime tourist destination in the Northeast, frequently drawing visitors from the New York City, Long Island, and New Jersey areas. In other words, travelers who know their pizza and are used to large slices. And Giuseppe's Pizzeria & Restaurant keeps them satisfied on every return trip.
"You can't go wrong if you order the pizza," said a Google reviewer, who says he's very critical of Italian food. "There is no small so be advised that a medium pizza from this place can feed a squad of soldiers who just got back from a 10-mile hike." "We will be back again and again as our go-to place in Lake George," said another. "We only get up to Lake George once a year, and I have to get pizza from Giuseppe's at least two or three times to tide me over," a Facebook reviewer said.
The other aspect of the restaurant we noticed in the reviews is the quick service. Even when packed or serving a large party, many reviewers commented on getting their hot pizza quickly.
The Pizza Shop: For Flavorful Ingredients & A Thin Crust to Write Home About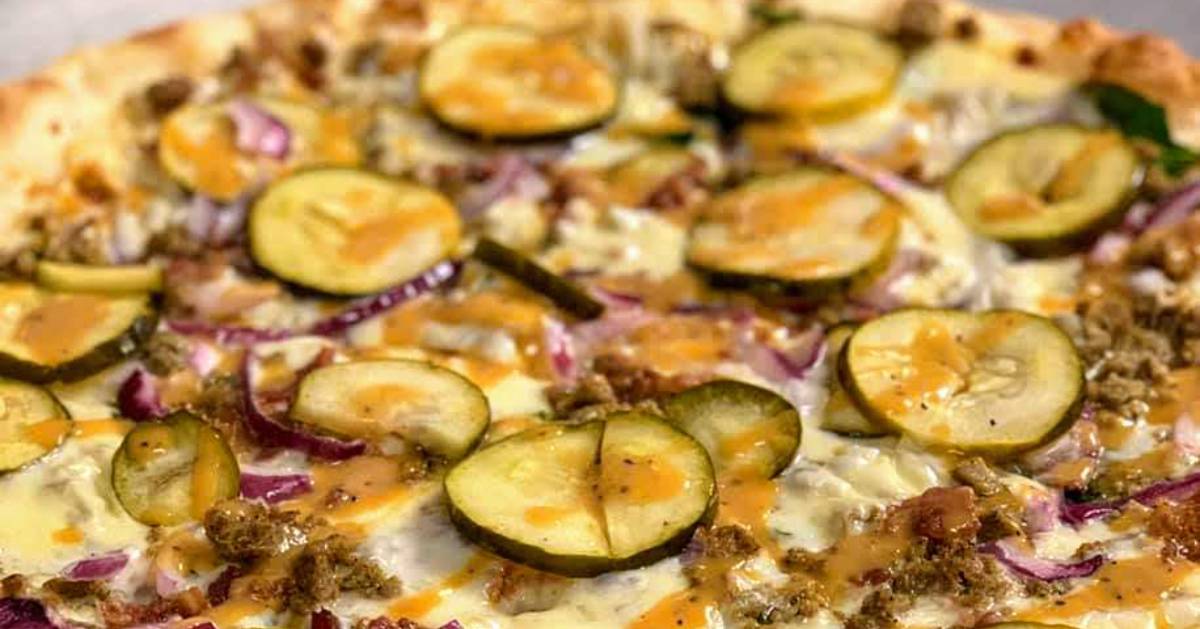 Photo provided
Wondering what the unique creation pictured above is? It's a Local Flavor pizza from The Pizza Shop in Warrensburg: a white base, meatball, bacon, Oscar's Smoked American, red onion, J. Gallup Farm pickles, and Oscar's More Than Mustard. (Oscar's is also a highly rated, reputable Warrensburg establishment known for their incredible smoked meats, cheeses, and condiments.)
"Tried the new Local Flavor - hands down the BEST pizza my family and I have ever had," said one Facebook user. "I had to try it and I have to say it's out of this world," said another. "Everything works...the onions, pickles, mustard, and cheese all compliment each other." The other gourmet pizza option we saw mentioned more than once in reviews is the Lasagna pizza with meatball, ricotta, mozzarella, and grated Parmesan.
And, the fans love the crust: "The crust is perfect, nice and thin," according to a TripAdvisor reviewer. "Pizza crust is amazing," commented a Yelp user. "Very crunchy and flavorful."
Tommy Guns Pizzeria: For the Staff That Goes the Extra Mile & Super Unique Pizza Creations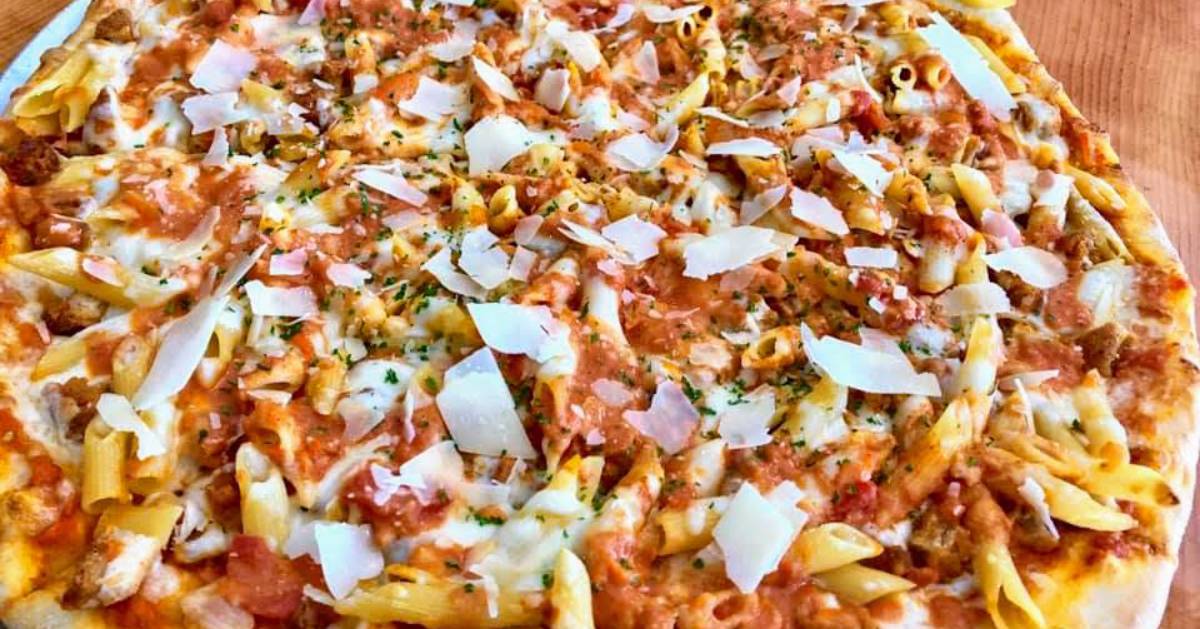 Photo provided
Although The Pizza Shop is highly renowned there's another Warrensburg pizza hotspot that gives them a run for their money: Tommy Guns Pizzeria. They load their pies with flavorful toppings you wouldn't necessarily expect to see on a pizza, and the staff wows their guests with their incredible service.
"Love their unique twist on pizza, plus the classic," said a Google reviewer. "Pizzas are always loaded," said a reviewer on TripAdvisor. "They have great service, very friendly. Finally a great pizza." Reviewers mention the Three Sister Veggie pizza, Bang Bang Chicken pizza, Wacko Chicken pizza, and the gluten free option.
We also came across a few great customer service stories, like the Facebook reviewer who had a hole in one of the pizzas so they made an extra one on the house - even though the customer insisted they'd ordered too much food and didn't need it. "They care about everyone's order and want to make it right."
Capri Pizzeria & Restaurant: For the No Nonsense, Classic Approach to Great Pizza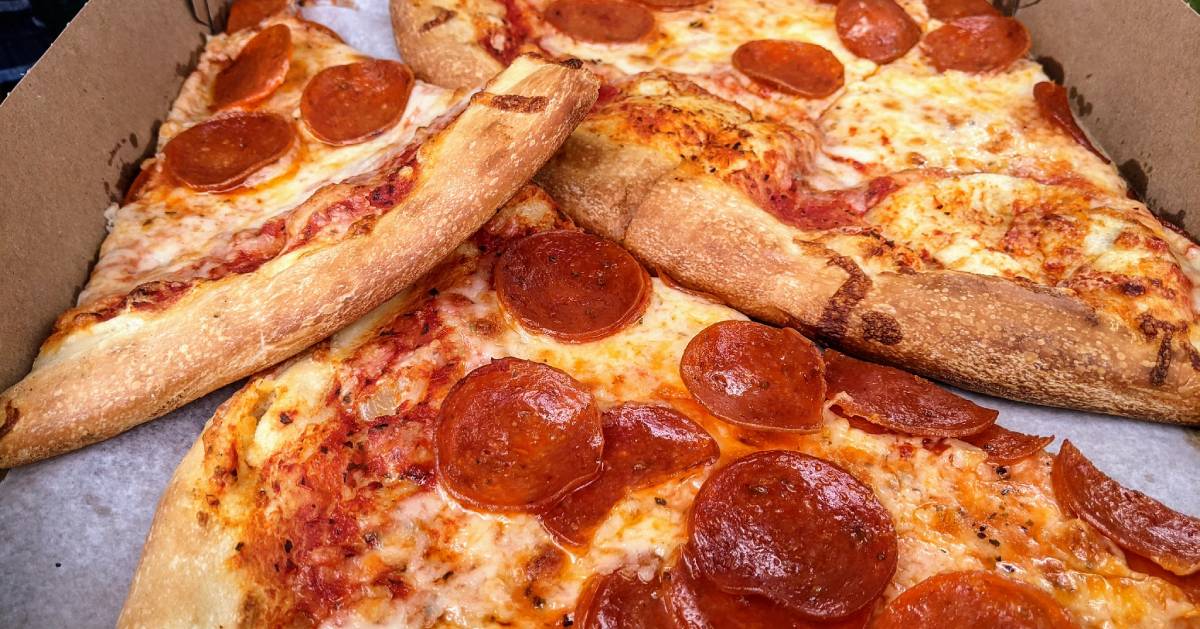 Some pizza people love an abundance of toppings, from meat lovers to veggie lovers and everything in between. Others, they just want a plain cheese or pepperoni pizza. If this is you, Capri Pizzeria & Restaurant in Lake George may be the pizza place for you.
"No frills, not fancy, my kind of place," said one Google reviewer. "Flavorful and robust sauce, cheese that is on the slightly saltier side, and a flavorful crust makes up the profile of this pizza," said another. Others agree: "Pizza is always perfect," said a third Google reviewer. And, "Best pizza, period," according to a Facebook commenter.
Don't be afraid to get toppings, though - they have a variety of specialty pizzas on the menu and even a few stuffed pizza options. "Capri's Pizza has been great for as long as I've been going," said a Yelp reviewer. "Never too greasy and toppings always of a quality."
Queen of Harts: For High Quality, Plentiful Toppings & Take and Bake Option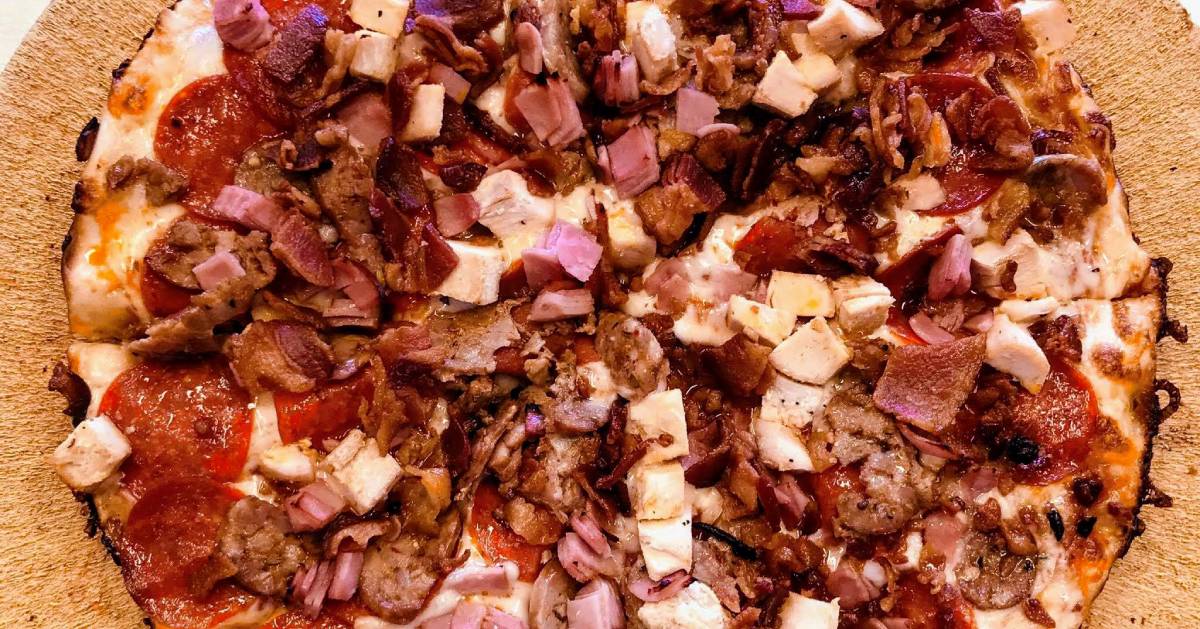 Photo provided
Speaking of toppings, Queen of Harts in Queensbury has cornered the market on this aspect. Google reviewers rave: "The pizza had way more toppings than I expected." "Tasty pies overflowing with delicious heaps of meat." And from Facebook reviews: "They really load the toppings." "Delicious, abundant toppings."
Not only are the toppings plentiful but they are of top quality. As one Google reviewer said about the Hawaiian pizza, "The pineapple was like it was freshly cut from a tree by someone with a machete. The bacon reminded me of what my grandmother cooked in a cast iron skillet. As for the ham, it tasted like a post Christmas dinner."
Reviewers are also talking about the take and bake option. "The take and bake idea is wonderful," said a Facebook reviewer. "You pick up your pizza uncooked and take it home to bake so it is ready on your table. 25 minutes at 375 and you won't believe how delicious and HOT this is. This is our new favorite pizza place."
Pizza Jerks: For Fast Delivery & New York-Style Slices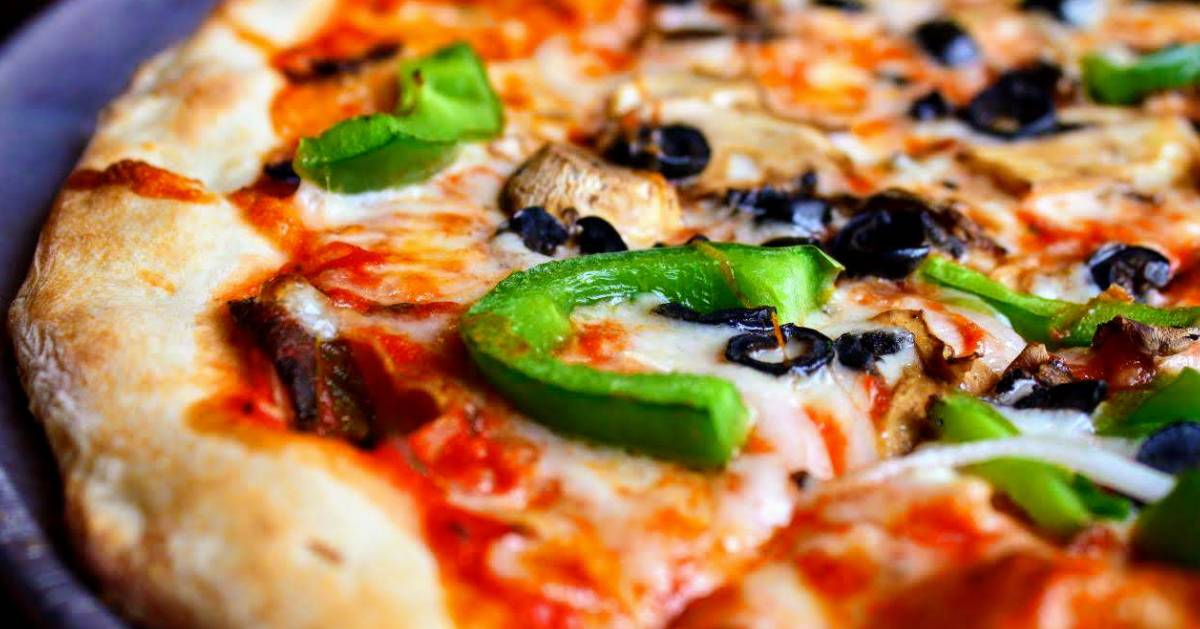 "Many places say they are NYC-style pizza, but these guys hold true," a Yelp reviewer said about Pizza Jerks. New York City pizza means large, delicious slices with a thin crust, and Pizza Jerks delivers. "Slices were the perfect size for folding," said a TripAdvisor reviewer.
Guests love the options as well: "By-the-slice, thin, New York-style pizza with some traditional (veggie, mushroom, pepperoni) options and some unique (BBQ chicken, buffalo chicken) options" said a Yelp reviewer. A Facebook commenter agrees: "I love the creative pizzas they always have. Don't get me wrong they nail the classics too, but it's awesome to see a pizza place not afraid to try a new thing. . .how many places will try a Reuben pizza?"
And Pizza Jerks is no jerk when it comes to quick service and fast delivery. Many reviews cited they were able to get their food quickly even on a busy night. Those who ordered delivery commented that it arrived on schedule - or sooner - and it was hot. Pizza Jerks has locations in Lake George and Glens Falls.
MezzaLuna Restaurant: For the Kid-Friendly Atmosphere & Authentic Italian Pizza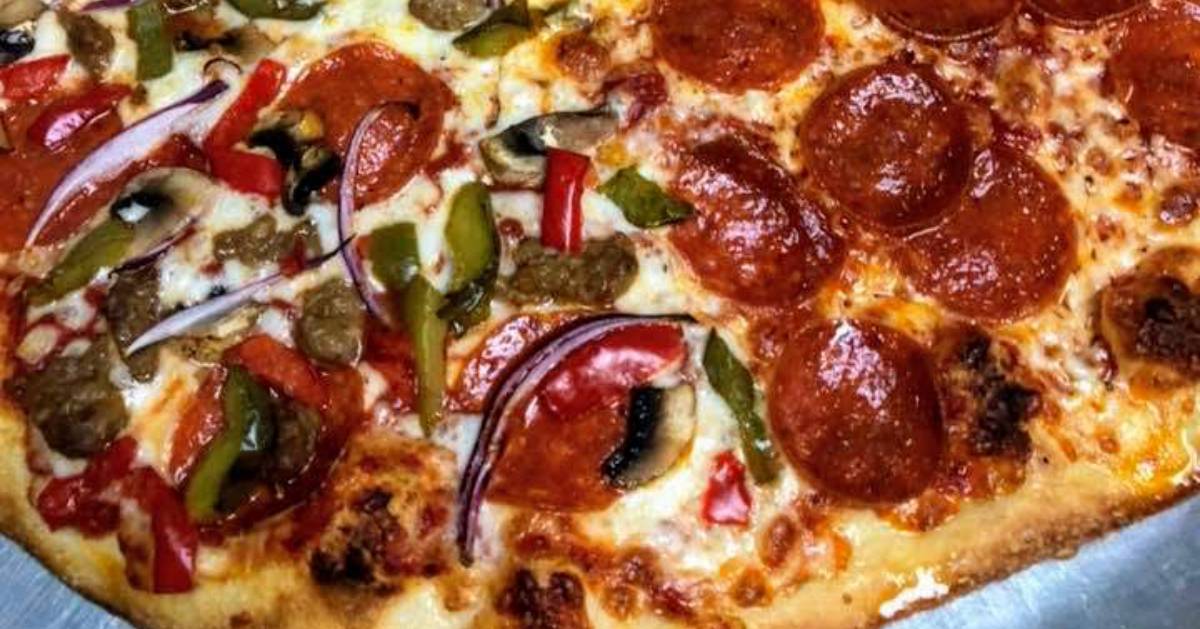 Photo provided
Genuine Italian pizza and food. A welcoming atmosphere. And family-friendly - especially kid-friendly - vibes. That's what you get when you choose to dine at MezzaLuna's Restaurant in Lake George, where guests love the margherita pizza, the shrimp pizza, the vegetarian/gluten free pizza, and more.
Here are a few of the reviews we found on the service: "Our waitress had great patience with the very particular child," said a Facebook reviewer. "We ate there with a two-year-old and the staff couldn't have been lovelier!" a TripAdvisor reviewer raved. "Despite being very busy, she spent a long time talking to my two little boys (4 and 5)," commented a visitor on Yelp. And, they can handle large parties: "Family of seven and all our needs were met," said a TripAdvisor reviewer.
In scouring the reviews for MezzLuna's, it became clear that this a Lake George tourist hotspot like a couple others on our list, and they do not disappoint the pizza connoisseurs coming from the New York City area, who don't expect great pizza Upstate. "Was very pleasantaly surprised at how delicious the pizzas were!" said a Google reviewer. "I was surprised that the pizza was as good as it was," a TripAdvisor commenter agreed.
Downtown City Tavern: For Wood-Fired Perfection & A Chewy Crust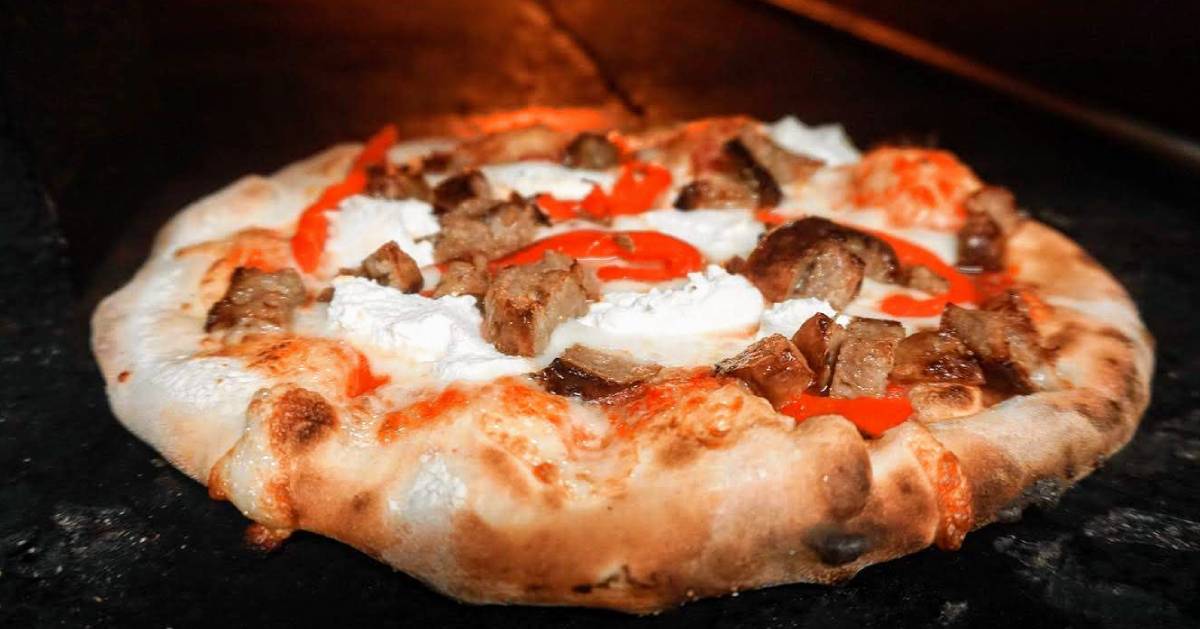 Photo provided
If wood-fired creations are your pizza jam, you'll want to head to Downtown City Tavern in Glens Falls. Although we mostly drew from reviews to determine the best pizza places, we'd be remiss not to quote their website:
"At DTCT we take our pizza very seriously. A hot oven and fresh ingredients are only part of the magic. It all starts with an authentic, 100% wood-burning oven. We use select kiln-dried Adirondack hardwoods." DTCT goes on to specify the type of flour they use and other ingredients they include in their pizzas, which are divided into Reds and Whites. Or, you can create your own.
The reviews for this one are simple but clear. From Google reviewers: "Incredible wood-fired pizzas." "Amazing wood-fired pizza." "Terrific wood-fired pizza." "Outstanding wood-fired pizza." From Facebook: "One of the best pizzas I have ever had." From Yelp: "The BEST brick oven pizza around." And from TripAdvisor: "This is the best pizza I know."
Palazzo's Pizzeria: For the Crisp Crust & Flawless Sauce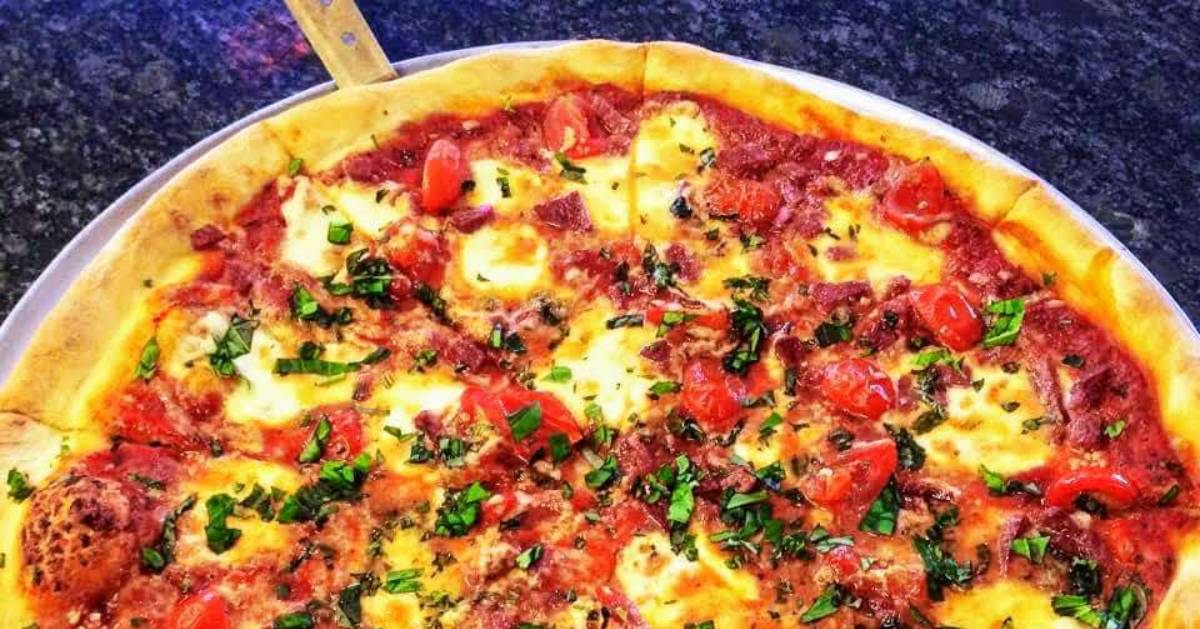 Photo provided
The pizza enthusiasts have spoken, and they simply must continue to return to Palazzo's Pizzeria, which has locations in Bolton Landing and Queensbury. "Crisp, lightly buttery crust, balanced toppings. It was a test of my will not to go back and order another slice," said a Google reviewer. "A few years ago we went walking around Bolton Landing and ended up buying a slice of pizza. Needless to say we ended up buying a whole pie," said a Facebook user. "And we've been back every year since."
Other reviewers commented on the thin, crispy crust and the delicious sauce. "The sauce, spaghetti, and meatballs are all perfectly made," said one Facebook reviewer. Speaking of the meatballs, they popped up several times in the reviews, along with the mushrooms, buffalo chicken, margherita, and their "Bianca" which has ricotta, mozzarella, parmesan, garlic, and broccoli.
"I had a Bianca pizza and it is the very best I have ever had," commented a Yelp reviewer. "The flavors are so nicely blended, the crust was crisp, and not at all greasy." A TripAdvisor reviewer said, "It's so hard to find crispy, thin crust pizza, but this is the place that has it. We had a meatball slice, a margherita slice, and a cheese slice." It sounds like you can't go wrong no matter what you order at Palazzo's!
Number One Pizza & Restaurant: For the Spotlessly Clean Establishment, Family Vibes & Fresh Pizza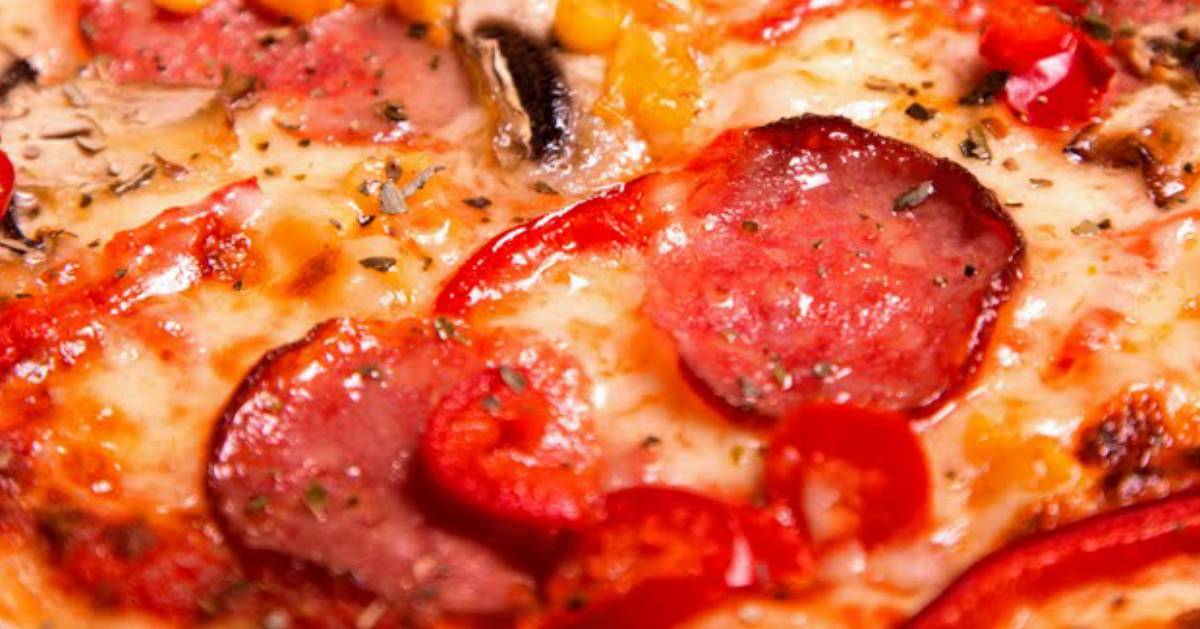 Number One Pizza & Restaurant in Lake George is not only number one for many when it comes to pizza but also cleanliness. "We were pleasantly surprised by the dining room and we decided to eat there," said a Yelp reviewer. "The place was spotless - so clean and comfortable." "Impeccably clean establishment," said a Facebook user. Others commented about the welcoming, family-friendly atmosphere, with a Google reviewer even saying, "You feel like you are at your aunt's house eating dinner."
The pizza doesn't disappoint either: "Their pizza is like old school, down state, Italian pizza from the neighborhood shop," said a Google reviewer. "The pizza was true NY-style with a thin, chewy bread center and crisp edge crust," according to a TripAdvisor reviewer. "The slices are huge. The sauce nicely seasoned and enough cheese to please. The pizza crust was nicely browned, not burned." And from Facebook: "Wonderful, family-run pizza place, NY-style pizza - not overly greasy, always fresh."
Guests love the staff as well. One TripAdvisor reviewer was staying in the area during a power outage from a storm and commented that there were 11 in his party, starving. Number One Pizza made them three pizzas with flashlights in just 20 minutes.
As we can see, the Glens Falls/Lake George region has no shortage of incredible pizza places! What would you add to the list?