Enjoy Mother's Day Brunch or Dinner Options in Glens Falls With These Takeout Specials
We are continuing to update this page as the information becomes available.
Give Mom a day off from cooking on Mother's Day, May 10th. Check out below who's offering takeout or delivery options for breakfast, brunch or dinner!
Know of a restaurant we're missing? Please use this form to submit their hours and offers.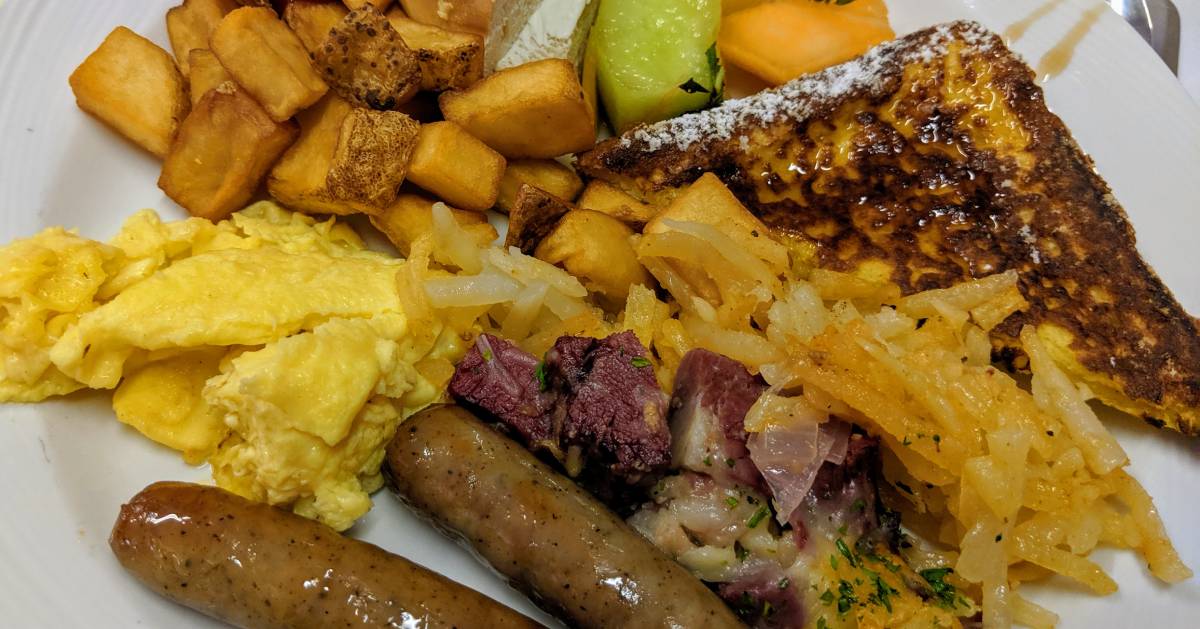 Featured Mother's Day Takeout Restaurants
Bistro LeRoux
Bistro LeRoux will be open on Mother's Day for curbside pickup. See the menu and get details on their website.
Caffe Vero
Caffe Vero is open for curbside pickup or takeout for a Mother's Day breakfast meal, or bakery items. Order by Friday, May 8th.
Chez Pierre Restaurant
Chez Pierre Restaurant is open for curbside pickup or delivery on Mother's Day from 3PM to 8PM. Entree options include veal or salmon Oscar, pork picatta, chicken cordon bleu, filet mignon fromage, and more.
Docksider Restaurant
The Docksider is offering a takeout dinner for Mother's Day with options of prime rib, sun dried tomato pesto chicken, chicken piccata, baked stuff haddock, shrimp scampi, pasta primavera, and sliced pork tenderloin.
Fort William Henry
Fort William Henry is offering Mother's Day takeout and delivery. Pickup is at the Village Blacksmith from 9am to 2pm. The dinner for four includes sweet potato bisque, garden salad, choice of roast turkey and gravy or maple glazed ham, along with green beans, rice pilaf, bread, and strawberry short cake. There is an add-on option available for mimosas.
The Log Jam Restaurant
The Log Jam will be offering takeout and delivery from 12pm to 6pm on Mother's Day. Entree options include Carolina roasted turkey, chicken Tuscany, prime rib, maple dijon salmon, broiled sea scallops, or New York sirloin.
Morgan & Co
Choose from Morther's Day brunch or take-and-bake dinner from Morgan & Co. Their entire menu will be available.
O'Toole's Restaurant & Pub
Mother's Day is the last day O'Toole's is offering their everyday specials, so take advantage!
Check Out Specials on Facebook
Peppermill Family Restaurant
The Peppermill Family Restaurant is offering a full menu of breakfast items and dinner offerings.
The Queensbury Hotel
The Queensbury Hotel has a robust Mother's Day takeout brunch menu with fresh fruit salad, housemade cinnamon rolls, applewood smoked bacon, sage sausage, sliced honey glazed ham, and more.
The View Restaurant at Dunham's Bay Resort
The View in Lake George is offering a Mother's Day meal to go, suitable for four people. The menu includes stuffed pork loin, lemon parmesan chicken, strawberry and greens salad, spring vegetable medley, cottage potatoes, and apple cranberry crumble pie. Orders must be placed by Thursday, May 7th, with pickup on Mother's Day between 11am and 4pm.
Featured Mother's Day Wine Specials
Adirondack Winery
Adirondack Winery has a number of specials for a Mother's Day gift, including a fruity wine-infused breadmaking kit, a dry wine-infused breadmaking kit, and their Mystery Box of wine. Order by 1PM on Wednesday, May 6th to ensure Mother's Day delivery.
Ledge Rock Hill Winery
Ledge Rock Hill Winery is offering a Mother's Day special - buy any four plus bottles and receive a complimentary bottle of any sweet wine of your choice. Order online, add your complimentary sweet wine of choice to the cart, and use the code MOMDAY20 at checkout.
More Great Mother's Day Takeout Options
Ambrosia Diner
Ambrosia Diner in Queensbury reopens for takeout on May 4th and is planning to offer takeout for Mother's Day.
[farmacy]
[farmacy] is offering a Mother's Day for four to go, with an egg casserole, briocheFrench toast, and more delicious offerings, including cookies.
Ginny Rae's
Ginny Rae's in Hudson Falls will be open their regular hours on Mother's Day, 7am to 8pm.
Mama Riso's Italian Restaurant
Mama's Riso's in Lake George has a unique Mother's Day offering - Mother's Day picnic baskets to go which include shrimp cocktail, salad, a bottle of wine, and your choice of a meal for two.
Outback Steakhouse
Outback Steakhouse is offering a filet and lobster tail or prime rib and crab cake dinner, available from May 6 through May 12. Guests can also add a lobster tail to any entree for $9.99 or a crab cake for $6. Additionally, for every $50 gift card purchased online, guests will receive $10 off their next order.
Papa's Diner
Papa's Diner brunch specials include crab cake Florentine, caramel apple cinnamon pancakes, banana split pancakes, mixed berry French toast, or quiche (meat, veggie, or cheese). Quiche must be ordered by Friday.
Radici Kitchen & Bar
Radici Kitchen & Bar will be open for takeout on Mother's Day - check out the offerings on Facebook.
Sweet Basil
Sweet Basil has Mother's Day pickup and delivery specials from 12PM to 6PM, $15.95 per person. Entrees include 6oz sirloin, bourbon-glazed pork chop, or potato and cheddar crusted cod. All entrees are served with roasted potatoes, mixed vegetables, dinner salad, and freshly-made dinner rolls.
Thai Sushi Aroy Dee Restaurant
Thai Sushi is offering 10% off your order on Mother's Day. Takeout and delivery is available.
XII Sporks American Cuisine
The Mother's Day to-go menu from XII Sporks in Lake George includes eggs Benedict, crunchy French toast, surf n turf, or eggplant parmesan, along with your choice of dessert.
« Back to the Mother's Day Guide