Rediscover Your Love of Ice Skating - Or Try It for the First Time!
Find Ice Skating Rinks In & Around Glens Falls
When was the last time you went ice skating? This classic winter activity just can't be beat! Get out your skates (or rent a pair) and get out on the ice this season in the Glens Falls region. Whether you're looking for an indoor arena or a frozen pond, there is an ice skating rink that's perfect for you.
Please note: It's imperative to check with individual establishments for any changes with hours, pricing, or COVID restrictions. Outdoor ice rinks are weather dependent, and some rinks occasionally close for maintenance.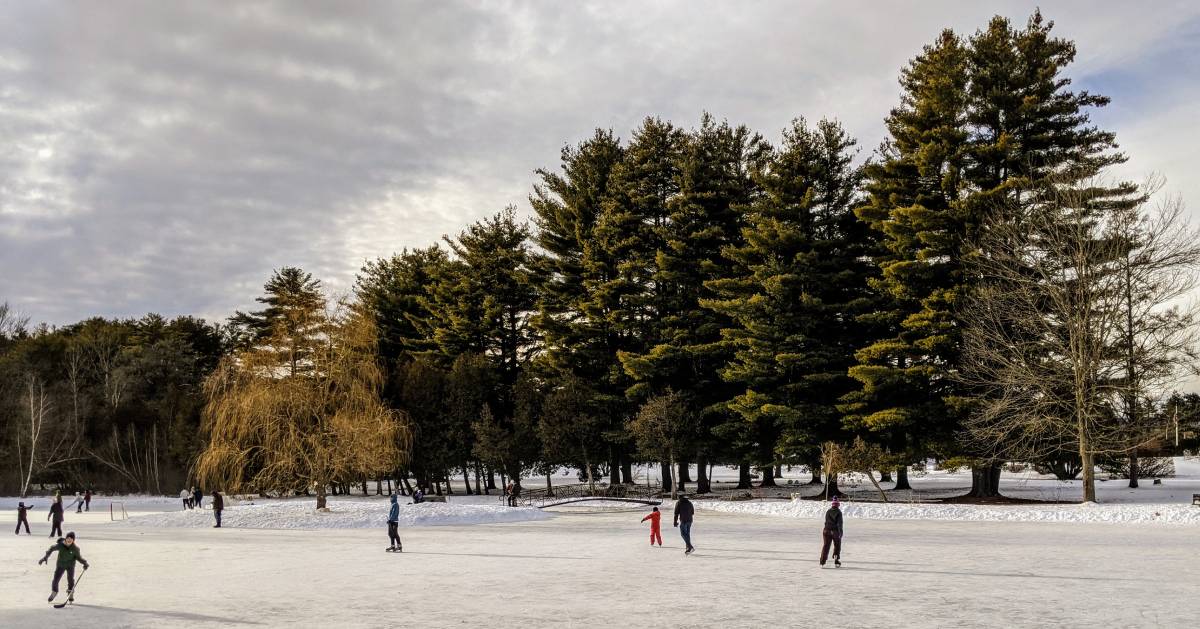 Where to Ice Skate in Glens Falls:
Glens Falls Recreation Center
Fire Road, Glens Falls, NY, 12801
518.761.3855
Indoor ice skating rink
Scheduled winter hours
Learn-to-skate programs available
Rentals: Limited, $3 per rental
Cost: Free
Upper Glen St., Route 9, Glens Falls, NY 12801
518.615.0446
Outdoor skating rink on a frozen pond
Open daily - weather permitting, from dawn to dusk
Lighted
Cost: Free
Where to Ice Skate Near Glens Falls:
118 Gurney Lane Road, Queensbury, NY 12804
518.761.8216
Outdoor ice skating rink on a frozen pond
Open during weekends and school recesses from 10:00am - 4:00pm
Restrooms available at a warming hut
Cost: $5 park admission for ages 5-59, all others get in free
Moreau Recreation Park
Lenox Boulevard, Fort Edward, NY 12828
518.793.0196
Outdoor ice skating rink on a frozen pond
Open Monday to Thursday 8am to 4pm, and Friday to Sunday, 8am to 8pm
Walk-up, free of charge
No skate rentals available
Warrensburg Recreation Field
3797 Main Street, Warrensburg, NY 12885
518.623.9511
Outdoor ice skating rink under a pavilion
Carry-in/carry-out facility
Ice skating is subject to weather and other conditions
Cost: Free
Saratoga Springs Weibel Avenue Ice Rink
30 Weibel Avenue, Saratoga Springs, NY 12866
518.583.3462
Indoor Olympic-size ice skating rink
Open public skating available for all ages on scheduled days from July through March
Skate rentals and sharpening available at their pro shop for $5
Cost: $5 general admission, $4 for Saratoga Springs residents with Blue Rec cards
Dynamite Hill Recreation Area
Dynamite Hill Road, Chestertown, NY
518.494.2722
Outdoor ice skating rink on a frozen pond
Open on weekends and during school recesses
Warming hut available
Cost: Free
Please note: The Cool Insuring Arena's public skate has concluded until further notice. The arena does rent the ice out for teams, events, organizations, and private parties on an hourly basis. Contact salpaugh@coolinsuringarena.com for more info.