Superbowl is right around the corner and we all know what that means… Superbowl parties! If you're hosting a party this year, stocking the fridge with cheap beer just won't cut it! Treat your guests to some delicious snacks. Follow these quick and easy recipes and you'll be sure to be a winner among your guests!
Mamma Bannon's Chicken Wing Dip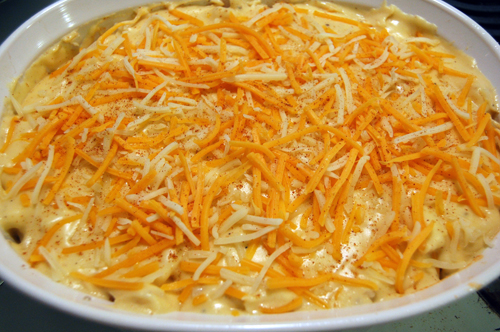 If you want to make everyone happy during the Superbowl, chicken wing dip is the ultimate crowd pleaser. It's so easy to make and jam packed with flavor! Hearty dips are definitely a must when you're drinking beer and getting into the game. Forget the mess with real chicken wings! Chicken wing dip is the way to go.
Serves: 12 servings
Difficulty: Easy
Ingredients
8oz cream cheese softened
1/2 cup sour cream
1/2 cup Franks Red Hot sauce (or to taste)
3/4 cup Marie's chunky blue cheese dressing (additional crumbled blue cheese if desired)
2 cups chopped, cooked chicken
1/2 cup Franks Chicken Wing sauce (or to taste)
3/4 cup shredded cheddar cheese
3/4 cup chopped celery
Tortilla chips
Directions
Heat oven to 325 degrees
Blend softened cream cheese, sour cream and Franks Hot Sauce until smooth.
Spread mixture in bottom of 8×8 inch baking pan.
Next, spread chunky blue cheese dressing over cream cheese mixture. Sprinkle with additional chunks of blue cheese if desired. Generously top with chopped, cooked chicken. Pour Franks Chicken Wing sauce over all. Sprinkle shredded cheese evenly over chicken and bake for 20 min or until cheese melts and dip is heated through.
Garnish with chopped celery before serving with tortilla chips.
Jennifer's Cheesy Chicken and Artichoke Bites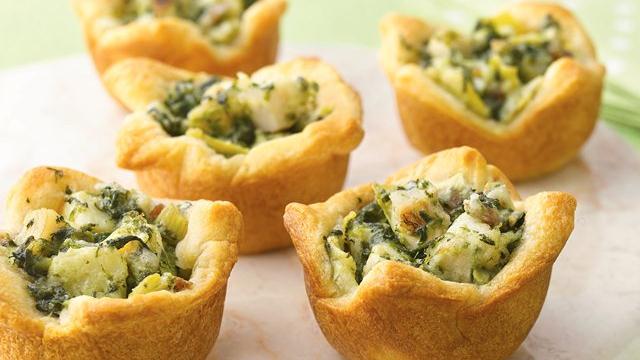 Looking for a tasty, attractive and easy recipe for your superbowl party? I suggest trying Pillsbury Cheesy Chicken and Artichoke Bites. I made this appetizer for a party and it was a big hit.
Ingredients
2 cans (8 oz each) Pillsbury refrigerated crescent dinner rolls
6 slices fully cooked bacon (from 2.1-oz package)
1 package (6 oz) refrigerated cooked chicken breast strips, cubed
1 box (9 oz) frozen chopped spinach, thawed, squeezed to drain and thoroughly
chopped
1 can (13.75 oz) quartered artichoke hearts, drained, coarsely chopped
2 medium cloves garlic, finely chopped
1/2 cup mayonnaise or salad dressing
1/4 cup sour cream
1/2 cup shredded Asiago cheese (2 oz)
1/4 cup grated Parmesan cheese
Directions
Heat oven to 375 degrees
If using crescent rolls: Unroll both cans of dough; separate into total of 8 rectangles. Firmly press perforations to seal.
Cut each rectangle into 6 (2-inch) squares. Press 1 square in bottom and up side of each of 48 ungreased mini muffin cups. Heat bacon as directed on package; crumble. In large bowl, mix bacon and remaining ingredients. Place 1 tablespoon chicken filling in each cup.
Bake 12 to 20 minutes or until edges are golden brown. Immediately remove from pans to serving platter. Serve warm.
snacks.
Amberly's Spicy Guacamole Dip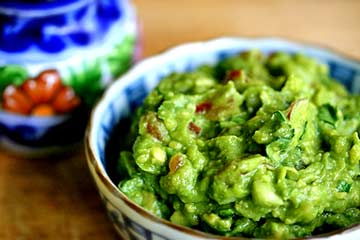 Add a little spice to your party with this simple Spicy Guacamole Recipe. Some like it hot, others not so much so feel free to adjust the amount of chilies.
Ingredients
4 avocados
4 cloves garlic, minced
1/4 sweet red onion, finely chopped
1 jalapeno pepper, seeded and finely chopped
2 red chilies, seeded and finely chopped
4 tablespoons olive oil
Juice of 1 lime
Salt and pepper to taste
Pinch of cayenne, for garnish
Directions
Cut the avocados in half lengthwise and take out the seed. Scoop it out into a medium-size bowl and mash with a fork.
Gently stir in the garlic, red onion, jalapeno pepper, red chilies, 3 tablespoons of the olive oil, and lime juice. Add salt and pepper to taste.
Transfer to a serving bowl. Drizzle the remainder of the olive oil over the Guacamole and sprinkle with cayenne for presentation. Serve immediately. Makes 3 cups. Dee-lish!
Dip Tip! Guacamole Dip does not keep well, but adding a tablespoon of lemon juice helps preserve the color.
Deb's Savory Pulled Pork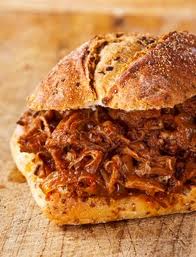 Superbowl Sunday is upon us! Since I am almost as big a football fan as I am a food fan, you can imagine how excited I am! At my house, pulled pork is a staple at our Superbowl parties. Here is a very easy, very delicious pulled pork recipe for the crock pot that you can put together the night before and just let it go low and slow.
Ingredients
4 lb pork roast (I prefer a shoulder roast, but you can use the butt as well)
2 large onions (white or yellow)
8 ounces of ginger ale or beer
3 cups of bbq sauce
Directions
Place one of the onions (sliced) in the bottom of the crock pot. Place the roast on top and then cover with the second onion (sliced)
Pour the beer OR ginger ale over the top
Cook on low for about 10 – 12 hours (until tender enough to pull apart with a fork)
Transfer the meat to a bowl & strain the onions discarding the liquid
Return the shredded meat & onions and 2/3 of the bbq sauce to the crock pot and mix well and cook for another 3 or 4 hours
Tip: Have some minced garlic soaking in olive oil set aside. I like to brush it on some good rolls and toast in the oven right before serving. Have some shredded cheddar, slaw, the extra bbq sauce and whatever other toppings you are offering set out, so everyone can help themselves.
NOTE: Cooking time may vary depending on the crock pot. When the meat is shreddable, the first round of cooking is complete. The second round of cooking is complete when the flavors have melded and it simply tastes good.
Mary's Flan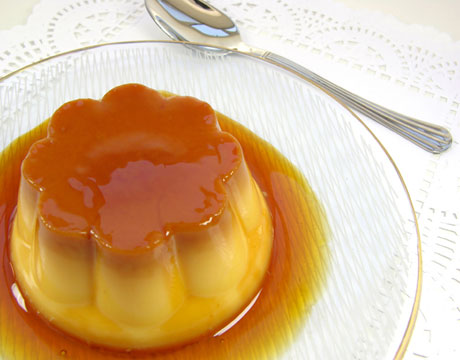 Here is a quick and easy desert that sure to be a winner amongst your guests!
Ingredients
1 cup sugar until caramelized
2 cups sweetened condense milk
2 cans water
2 tbsp vanilla
6 large eggs – whip with wisk
Directions
Bake at 400 for 60 minutes until barely shaking in center. Cool in the refrigerator for 8 hours. Enjoy!
We hope you enjoy these awesome Superbowl foods! If you end up making one, please take a picture and upload it to the Glens Falls NY Facebook page!
Go Giants!