Looking for a healthier solution to pizza on a Friday night? Try this simple pizza on a tortilla recipe that you can make in under 20 minutes!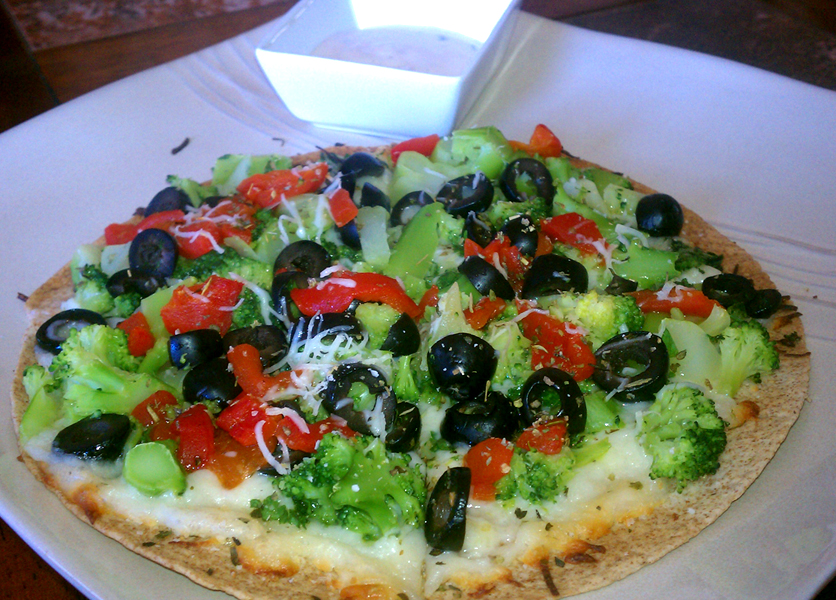 (pizza after cooking)
Ingredients
1 Wheat Tortilla Shell
Part Skim Mozzarella Cheese
Olive oil
Veggies – I used the veggies below but you can use any toppings you would like including meats or toppings you would order from your local pizza shop.
Roasted Red Peppers
Cooked Broccoli
Olives, sliced
Spices
Italian seasoning
Fresh parsley, chopped
Directions

(pizza before cooking)
For this recipe I don't really use specific measurements. First I preheat the oven to 400 degrees. Second I put the tortilla shell on a pan then pour about a tablespoon of olive oil on top and distribute evenly on tortilla shell. I add a layer of mozzarella cheese and put my veggies on top of the cheese. Finally I sprinkle the spices (to taste) over the top of my pizza.
Once these steps are complete put pizza into oven until the cheese looks like it has melted (since the ingredients are already cooked your really just heating the pizza). Then for the last minute I put the oven on broil so that it gets a little brown and crispy on top. Make sure you watch the pizza when the oven is on broil so that you do not burn it.
Serve with your favorite dipping sauce (mine is ranch dressing) and enjoy!