Top Ten Reasons To Love Queensbury
1. Gateway to the Adirondack Region
Nestled beneath majestic mountains and some of America's most scenic vistas, including beautiful Lake George, Queensbury is the gateway to the Adirondack Park.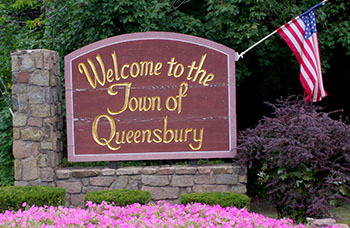 2. The Center For Health & Sports Enthusiasts
Home to West Mountain Ski Center, Rocksport and the Adirondack Dome facility, Queensbury offers great rock climbing and extreme sport experiences.
You'll find trails for hiking and biking, including the Prospect Mountain hiking trail, the Feeder Canal bike trail, the Warren County Bikeway and a growing comprehensive network of multi-use recreational trails.
There are public launch sites for canoes and kayaks on Lake George, Glen Lake and the Hudson River for an array of watersports. You can fish, sunbathe, or just cruise in your boat and enjoy your surroundings. Golf Digest placed this region second in the nation for total golf experience, So don't forget your clubs!
Other park and recreation facilities include: Gurney Lane pool, pavilion and nature trails, Hovey Pond, Hudson river boat launch and park, Jenkinsville Park's baseball, softball, and soccer fields and much more!
3. The North Country's Retail Shopping Haven
Shop the Factory Outlets, Aviation Mall, Northway Plaza, and even Antique Dealers!
Go on a Queensbury Shopping Spree »
4. World Famed Theme Parks
Queensbury has some of the country's oldest theme parks in operation, including:
Magic Forest
Wild West Ranch
5. Rich & Exciting History
Historic sites dating back to the French and Indian War
Fort William Henry Museum
Fort Edward and Rogers Island Visitor's Center
Site of the Bloody Morning Scout ambush, Ephraim Williams Monument, Bloody Pond and Blind Rock
Bolton Museum, Lake George Museum, Chapman Museum, The Hyde Collection, Warren County Historical Society and Historical Collections, Fort Edward's Old Fort House Museum
Heart of the regional Native American trail system and military trail / warpath reenactments
6. Lodging & Dining Galore
Queensbury is home to over 100 fine local hotels, motels, restaurants and dining facilities for easy access to the region's best attractions.
7. Fine Location & Transportation Facilities
Utilize Queensbury's Airport and hangar facilities, municipal bus and trolley system, and conveniently travel to major cities: Albany, Boston, Montreal and New York City are all within a 4-hour drive!
8. Potential Development of Commercial & Industrial Sites
Airport and Adirondack Industrial Parks
Office, Commercial, Light Industrial, Heavy Industrial and Multi-Use Zones
Home to key medical device manufacturers
Within the first sphere of influence to an interstate-linked technology park and GlobalFoundries, the world's first full-service semiconductor foundry
9. Popular Local Events
The Adirondack Balloon Festival, LARAC arts and crafts festivals, the Polar Plunge, Memorial Day Parade, ECHL Hockey, Americade, car shows and more!
10. Great Real Estate Buy
New homes are constantly springing up in Queensbury as the area continues to grow. With a great sense of community, a long list of things to do, and a high-performing school district, Queensbury is a smart place to buy a home.