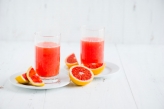 Clients frequently ask about detoxes this time of year, and in previous posts I have discussed several options for trying a juicing or cleansing program. While they can be great options for people-particularly those who have been eating a fatty, sugary, and generally unhealthy diet for a long time-detoxes aren't for everyone.
The desire for cleansing and new growth feels
natural and makes sense to us this time of year. Hey, if the plants are
doing it, why shouldn't we? Detox diets, juice fasts, or herbal tea cleanses
(among other regimens) can help purge us of that
feeling of stagnation after the long winter months.
For a healthy, normal-weight adult or a person looking to jump-start a healthy weight loss plan, a spring cleansing regimen or detox can be helpful. It can also benefit some people struggling with chronic disease and food allergies, or those trying to add more raw foods into their diet.
But it's important to proceed with caution. Anyone looking to start a cleanse needs to be aware that they can make you feel great, or they can make you feel awful
(and sometimes both at the same time). When taken too far, cleanses can
create imbalance in the body, too.
During
the long cold winter months, our bodies tend to go into storage mode,
trying to conserve energy and retain weight. It's an innate mechanism,
and one that was well-suited for our ancestors. Combine that tendency
with our usual holiday eating habits and being indoors, you get a recipe for weight-loss difficulty and energy stagnation during the winter.
Starting a cleanse can help reboot your body. A gentle Spring detox
for most adults can be accomplished by drinking cleansing herbal teas,
and by eliminating sugar, caffeine, alcohol, processed foods, and white
flour and preservatives in from the diet, and by eating light,
nutritious meals (with leafy greens, vegetables, and light protein from beans, legumes, and whole grains) for one week. Drinking water goes a long way, too!
Our bodies are pretty well designed to efficiently eliminate toxins via the liver and lymph systems,
but the sheer volume of pollutants we may encounter every day can tax our
natural detoxification systems. It's best to maintain a healthy diet and
avoid toxins to support your body's natural efforts.
Problems can arise when people do too much cleansing (it actually can become addictive). It's important to remember that detox regimens are intended only for short-term use, such as in the spring and fall, for a few days or up to 2 weeks. You can stress your liver and lymph systems with all the flushing, or create nutrient deficiencies. It's
always best to consult a health professional before starting a cleanse,
particularly if you have a pre-existing health condition.
Here's a list
of the pros and cons of spring cleanses and detox regimens:
Pros:
1. Palate Cleansing. One
of the most interesting aspects of going on a cleansing diet is the
fact that when you don't eat any processed foods for several days or
weeks, you lose your taste for them! Many cleansing diets require you to
only drink teas or juices. When you've finished with the diet, you no
longer crave the processed foods you once did. Twinkies and fast food
burgers are no longer a problem!
2. Toxin Removal.
While it isn't scientifically proven, many believe that toxins and
pollutants are removed from the body when you go on a cleansing diet. If
this is true, then it can provide a significant benefit to your overall
health.
3. Temporary Weight Loss.
Most cleansing diets result in weight loss via water loss. Water weighs
close to 9 lbs. per gallon! So when you shed it, it has a big effect on
the number on the scale. But weight loss also varies by the type of regimen you follow. If
you can incorporate new, healthy eating habits after your cleansing
diet is complete, then you may be able to maintain the weight loss.
4. More Energy.
The majority of people who are fans of cleansing diets will tell you
that one of the major benefits of a cleansing diet is the increased
energy they feel. This is where the "high" from cleansing that people
can become addicted to enters the picture. That's why keeping some whole
grains, protein, and root vegetable on the menu is a good idea to help
keep you feeling grounded and more stable during the regimen.
Cons:
1. Unpleasant Symptoms. There are a number of unpleasant side effects people feel when on a cleansing diet. You may suffer from fatigue, insomnia, feeling weak, headaches, digestive problems, feeling dizzy, and irritability.
Fans
of cleansing diets will remind you that these side effects are only
temporary and you'll feel much better after, but you have to be mindful
of your feelings and reactions, or work with a health practitioner
during a cleanse.
2. Difficult To Do Correctly.
Cleansing diets can be challenging and unsafe, particularly for people
who have a chronic disease or other health issue. You should do a lot of
research before starting your chosen regimen, and see a doctor before
undertaking any extreme changes in your diet.
Cleansing
diets can be a good thing if they're handled correctly and you're
prepared for all of the potential side effects. Take the time to do some
research and consider enlisting the support of a professional before
you make a decision. Remember, to always use caution and be mindful of your body during any regimen.