St. Mary's - St. Alphonsus Regional Catholic School
10 - 12 Church Street, Glens Falls, NY
The St. Mary's - St. Alphonsus Regional Catholic School building on the corner of Warren and Church Streets is one of the more imposing buildings in the city due to its size. The three-story school building is a fine example of Neogothic style, and was designed by renowned architect Ralph Adams Cram, who also designed the First Presbyterian Church on Glen Street. Some of the school's notable features include "terrazzo floors, a two-story stained glass window depicting the history of Catholic education, and a Great Hall modeled after Westminster Hall," according to the school's website.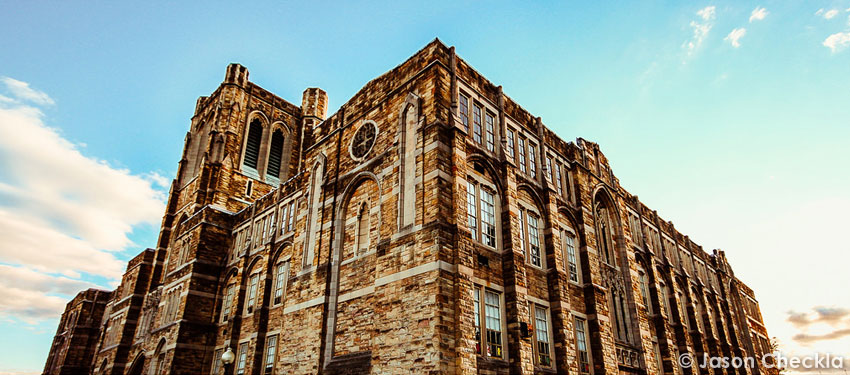 St. Mary's Academy, the predecessor to today's school, was originally opened in 1883 in a modest building across the street from its current home. It initially served students from St. Mary's Parish, which was also located on Warren Street. In the early 1930s, the school's enrollment in grades K-12 swelled to 1,200 students, which prompted the move to the new building.
In the 1970s and 80s, enrollment in area Catholic schools unfortunately declined, leading St. Mary's Academy to become a regional school: St. Mary's Academy of the North Country. In 1989, enrollment continued to decline, forcing the high school program to be discontinued. This reduced the school's population to grades K-8. In 1990, St. Alphonsus School - located on the west side of Glens Falls - closed and merged with St. Mary's. This led to the school being re-named once again to St. Mary's - St. Alphonsus Regional Catholic School.
In September of 1984, the school building, along with 47 other properties in Glens Falls, was entered into the National Register of Historic Places. Today, St. Mary's - St. Alphonsus Regional Catholic School continues to offer exceptional academic programs to local students in grades PreK-8. Thanks to the generosity of alumni and donors, the school has undergone renovations over the years to help maintain its unique features and improve its functionality. Recent improvements have been made to the gymnasium, classrooms, science lab, and playground.
Learn about other buildings in Glens Falls »
Sources:
http://www.smsaschool.org/alumni-friends/history-of-smsa/
http://www.chapmanmuseum.org/TheCorners/cultrue_education/education_glens_falls.htm
http://pdfhost.focus.nps.gov/docs/NRHP/Text/64000551.pdf
http://poststar.com/news/local/st-mary-s-st-alphonsus-principal-to-retire/article_d11edcc5-2173-5f7b-b3a2-1d99cd6fd0df.html