Learn Something New at the Adirondack Folk School!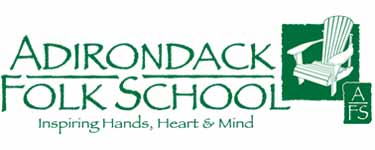 The Adirondack Folk School, of Lake Luzerne NY, is aimed at teaching the arts, crafts and culture of the Adirondacks. This not-for-profit school encourages learning for the joy of learning and hands-on experiences in student-focused environments. Since its opening on June 5, 2010, over 100 students have visited, learned and created, in a wide variety of classes such as basketry, quilting, jewelry making, wood carving, soap making, gardening and paddle making.
Don't worry if you are not creative! Taking classes at the Adirondack Folk School does not require creativity, but rather, a simple desire to try and learn something new. The class schedule is available on the website; search by category or use the calendar to see all of the exciting upcoming events and classes. There is something for everyone, even fireside music and storytelling on Saturday nights!
If you visit, don't forget to check out the gift shop which not only allows you to see examples of some of the items you could make in a class, but also highlights the work of and supports the artists leading the classes.
The school's success is largely due to the dedicated volunteers and artists who share their time, talents and donations. Additional volunteers and donations are always welcome, so please contact the Adirondack Folk School if you can help.
To get more information, class offerings and the full schedule of events, call the school at (518) 696-2400 or browse the website at www.adirondackfolkschool.org
Register for a class today and learn something, support local artists, and enrich yourself with the culture of the beautiful Adirondacks!
Read More!
Interview With Adirondack Folk School's Executive Director, Sandy Sherman »