Hocus Pocus Opens, Targets Both Current And Future Parents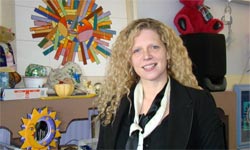 One consignment shop wasn't enough for Kyleen Wade. Having already tasted success with Finders Keepers Consignment, a general consignment shop in Union Square, she has branched out with Hocus Pocus, a new store that is built around children's toys, clothes and furniture, as well as items parents might need, including maternity clothes.
Located at 7 Broad Street in downtown Glens Falls, Hocus Pocus opened up on February 6th, and has seen a steady stream of traffic ever since. The store seems to be a terrific fit for both the area and the economic times. It fills a need for people who are looking for quality children's products but don't feel like spending as much as you would at a outlets or department stores.
The new store uses the same model as most consignment shops, including Finders Keepers. Most of the items in the store are new or in near-new condition, and come from local people who no longer have a need for them. Hocus Pocus focuses on anything having to do with infants and young children. This is the perfect market for a consignment shop, since those expecting a child or those with small children are often looking for ways to improve their savings. The new store's top items include:
Infant & Kids Clothes
Children's Books
Toys and Games
Furniture
Maternity Clothes and items for pregnant women
If you are expecting a child, have children of your own or are looking for a gift for a child you love, head down to Hocus Pocus. You may just find the perfect item at a great price. Their hours are 10 - 6, Monday through Saturday and noon - 4 on Sunday.
Find out more about: