A Review of "Skin Deep"
Performed By The Lake George Dinner Theatre: "Skin Deep, The Hilarious Romantic Comedy, Is A Must See!"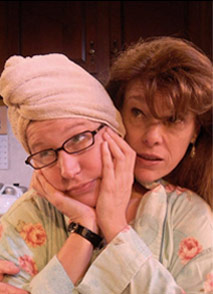 The Lake George Dinner Theatre has done it again! There is no doubt in my mind that this is indeed the best dinner theatre in the country, although I can't substantiate that, due to the simple fact that I wouldn't bother to go to dinner theatre anywhere else.
The Lake George Dinner Theatre is celebrating their 44th season with Skin Deep, a romantic comedy by Jon Lonoff. I admit, when first reading reviews of the "outrageously funny" show, I couldn't help but be skeptical about this regional premiere, but I was VERY plesantly surprised!
After attending a performance this past weekend, I am grateful that I went and I am still laughing at the characterization portrayed by Emily Mikesell, Stephen David Pelletier, Dennis Holland and Monica Cangero.
The cast was perfectly blended for a not-at-all slapstick, but rather a comedic experience that I will recommend to any and all. The middle aged quandary of "will I ever love again," is quite timeless and will be enjoyed by all ages.
While lunch shows are available, I attended a dinner and as always, Terry and all the staff have outdone themselves. The hospitality at the Holiday Inn Resort is unsurpassed. (Do, however, bring a layer when you go, as the air conditioning gets a little chilly when you're far from the lights on stage!)
Skin Deep will be running through the end of October with shows taking place Wednesday through Saturday each week, and with lunch shows Tuesday through Thursday and select Saturdays. If you are granted the opportunity, be certain to catch this performance, while you can. You will not be disappointed!
See more information on the Lake George Dinner Theatre »