Concerts at Crandall Public Library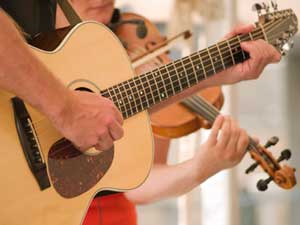 Who doesn't love free concerts?
The Folklife Center at Crandall Public Library will be putting on free Folklife concerts every Thursday evening in March and April. The concerts are part of a Folklife Series which the library is hosting and everyone is welcome!
The folk concerts are held in the Community Room, downstairs off the new Glen Street enterance. Doors open at 6:30 p.m. and performances begin at 7:00 p.m.
The concert performers and schedule is as follows:
March 4
Red Haired Strangers
This five-man group has been together for 15 years, playing original music with a combination of country and blues. They have expanded their group to not only guitar and harmonica, but also fiddle, bass, drums and more for a moving performance.
March 11
Roadside Blues Band
A truly authentic blues band, they capture the raw excitement of the early blues legends from the 1950's and 60's.
March 18
Silver Family
A stellar bluegrass band from Crown Point in the Adirondacks consists of high energy, traditional bluegrass, gospel and original fiddle music. This band is led by female fiddle player, Dorothy Jane Silver.
March 25
Mike & Rick, from Hair of the Dog
The leads of the Celtic folk-rock band, Hair of the Dog, come to put on a high-energy performance called "a regional music treasure" by the Daily Freeman.
April 1
Lissa Schneckenburger
Lissa is a world class New England fiddler and folk singer. The performance is also featuring Bethany Waickman.
April 8
Hungry Town
Hungry Town performs brand-new folk ballads and brings an old-fashioned sound that comes right out of the 30's.
April 15
Bread & Bones
A fantastic performance consisting of original music from Bread & Bones with a strong, traditional folk roots.
April 22
Red Molly
Known for their tight arrangements, crystalline vocals and caramel harmonies, Red Molly puts on a one-of-a-kind folk show.
For more information about the Folklife Concert Series, call Todd DeGarmo, Director of the Folklife Center at (518) 792-6508 x237 or email degarmo@crandalllibrary.org