Miles With A Message 5k Run/Walk For Suicide Prevention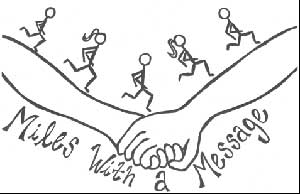 One in five Americans suffers from a mental illness. Over 33,000 people commit suicide every year, 90% of which have a psychiatric disorder at the time of their death, usually undiagnosed or untreated. 20% of us will lose a close friend or family member to suicide during our lifetime.
A local teen has recently lost someone dear to her as a result of this horrifying statistic. Katie Mannix, 19, from Queensbury NY is just one of the many in our community who have been through this tragedy. Katie wants to turn this statistic around and make a difference in our community.
Katie, along with the American Foundation for Suicide Prevention (AFSP), is ready for the second annual "Miles With A Message" - a 5k run/walk to benefit the foundation on Saturday, July 30, 2011 on the cross-country track behind Queensbury Elementary School. Miles With A Message will raise awareness of suicide and mental illness, and provide the necessary funding to support local AFSP programs and goals, such as:
supporting research projects
developing evidence-based educational resources for schools and other community professionals
providing outreach to those affected by suicide
promoting policies and legislation that impact suicide and suicide prevention
educating the public about mood disorders and suicide prevention
Want to run? Participants for the 2nd Annual 5k Run/Walk are needed! The run/walk begins at 9:00 am on Saturday, July 30, 2011, with check-in from 7:30 - 8:45 am. Cost is $15 to register, and registration closes Tuesday 7/26 at 11:45am. T-shirts will be given to the first 150 participants registered, and awards will be given to the top 3 finishers in age categories for men and women.