Interview With Annmarie Flores: Owner of the Annmaries Flores Salon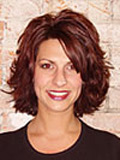 Annmarie Flores is one in a million. Her passion for what she does seperates her from all the rest. Annmarie, a native of Lake George, opened Studio 71, a Glens Falls spa and salon almost seven years ago then opened her newest salon, the Annmarie Flores Salon, in the back of her husband's gallery in Saratoga.
Her husband is Frankie Flores, who is also one-of-a-kind as an artist, famous for his Saratoga-style paintings. They are both masters of color: Annmarie is a master hair stylist, specifically an expert in hair coloring. And Frankie, a painter, uses unbelieveable color in his paintings of horses and scenes of Saratoga.
Some fun facts about Annmarie as a hair stylist/salon owner (and maybe some insight as to what makes her so special):
She has memorized all the color fomulas for each of her customers by heart. She might not remember your name, but she will remember your hair color. "When you are mixing," Flores says, "you are really thinking of your client and what the tones are going to look like."
Over 10,000 people have been in for services at Studio 71. "When people were driving from a distance to come see me, I said to myself, this will work." Flores said in explaining how she knew her business was going to be successful.
Only 5 assistants work for her, out of 100 she has trained. "I have a high standard," she said, "If you don't want to do it, that's fine. But if you do stick it out, the rewards will be endless."
Interview with Annmarie Flores:
When did you decide you wanted to be a hair stylist?
AF: Always wanted to since I was a kid.
What is your job position exactly?
AF: Hair stylist and make-up artist is what I do, or a "master stylist." I went to tech school, trained with Redkin for the last 17 years, where I trained to go out and teach color at the Redkin schools. You have to pick one element to be your main focus, so I picked color.
Why did you choose Glens Falls to open your salon?
AF: I went to high school in Lake George, so was from the area. My family lives there and my daughter goes to school there. But I did many things after that, even though I was always a hair stylist at heart. I worked in the NAVY, opening credit unions. I have done insurance, I have worked in retail clothing stores, worked for HSBC for 7 years. But hair has always been part-time for me, and I always wanted to open a salon.
Your salon in Saratoga opened in 2009. Why did you decide to open a salon in Saratoga too?
AF: Frakie was looking for a bigger studio space. He found that one, but it was too big for him. So it was perfect timing to open another salon.
What is it like working in the same studio as your husband?
AF: I love it! Because I get to see him. Otherwise, I don't see him because we are working so much. Also we cross-market between the two businesses, there is a lot in Saratoga.
What is your favorite part of the job?
AF: Creating looks for clients. Women are awesome - I love women and making people feel beautiful and completeing their look for them. And in a world right now where everything is electronic, everything has become so impersonal. This is a very personal and rewarding career. It is the only career out there where you can physically touch someone, aside from spa or medical industry. There is somthing special about being so personal.
Getting your hair done is very personal, or at least it should be. In order to create a look for someone, you have to know them. You have to know who they are and what their personality is. I love that. To make them the person they are. Hair is everything, too, it is the first thing people notice when they look at you.
What is the secret to your success?
AF: Passion. Having a dream and pursuing it no matter what. Faith in God, especially after being through hard times. Never giving up and hard work. I think I am a leader in the market, because I was fortunate enough to jump on the train and follow through.
Also, my clients. I really love them, they are my life. And they trust me, they normally say, 'what would you do?' when asking what they would like done with their hair.
Where do you see yourself in the future?
AF: My vision is endless. There is no place that I don't think I can be.