Win A Craft Beer Tasting & $100 In Dining Gift Cards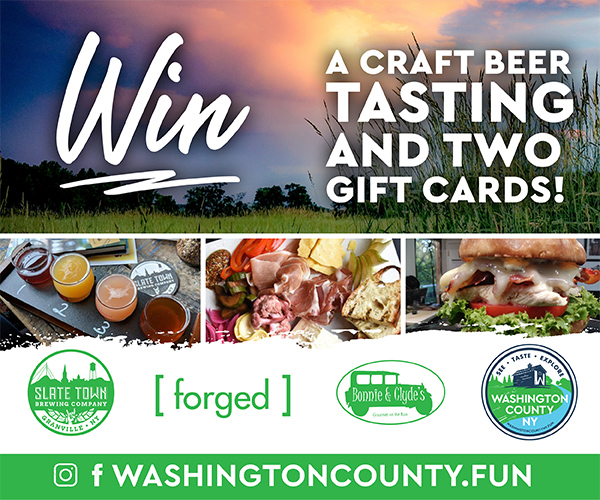 Attention food and craft beer lovers - this is the giveaway for you!
One lucky person will win an incredible prize package that includes:
A brewery tour and craft beer tasting for two at Slate Town Brewing Company, plus a pair of souvenir pint glasses ($25 value)
A $50 gift card to [forged]
A $50 gift card to Bonnie & Clyde's Gourmet on the Run
Valued at a total of $125, this prize package will enable the winner to see, taste, and explore Washington County through some of its incredible businesses and the scenic roads that lead to them.
Fill out the form below for your chance to win, and remember to enter once per day to increase your odds. The winner will be randomly selected on Thursday, November 15.
Want to experience even more of what Washington County has to offer? Subscribe below to receive email newsletters with exclusive deals, business updates, and other features of this beautiful area.
Disclaimer:
The provider of this sweepstakes is Washington County NY.
Sweepstakes ends at midnight on November 14, 2018.
Limit 1 entry per person per day (you may enter again after 24 hours).
Must be 21 years of age or older to enter.
1 winner will be randomly selected on November 15, 2018.
Winner may not resell prize. Prize has no cash value.
Keep up with the latest happenings on GlensFalls.com.
Click below to "Like" us on Facebook
Show your support for the giveaway sponsors by following them on Facebook:
Click below to "Like" washingtoncounty.fun on Facebook