Art Exhibition at World Awareness Children's Museum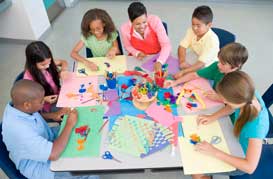 The MoMA in New York and the MFA in Boston might hold some of the finest works of art, but Glens Falls has its own spectacular art gallery. We all know about the amazing collections of the Hyde and Chapman museums, but have you seen the incredible International Youth Art Exchange Exhibition?
The free exhibit, hosted at Aimee's Dinner and a Movie, is the result of a program put together every year since 1995 by the World Awareness Children's Museum. Students of all ages send in drawings and paintings from all over the world. The current exhibition shows art from over 65 countries.
Each drawing is in its own turn cute, surprising, intricate, and observational, and each reveals through the eyes of a child the culture around them. Individual prints may be purchased for $25 each, which includes shipping and handling, and parts of the exhibit are available for loan to other museums, galleries, and even schools. The Museum also publishes a book series, each of which focuses on a single artist and their artwork.
Submissions are still being accepted for 2010, with the theme "My Country: People, Places, Customs." To learn more about submissions, exhibit loans, and other information, contact the Museum at 518-793-2773.