Romantic Dining in Glens Falls NY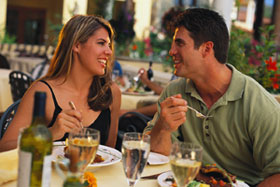 In need of a romantic restaurant in Glens Falls NY for the perfect date? When in comes to romantic dining, Glens Falls NY has many great establishments to choose from! Whether you are looking for a casual restaurant or something more upscale, romantic dining in Glens Falls NY is not hard to come by. Enjoy a first date or a memorable anniversary at the following Glens Falls restaurants:
Davidson Brothers Restaurant & Brewery- 184 Glen Street. You can't go wrong with the homemade beer and great food at this Glens Falls Restaurant.
O'Tooles Restaurant & Pub - 118 Quaker Road. With many appetizers and meals to choose from it is a great place for a casual date. O'Tooles often has a live band on weekend nights.
Heidelberg Inn - 352 Quaker Road. German food at its best! The Heidelberg offers great food and has a great beer list, too!
Mikado Restaurant - 7 South Street. A sushi or hibachi date at Mikado is a fun way to enjoy Japanese food.
Raul's Mexican Grill - 162 Glen Street. Enjoy authentic Mexican cuisine in a small cozy setting at Raul's.
Find more Glens Falls NY restaurants to try even when you are not out on a date!
Related Article: