Church of the Messiah
296 Glen Street, Glens Falls, NY
The Church of the Messiah was designed by architect John W. Summers, and is one of the finest examples of the Gothic Revival style of architecture in the city. It took 11 years to build, and was one of the few buildings to survive the Great Fire of 1864. Construction on the towering stone structure was completed in time for Christmas Mass in 1865, and the church was consecrated the following June.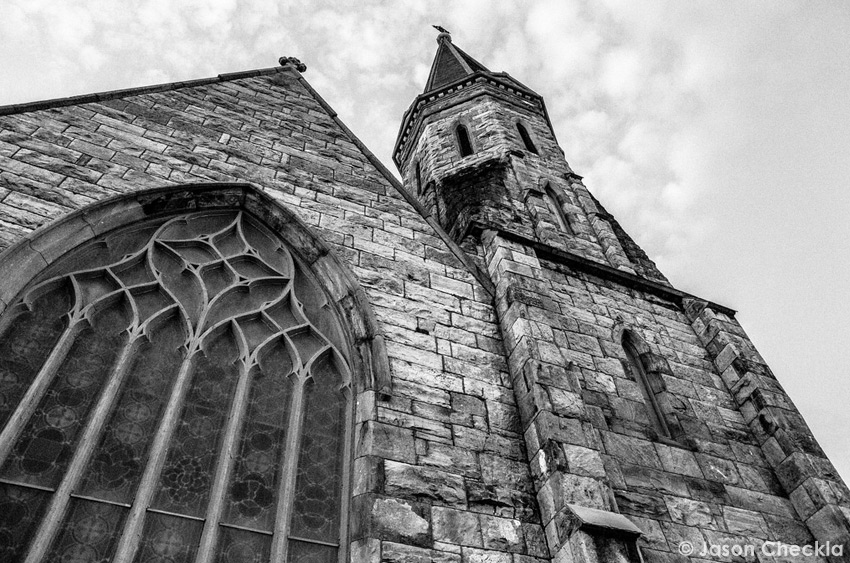 The first church officers included many famous men in Glens Falls history, like William McDonald, Abraham Wing, Keys Cool, Walter Geer, and Orange Ferris. Prior to the opening of the Church of the Messiah, Episcopalian services were held in a wooden chapel that was built in 1843 on Ridge Street. That chapel was eventually torn down, and the Queensbury Hotel parking lot currently exists on the site.
Like City Hall, the Church of the Messiah is part of the Three Squares Historic District that is currently listed on the National Registry of Historic Places. The District is easily recognizable by the unique architecture of the buildings it is comprised of.
Learn about other buildings in Glens Falls »
Sources:
Images of America: Glens Falls by Gwen Palmer, Bob Bayle, and Stan Malecki http://www.chapmanmuseum.org/TheCorners/cultrue_education/religion_glensfalls.htm
http://www.livingplaces.com/NY/Warren_County/Glens_Falls_City/Three_Squares_Historic_District.html