7 Delicious Dining Spots in Glens Falls That Won't Break the Bank
If you want to eat out for dinner in Glens Falls and enjoy great food for a low price look no further than the seven restaurants listed below. You may have forgotten a few of these gems are right in our neighborhood, or you might discover a new favorite hot spot!
From pub grub to diner food and beyond, explore all the Glens Falls dining scene has to offer without the high price tag.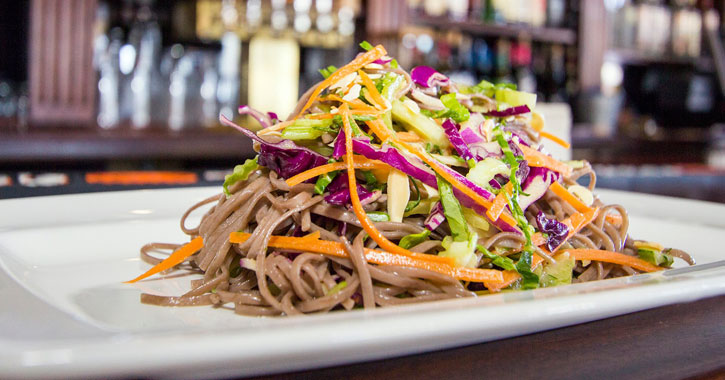 Fenimore's Pub right inside The Queensbury Hotel offers a gastro-pub-style menu that goes beyond typical pub fare. They offer sandwiches, burgers, and entrees like Maple Street Meatloaf and City Park Chicken - all of it is under $20, except for the Seared Salmon, which is $21.
Pictured above is their Asian Noodle Salad for $12 with baby bok choy, pickled carrot, red cabbage, soba noodles, toasted almonds, and a spicy peanut vinaigrette.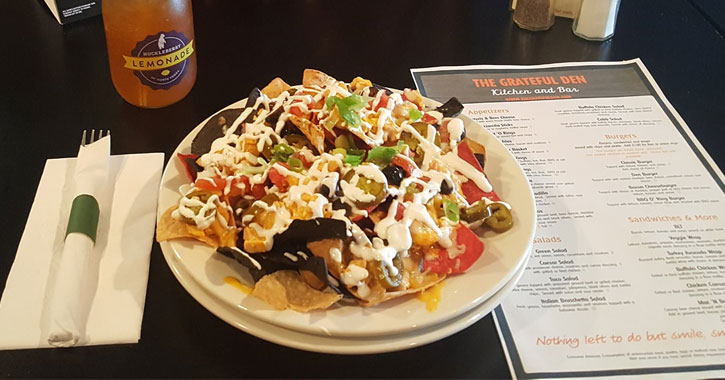 Photo provided
In addition to fantastic food, The Grateful Den also consists of a craft beer bar with a variety of choices that change weekly. This Glens Falls pub prides itself on attention to detail, as you can tell from the perfectly arranged Buffalo Chicken Nachos in the image above. The nachos were offered as a $10 special, which the Den offers a variety of daily.
If you're craving high quality pub food this is the place for you. Check out their Beer Battered Fish Sandwich or Turkey Avocado Wrap, or keep it classic with a Bacon Cheeseburger. All items on the menu are under $15.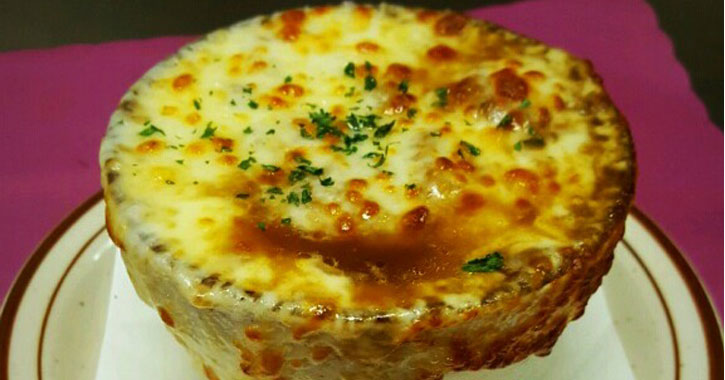 Grab breakfast, lunch, or dinner at The Peppermill Family Restaurant with the majority of items under $15. Whether you're craving pasta, seafood, soups, salads, or hearty entrees like a strip steak you can find it here. Pictured above is the French Onion Soup, available by the bowl for $5.95 and the cup for $4.95.
The Peppermill, located just across the bridge in neighboring South Glens Falls, has been a Glens Falls area staple since 1990. They strive to offer an affordable family dining experience with quality, homemade food.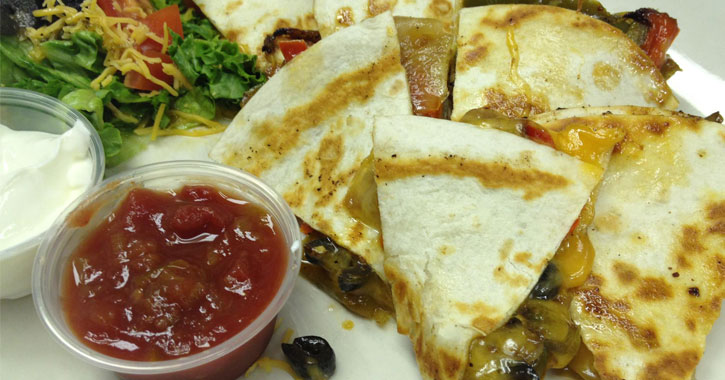 The Gourmet Cafe focuses on creative cuisine in a relaxed amtosphere. They have a lunch menu, a dinner menu, and even a gluten free menu, with all items under $15. Options you can find at this innovative restaurant include a Chipotle Chicken Panini, Gourmet BLT, and Buffalo Chicken Macaroni & Cheese - you can really try something new and delicious here!
Above you can see The Gourmet Cafe's Roasted Vegetable Quesadillas, available as an appetizer for either lunch or dinner for $8.99 or with chicken for $10.79. A healthy take on quesadillas, these include roasted pepper, caramelized onions, black olives, and cheddar cheese. Yum!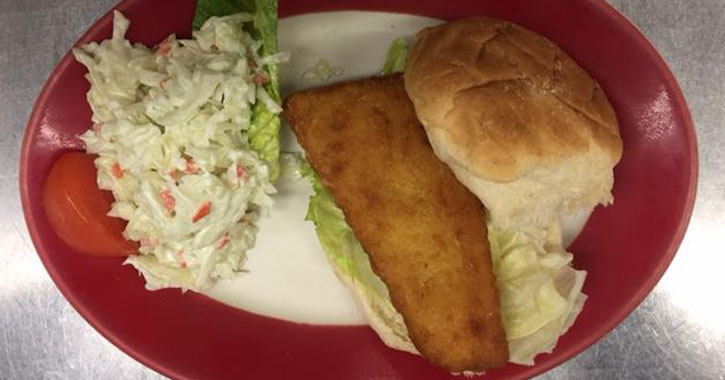 New Way Lunch - also known as Hot Dog John's, Dirty John's, John the Hot Dogs and John the Hots - has been an area hot spot since 1919. Their hot dogs, called "dirt dogs," have long been known as the best hot dogs for miles around. But, did you know New Way Lunch offers much more than just hot dogs?
You can also head to New Way Lunch for a Philly Cheesesteak, Chicken Filet Sandwich, Sirloin Burger, Fish Sandwich, or a number of salads like a Philly Cheesesteak Salad, Greek Salad, and more, all for under $15 each.
6) Talk of the Town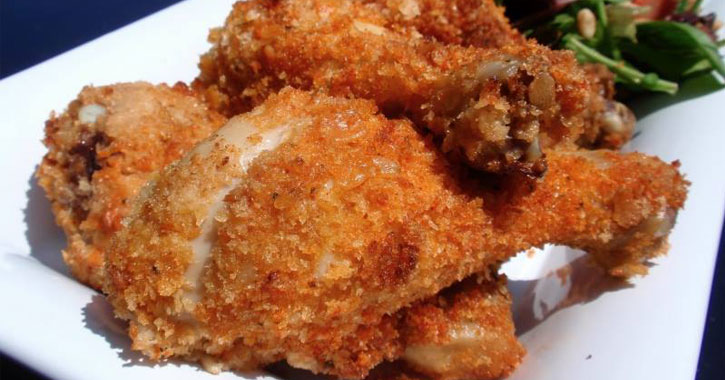 Photo provided
They don't call it "Talk of the Town" for nothing! This restaurant has a truly extensive menu with sandwiches, burgers, pizza, dinner entrees, and pasta all under $15. They also have a separate pizza menu where everything is under $20. Pictured above is their Southern Fried Chicken, available for $11.95.
Talk of the Town is a family-friendly eatery that welcomes groups and large parties and offers take out and catering.
7) Steve's Place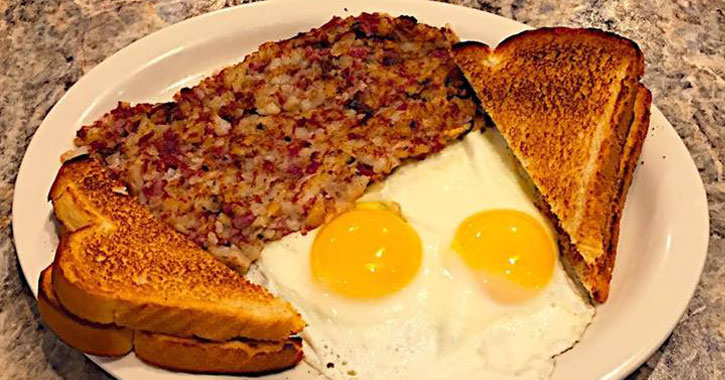 Photo provided
For classic and high-quality diner food look no further than Steve's Place. Serving breakfast, lunch, and dinner, everything on their menu is under $15 with the exception of the haddock (broiled or deep fried) which is $16.95. They offer gluten-free options and healthy choices like sugar-free desserts and organic salads.
Pictured above is their Homemade Corned Beef Hash with two eggs and toast. Steve's Place is one of few places in the area that serves authentic corned beef hash! And the best part is, you can enjoy this and any of their other breakfast options all day.