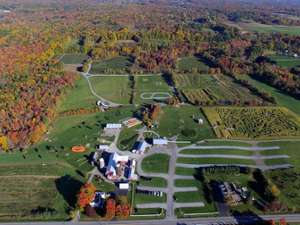 Ballston Spa, NY
For old-fashioned fall activities kids of all ages will love, visit Ellms Family Farm over in Ballston Spa, NY. Create new memorie...
[+More]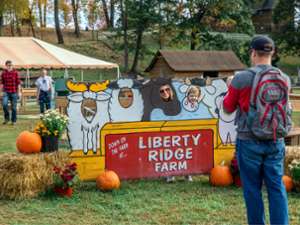 Schaghticoke, NY
Discover Upstate NY's original agritourism experience at Liberty Ridge Farm in Schaghticoke! This local farm is a Capital Region d...
[+More]
Saratoga Springs, NY
Plan a fall trip to Sunnyside Gardens with the kids! Their autumnal wonderland has so much to do: pick the perfect pumpkin, hop ab...
[+More]
Granville, NY
Hicks Orchard is the oldest U-pick orchard in New York State, having been established in 1905. In addition to apples, Hicks also o...
[+More]
Schuylerville, NY
Schuyler Farms in Schuylerville, NY, offers a variety of fun activities and attractions during fall, such as hayrides, a corn maze...
[+More]
Rexford, NY
Bowman Orchards invites you and your family to pick your own apples, pumpkins, and more at their farm and orchard in Rexford, NY. ...
[+More]
Lake George, NY
Ryan's Country Farm sells vegetables, flowers (annuals and perennials), pumpkins, garden supplies, local syrup and honey, and more...
[+More]
Putnam Station, NY
Please note, Billy Bob's Orchard is unable to open for fall 2023, due to a late spring frost that destroyed their crop. Follow the...
[+More]