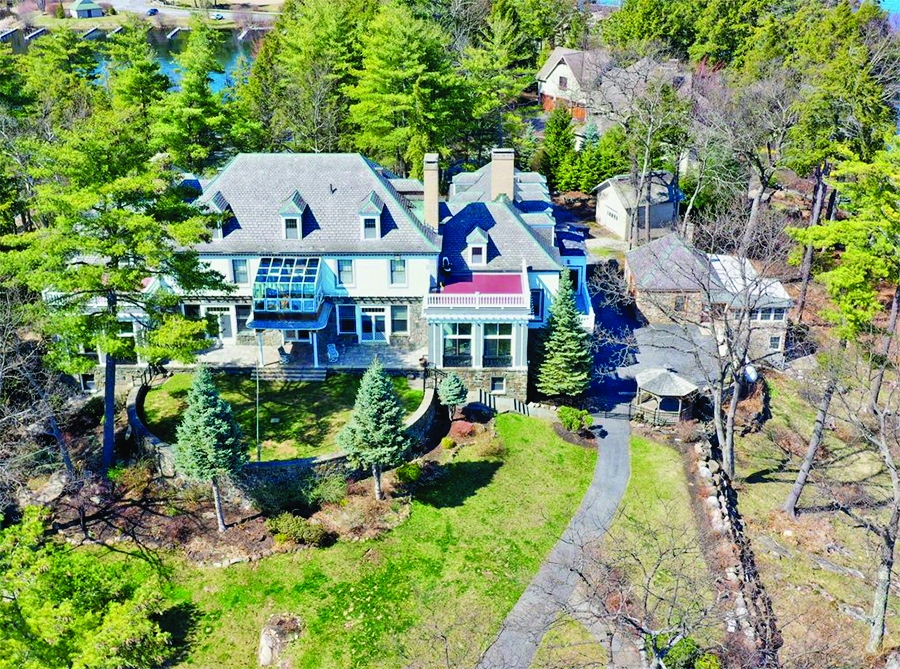 By Christine Graf
Green Harbour Mansion, situated at the tip of Cooper Point on Lake George, was sold in June for $6.5 million. 
Buyers Joe Russell and John LaSalandra of Bolton Landing have plans to restore the property.
The mansion is situated on Millionaire's Row, a 10-mile stretch of road between Lake George Village and Bolton Landing. The palatial homes that were built there during the early 1900s served as summer residences for wealthy businessmen.  
Frederick Peabody, partner in Troy shirt factory Cluett, Peabody & Co., was the original owner of Green Harbour Mansion. Built in 1913, the three-story 11,579-square-foot residence sits on 3.3 acres of property. The waterfront compound includes a 14-bedroom home, a four-bedroom guest cottage, and 33 income-producing rental boat slips.
Nic Ketter and Spencer Bray of Realize Brokers were the listing agents for the property. They represented the estate of Ken Ermiger, a local businessman who passed away in 2021. One of Ermiger's other properties, the Depe Dene Resort, was sold last year.
Ketter and Bray conducted 30 showings of Green Harbour during the year that it was on the market. The original listing price was $8.4 million.