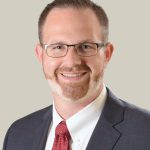 Glens Falls National Bank and Trust Company is pleased to announce the appointment of Alex Rusate as Senior Vice President and Director of Internal Audit.
Mr. Rusate is responsible for managing the Internal Audit Department, which provides oversight over organizational risks and controls. He performs the same duties for Saratoga National Bank and Trust Company and Upstate Agency, which are part of the Arrow Family of Companies. Mr. Rusate reports independently to the Board Audit Committee on risk and audit issues and to the Chief Operating Officer on internal and administrative issues.
Mr. Rusate brings more than 10 years of experience to the role, most recently as Senior Internal Auditor for New York Independent System Operator, a non-profit organization that manages New York's electric grid and competitive wholesale electric marketplace. He was previously a Senior Associate with KPMG.
Mr. Rusate received a master's degree in accountancy and a bachelor's degree in accountancy and global perspectives from Bentley University in Waltham, Massachusetts. He is a Certified Public Accountant (CPA), Certified Internal Auditor (CIA) and Certified Information Systems Auditor (CISA). Mr. Rusate also attained his Certification in Risk Management Assurance (CRMA) and Certification in Control Self-Assessment (CCSA).