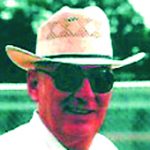 Thomas K. Flaherty  of T.K Flaherty Associates in Queensbury, has received accreditation from the American Public Works Association (APWA) as a certified public infrastructure inspector (CPII) as well as certification at Level I in underground utilities construction, water and sewer lines by the National Institute for Certification in Engineering Technologies (NICET). 
NICET certification is based on successfully passing an exam demonstrating requisite knowledge, experience and work performance as set forth by the institute. NICET is a division of the national Society of Professional Engineers.
Flaherty has over 50 years of experience in the public utility construction field, including the development of the Queensbury Water System for the town of Queensbury when he served as the town water superintendent. 
He is the founder and President of T.K. Flaherty Associates with offices in Queensbury, and Bellwood, Ala. Flaherty is also an associate of Miller Engineering located in Manlius.