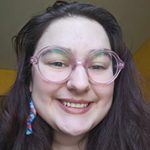 Advokate LLC in Glens Falls design and marketing firm, announced the hiring of Angela Nardin of Glens Falls as a graphic designer.
Nardin is a graduate of SUNY Adirondack with a media arts degree and also has a music degree from SUNY Adirondack.
She joined the company as an intern in April and was hired in the last week of May. She was a student ambassador at SUNY Adirondack, president of the Glens Falls High School Drama Club, designed the GFHS prom T-shirts and tickets, was president of the Glens Falls High School Octet, earned a scholarship when she won first place at Glens Falls' senior art show.
Nardin was on the Dean's List for all of her semesters of college. She previously was employed at Best Buy.
* * *
Laurie Guyon, WSWHE BOCES assistant coordinator for model schools, was among five educators chosen nationwide by CoSN and EdScoop for the 2020 NextGen: Emerging EdTech Leaders Program.
Selection was based on their personal essays and the diversity of the populations they serve, among other criteria. CoSN said the designation goes to leaders with the hands-on experience and vision needed to ensure that technology makes a profound difference in education.