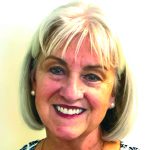 The Hyde Collection announced that Laura Bradigan has been named director of development.
Bradigan, a Saratoga Springs resident, will advance the mission of the museum through development, donor relations, and fundraising.
Before joining The Hyde, she held a similar position at Bethel Homes and Services in Ossining and Croton-On-Hudson for more than 10 years. She has also worked for many years in government, politics, and nonprofit and for-profit organizations in the Capital District and upstate New York.
Bradigan is a member of the Saratoga Chapter of the Daughters of the American Revolution, a board member of Bethesda Episcopla Church's Mercy House in Saratoga Springs, and a former board member of Sculpture Space, a Utica-based residency program for sculptors.
* * *
black dog DESIGNS has announced an addition to their full time staff.