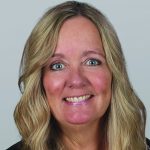 Glens Falls National Bank and Trust Co. announced the appointment of Christine Remington to branch manager of the Chestertown office.
Remington is responsible for overseeing the daily operations of the branch and meeting the financial needs of the community. She has 16 years' experience in banking, all of which have been with Glens Falls National Bank.
The Patchogue, N.Y., native attended Suffolk Community College. She currently lives in Brant Lake, where she can be found volunteering for many community organizations. She serves as treasurer of North Warren Chamber of Commerce, officer of Tri-Lakes Community Alliance, chair of Chestertown St. Patrick's Day Parade Committee and volunteer of the Spinal Cord Research Benefit.
* * *
Upstate Agency, LLC has hired Rebekah Crewell as a risk advisor.
Crewell is responsible for acquiring and retaining commercial clients within the property services, healthcare, nonprofit, construction and municipality segments. In addition to her production responsibilities, she is instrumental
in the marketing of complex programs and renewals for the agency throughout the greater Capital Region.
Crewell, a designated small business coverage specialist (SBCS), has nearly 20 years of local insurance, risk management and marketing experience. Prior to joining Upstate Agency, she spent her career with large global brokerage platforms and regional brokerage firms located
in the Albany market. She lives in Wells, N.Y., where she serves as town supervisor.
* * *