Morgan Stanley announced that Matthew Baitinger, a financial advisor in the firm's Glens Falls office has completed the firm's Insurance Accreditation Program and now holds the Insurance Planning Director (IPD) designation.
Recipients of the IPD designation have demonstrated a commitment to, and understanding of, holistic goals-based wealth management planning through the incorporation of insurance solutions into their practice as a foundational component of risk management.
* * *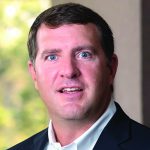 Geoffrey S. Mullen has been hired as a partner at Teal, Becker & Chiaramonte (TBC).
Mullen comes to TBC with 25 years of experience working in public accounting.
He has extensive experience in real estate partnerships, mergers and acquisitions, private equity portfolio companies; technology companies; state and local taxation and tax credits; flow-through companies; consolidated corporate tax filings; international tax planning; and real estate transaction planning.
* * *
The Towne Law Firm announced a major expansion of its professional team and its geographic reach to accommodate increasing client needs in multiple jurisdictions throughout the Northeast.