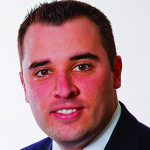 NBT Bank has promoted Marc Monahan to vice president. He now serves as a team leader on NBT Bank's management team based in Glen Falls.
Monahan has more than a decade of banking experience. He joined the NBT Bank team in 2010 as a branch manager and advanced to the position of market manager. In 2015, he became a business banking officer.
Monahan earned a bachelor's degree in business administration from SUNY Oswego. He is a board member of the Adirondack Regional Chamber of Commerce, member of the Adirondack Civic Center Coalition Board, President of the Glen Falls Civic Center Foundation, and a member of the Glen Falls Hospital Foundation Board.
***
Teal, Becker & Chiaramonte CPAs, PC, announced that Karen Foster, its manager of pension operations with over 30 years of experience in retirement plan management and client services administration, will lead the Retirement Plan Services division as the new director.
A former benefit plan consultant and record-keeper, she joined TBC in 2007. She is a graduate of University at Albany, holding both a master's and a bachelor's degrees in economics. She is an American Society of Pension Professionals and Actuaries (ASPPA) credentialed Qualified 401(k) administrator.