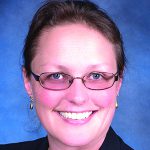 Teal, Becker & Chiaramonte, CPAs, PC announced that Gretchen Guenther-Collins, J.D. M.S., CPA, has rejoined the firm in the capacity of tax manager.
Guenther-Collins is a graduate of the College of Saint Rose, earning a Bachelor of Science in accounting as well as a Master of Science in Accounting. She was previously an audit manager with the firm from 2000-07 before taking a 10-year hiatus to pursue her own business and work in the legal and higher education industries.
She transitioned from an adjunct professor at the College of Saint Rose and began as a full-time accounting instructor at the college in January of 2007. She then rose to interim dean of the Huether School of Business in 2016. Meanwhile, she pursued her Juris Doctorate at Albany Law School and completed two legal internships before earning her degree in December 2014. She was admitted to the 3rd Department of the New York State Court System in July of 2015.
In her new role at TBC, Guenther-Collins will focus on individual and corporate taxation, including tax planning as well as tax compliance issues. She is presently serving as the treasurer of the board of directors of the Albany Damien Center and has held several roles in other nonprofit organizations.
***