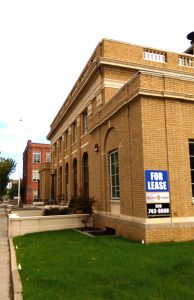 By Maureen Werther
As Glens Falls and the surrounding region continues to experience growth in the business, educational, industrial and healthcare sectors, it is also balancing new growth with a commitment to rehabilitating and modernizing older existing structures to preserve the region's history and aesthetic.
Peter Hoffman, his wife and business partner, Suzanne Hoffman, have taken on 17 projects in as many years. Their interest in expanding opportunities in the region and also preserving some of its architectural beauty keeps growing.
"We have been in the commercial market in Glens Falls since 2004, and every year we see more progress," said Hoffman.
They just completed a $2 million renovation and modernization of the former Glens Falls Post Office on Warren Street, turning it into professional office space. The building was originally erected in 1915 and had been earmarked for demolition. Hoffman said it is an "absolutely amazing" building, adding that he has rehabbed more than a dozen older buildings and "this one is the most amazing building that we have done."
Work began on the post office in May.Hoffman said it is ready for rental, with several interested potential tenants. He said that he expects there to be about 45 people working there within the next six months, which he calls a "big ripple in a little pond." An additional influx of business and consumers will make a big difference in the local community.