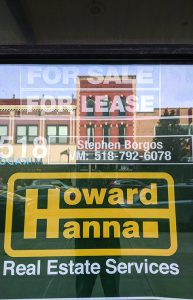 By Jill Nagy
Area real estate brokers expressed glee recently as they described the current local market, using expressions like "great," "excellent," "very, very strong," "unusually hot," and "booming,."
Inventory, especially of houses at the lower end of the price range, is low and a new listing rarely stays on the market for more than a week, they said.
Susan Kassal of All American Properties in Glens Falls, said she showed a townhouse on a Sunday and received three offers for it by the following Monday.
"Literally within minutes of being listed, they are sold," said Daniel Davies of Davies-Davies & Associates in Queensbury—but admitted that he was exaggerating a bit.
People are attracted by relatively low prices, favorable financing, a stock of historic buildings, and the beauty of the area. Peter Hoffman of Glen Street Associates in Glens Falls, for example, recalled when he was practically laughed out of a local banker's office when he asked for a $1 million loan. Today, loans of $7 million or more are not unusual. Bankers are more willing to lend because they have seen successful projects, he said.
On the commercial side, many buyers are looking for investment property. With a volatile stock market and low interest rates on savings and bonds, investors see real estate as a stable investment, said Davies.