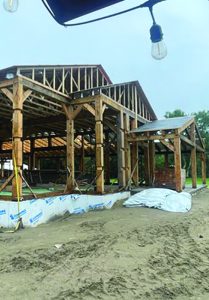 by jill nagy
On a recent afternoon, Whitney Russell and his crew were rushing to get a roof on a new patio addition to the Sunnyside Par 3 golf course and restaurant in Queensbury, part of  a major upgrade to  the facility. 
When completed, the 16×66-foot patio, overlooking the golf course, will provide space for food, drinks, and occasional music.
A new post and beam building will also be added to the existing building. It will house five golf simulators and a new gift shop. Russell expects the simulators to encourage golfers to work on their game year-round. 
"Golf is a seasonal sport, that's why they invented simulators," he said. 
The plan is to have them up and running, in the new building, by Sept. 1. Russell purchased them from the Glens Falls office of About Golf, a national company. The manufacturers will also do the installation.
Russell and his son Garrett, who is the general manager, bought the business in 2019 and undertook major internal renovations before opening.  The Par 3 (nine holes) golf course has been in business since the 1940s, open mainly during the warm weather months. The Russells plan a year-round facility. 
They are also installing lights so that the course can be used from sun-up until 10:30 p.m.  Late players will still be able to get a drink on the new patio afterward but food service is scheduled to end at 8:30 p.m.