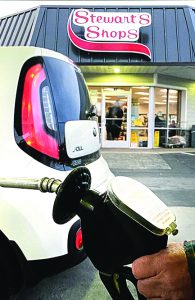 Stewart's Shops has acquired an area gasoline and diesel distribution business that will allow it to distribute gasoline from Sunoco, Citgo and Mobil to dealers located in some of its coverage area in upstate New York.
The local company acquired the distributorship from Polsniello Fuels, a 68-year-old third-generation company in Rensselaer.
Stewart's said it plans to continue working with dealers who previously did business with Polsinello, and is considering a remodel for some of the acquired gas stations.
"As we continue to grow our business, this acquisition gives us the opportunity to diversify by expanding deeper into the fuel wholesale business," said Stewart's Shops President Gary Dake in a news release.
Polsinello now will focus on its lubricant and motor oil supply business. Lou Polsinello, company vice president, said in a release that the business will continue to deal in lubricants and motor oil distribution, and that dropping out of the gasoline retail business will help them to grow in those other areas.
"Finding the right partner to entrust our legacy and customers was our highest priority," Polsinello said.