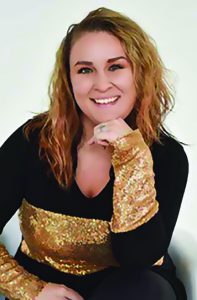 By Christine Graf
After giving birth to her first child in 2015, Hudson Falls native Carly Trerise was especially grateful to the friends and family members who delivered home cooked meals to her house. It was out of that gratitude that the idea for a business was born. 
With the help of her father, Jim Quinlan, she came up with the idea for Dinner and Flowers (previously known as Send A Meal Today), a business that delivers pre-cooked refrigerated meals that can be reheated in the microwave or oven. 
The meals make perfect gifts for new parents, people who have just had surgery, or those who have suffered the loss of a loved one. In addition to entrees, a variety of homemade desserts are also available.
After a lot of time spent brainstorming with her father, Trerise enlisted Tamberlyn Dickinson to provide meals and baked goods for the business. Dickinson and her husband, Jon, are the owners of Dickerson's Delight, an eatery in Glens Falls. They also sell their baked goods at the Glens Falls Farmer's Market.
"After that, I started putting the word out that my dad and I had an idea that we were working on and that we were in the beginning stages and wanted to do test orders," said Trerise. "I would use social media, including Facebook, to get orders."
They accepted test orders for an entire year before officially launching the business in 2017. Trerise hired Kate Austin, owner of Advokate, a Glens Falls PR and marketing company, to help her as she worked to get the business off the ground.  
"Kate helped us iron out all of the little details. She also helped us to really get our business name out there into the community," she said.