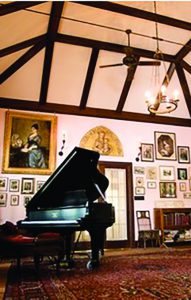 The Sembrich in Bolton was recently selected to participate in the 2023 Museum Assessment Program by The American Alliance of Museums (AAM), the only organization representing the entire scope of the museum community.
Since its inception in 1981, the Museum Assessment Program (MAP) has helped more than 5,000 small and mid-sized museums of all types strengthen operations, plan for the future, and meet standards. With five types of assessments available, over 60 percent of AAM-accredited museums have participated in the program.
To participate in the program, museums choose from one of five institutional assessment types: organizational, collections stewardship, education & interpretation, community & audience engagement, or board leadership. 
All five assessment types are grounded in AAM's core standards; are inclusive of diversity, equity, access, and inclusion issues as they relate to the assessment focus; help museums look at both functional and strategic aspects of their operations, and present focused learning modules and action plans for the museum to progress through; and include a peer-reviewed site visit.