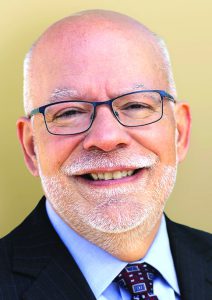 Paul Scimeca, who has served Glens Falls Hospital for three decades, was named the hospital's president and CEO after serving in an interim role since Jan. 1. Glens Falls Hospital is a member of the Albany Med Health System.
He succeeds Dianne Shugrue, who retired in December 2021.
Announcing Scimeca's appointment to staff, Glens Falls Hospital Board of Governors Chair George Ferrone said, "Over his 33-year career at Glens Falls Hospital, Paul has learned every aspect of our clinical and administrative operations. He is respected and admired not only for the depth and breadth of his health care knowledge, but also for his commitment to the Glens Falls Hospital teams he leads, and the communities they serve." 
"Paul was the unanimous choice of our Board for good reason," Ferrone added.
Scimeca earned a bachelor's degree in planning from New York University and a master's degree in health services administration from Russell Sage College in Albany. He has held positions of increasing responsibility since joining Glens Falls Hospital in 1989 as communications manager.  
Scimeca was promoted to director of community services in 1994 and executive director of Adirondack Medical Services in 2000. He later became vice president of physician practice and community health, overseeing the hospital's 16 primary and specialty care practices, and led the development and implementation of the hospital's community health programs.