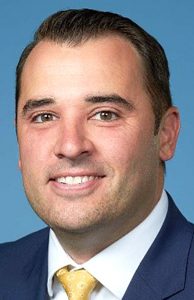 The Adirondack Regional Chamber of Commerce (ARCC) announced that Marc Monahan, vice president and regional executive of NBT Bank, has been appointed as chairman of its board of directors.
"The ARCC has been blessed to have a long history of amazing board of director chairs," said ARCC President/CEO Michael Bittel.
He said Monahan "continues this tradition. Marc's business knowledge and passion for our community will help lead us for the next two years. Many thanks to Eric Gilbert as our past chair and for his service to our region's business community."
"Working with the Chamber has been a gratifying experience and I am looking forward to my role as chair," said Monahan. "We currently have an engaged board and executive team ready for the challenges that lie ahead. I am eager to continue work side by side with Michael Bittel and his team Tricia, Amanda and Cheryl. Given the current economic challenges we all face ahead, rest assured that we will do everything in our power to support the local business community and our members."
Monahan is NBT vice president and regional executive for the bank's Glens Falls-Saratoga market. He joined NBT in 2010 as a member of the retail team and currently overseas the commercial team as part of the North Country.